91st Tour de France - July 3-25, 2004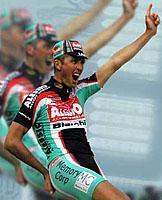 Scott Sunderland
Photo: © Memory Corp
Scott Sunderland's Tour Diary
Cyclingnews' longest contributing diarist Scott Sunderland is taking part in his second Tour de France in 2004 as part of the versatile Alessio-Bianchi team. Scott's role will be mainly to help Pietro Caucchioli, but he also hopes to have a few opportunities for stage wins. Once again, he'll be providing his highly experienced viewpoint on the Tour, its riders and anything else.
Stage 12 - July 16: Castelsarrasin - La Mongie, 197.5 km
Lance said "I want to win today"
Scott leads a small group home
Photo ©: Sirotti

We started out in sunny weather and when we left our hotel it was just fantastic. We cruised into the start, had a bit of a team meeting in the bus before we went off for coffees in the village. The team tactic was that Marcus Ljungqvist and myself were allowed a free role to try to go in the attacks if possible because the others would let us go. If we were lucky, we'd get full rein right to the finish, or at least we'd be over the first climb and possibly halfway up the next climb for Caucchioli. It was basically a two-pronged attack.
So right on kilometre zero, Marcus my teammate was four positions in front of me and he's gone "crack" from the gun. He took Finot with him, then Kirchen and Vansevenant jumped across. The peloton hesitated for 1.5 km and they were able to hold it. I was on the wheel of Jens Voigt because knew he was going to go. Also Piil and Sorensen kept attacking non-stop, because CSC are chasing the team classification.
But Phonak and Euskaltel also wanted the team GC, Brioches wanted to control the stage for Voeckler and then USPS got on the front to calm everything down. The leaders were coming back to 45 seconds when USPS started on the front. After a bit longer it was 1'30 then Jens Voigt smashed off the front. But he was just swimming about 200m in front for a long time... hanging there.
I could see what's going on, so I went up beside Lance and said, 'What's happening? Don't you want to let CSC go?' I wanted to know if there were going to be counter attacks.
Lance said: "They can stay out there but we'll have them back before the end because I want to win today.
So I thought Lance was going to give it a big whack today. He had the whole team ready but in the end, Basso was able to make the best of it. Lance was going for GC, putting time into his big rivals like Ullrich, Hamilton and Mayo. But now he'll have to reassess Basso's form. We'll see what happens tomorrow.
CSC rode well as a team, having Sastre go first up La Mongie. They're showing their hand but they've won the stage.
Here comes the rain again
I came onto the Aspin and had a hell of a time positioning myself. I couldn't see with my sunnies on in the rain, but it was the same from everyone. Normally I have no probs fighting for position, but I simply started way too far back. Riders started dropping off, I zig-zagged my way through them, blah blah blah, made it back to the peloton then dropped off by about 150 metres. I had to hang in there until they started letting cars past. When I could see my car coming up I thought, 'Caucchioli is OK so that's my job done.'
I moved the derailleur completely to the left and just tempoed up the last two climbs. I'm not going for GC here, and unless you want to make the first 25 it's not worth it. My main goal is still to win a stage. There's a long way to go but I'm running out of days. Tomorrow I'll be looking out for Caucchioli. He had a pretty good day today and if he improves, you never know...
That thunderstorm was a bit of a pain in the butt. Riders were changing to their spare bikes without the carbon wheels, which are not the best for braking in the wet. For myself, I'm opting for the normal Nucleon wheels tomorrow. You can get a bit more out of them on the descents.
We're expecting thunderstorms again tomorrow and it should be much the same as today. When we went through the feed zone it was 33 degrees! In the race car, when it started to rain, it dropped to 17 degrees! It's the same for everyone but my legs were like wood on the Aspin.
Burning a candle
The boys went down to Lourdes tonight - I wanted to go but they've left already. They're going to burn a candle, probably say a prayer and hope for all the strength and safety for the remainder of the race.
Tomorrow's another big one anyway. See you then.
Scott