91st Tour de France - July 3-25, 2004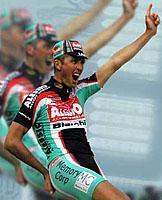 Scott Sunderland
Photo: © Memory Corp
Scott Sunderland's Tour Diary
Cyclingnews' longest contributing diarist Scott Sunderland is taking part in his second Tour de France in 2004 as part of the versatile Alessio-Bianchi team. Scott's role will be mainly to help Pietro Caucchioli, but he also hopes to have a few opportunities for stage wins. Once again, he'll be providing his highly experienced viewpoint on the Tour, its riders and anything else.
Up and down to Arras
Tour de France Stage 4, France, July 7, 2004
Towing the train
Photo ©: Lars Rønbøg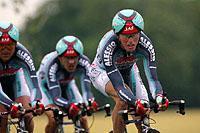 We left our nice room in Chateau de Namur, and got stuffed into a shoebox size hotel room in Douai for two nights. But even though there's no room to swing a cat in here, I had a good sleep in today, which was one advantage of a late start. We had an easy morning and then we rode from the hotel 35 km to the start. We left on our TT bikes so we already got an indication of the wind today - we were getting blown all over the place. And no sooner pulled up at the bus in Cambrai when the rain started. It just got heavier and heavier until it was really bucketing down.
As a team, we went really well in the stage. We were second fastest at the first intermediate time split behind Illes Balears. We hadn't looked at the course or anything, but the team director did and told us on the radio what was coming up. We hadn't even done any team time trial training - just today riding to the start!
We started quick but not too hard. We were riding well but when we got to the 25 km mark - that corner where a few riders crashed - we lost Hvastija and Baldato. They were important guys for our TTT and they both went down. It was a bit of a problem there and Bruno, our director, was caught by surprise. He didn't know whether to wait or not - initially it was wait, but because they both seemed to be hurting quite badly and they didn't jump up straight away Bruno then gave the order to keep going. So we lost too much time there. It really was a tough call to make because a) they were two important riders and b) we still had 40 km to go.
Well, we got going again and after riding at 98-99 percent before the crash, as soon as we eased off, the legs went "kaboom" with lactic acid. It took 2 km before we got going properly and after 4-5 km we had a really good rhythm and were rolling along very well.
But 10 km before the finish, just as Magnus was opening up and doing big turns he had a puncture! It was too close to the finish so it was not worth waiting.
We ended up finishing 10th which was ok but not super. Indeed, we had some bad luck but other teams had misfortune as well - the last two days have claimed a lot of skin and equipment.
All in all we're pretty happy with it. For Caucchioli and Noè we've had two very good days. They were both up there yesterday, out of trouble, then today they lost minimal time.
Last but not least we reckon we looked good in our new gear, which was basically to pre-empt Bianchi's 120th anniversary next year. We got some great comments when we got out of the bus. I thought the TT-suits looked cool and the bikes were bloody nice with Bianchi silver on the top tube and the seat tube. The bikes are beautifully finished off.
It was one of those races that was a lot of fun and I can't wait to do another one! Yeh, of course, I'm being sarcastic. It's like getting hit on the head with a hammer. You're more than happy when it's over.
The Others
US Postal did a fantastic job today. They knew the parcours like the back of their hand, which is typical US Postal style. They know every inch of the most important stages. In the past two days they've surely gone home with the goods.
I think Phonak did a good job also; with five riders. CSC was a bit unlucky, but when you're pushing that hard you have to be a bit more careful. US Postal showed more prudence and all their guys stayed upright.
As for Illes Balears: Chapeau! They did a incredible job, as they must have been quite disappointed after Menchov missed the break yesterday. They had to dig very deep and to still be up there today was great going.
On the new rules
Space? Who needs space?
Photo ©: Scott Sunderland

Well here we go again. It's been quite debatable up until now. Stats: US Postal have won it by a minute and now Hamilton is only at 36 seconds. But, I'm not too sure about the new TTT rules. All in all it makes it much closer but for the winning team it wasn't so good today because they lost their absolute time gain. But for the teams that were second or third or had crashes - they would be quite happy. You saw who did the best today, and not everybody is penalised by this.
Taking a look at it now, Hamilton's at 36 seconds, and a few of the others are close. I do think it's going to make it a more exciting Tour than other years. But the rule penalising riders like Simoni and Sastre - who only lost a handful of seconds in the last two corners and ended up losing more than a minute compared to their teammates - seriously, that one has got to be changed!