91st Tour de France - July 3-25, 2004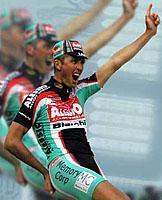 Scott Sunderland
Photo: © Memory Corp
Scott Sunderland's Tour Diary
Cyclingnews' longest contributing diarist Scott Sunderland is taking part in his second Tour de France in 2004 as part of the versatile Alessio-Bianchi team. Scott's role will be mainly to help Pietro Caucchioli, but he also hopes to have a few opportunities for stage wins. Once again, he'll be providing his highly experienced viewpoint on the Tour, its riders and anything else.
First full day
Stage 1 - July 4: Liège-Charleroi, 202.5 km
Talking to the press
Photo ©: Sabine Sunderland

After three days of giving interviews and doing a short 6km prologue, it was good to get a full day of racing in.
The stage today was hard, nervous and fast, like the first Tour days tend to be. I jumped in with a couple of early breaks which were brought back immediately. Then a group of five riders - Voigt, Bettini, Tombak, Eisel and Renier - took off and in the worsening weather conditions, they were given more room to move. They quickly took a nice lead.
The funny thing was that as we started the climb on the slippery road surface on the Cote de Borlon, I saw that a few of the riders were starting to leave gaps. I tried to jump across to the front of the group, but it was like pushing shit uphill with a sharp stick and I simply went nowhere; the back wheels simply weren't getting any traction. I mentioned this to some guys from different teams later on and they all had the same weird sensation.
After we went across the top of the climb, the effects of the slick roads became even more noticeable. I saw guys crashing in this quite easy turn; my team mate Bertolini and four other riders went sliding down, like they were on a ski slope, spinning around on their butts!
Fassa Bortolo did what was expected and controlled the race in order to protect the yellow jersey and bring it together for the sprint. The roads dried and a compact finish was being prepared. The strong headwinds kept the speed relatively low and any attacks were calmly dealt with by the sprinters' teams.
Two nights in this comfy little shack
Photo ©: Sabine Sunderland

Then came the final sprint and while Petacchi got boxed in and Boonen was dealing with some mechanical problems - Kirsipuu went into it in his typical fashion. He was like an animal going for the kill and took the win.
But no doubt the biggest effort today was put in by Thor Hushovd who contested the intermediate sprints and might get to put on the yellow jersey after tomorrow's stage!
I didn't feel tired at all after the stage, so that's a good sign. I got a short but good treatment for my back and neck this evening and I recuperated swiftly. Tomorrow is another sprinters' stage but I'll think about that in the morning. Right now I'm going to crash out in my big double bed. We're staying two nights in this comfy little shack with only four stars ;-) the Tour organisation have booked us into!
'night!
Scott