91st Tour de France - July 3-25, 2004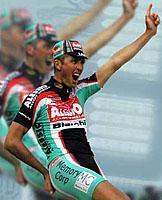 Scott Sunderland
Photo: © Memory Corp
Scott Sunderland's Tour Diary
Cyclingnews' longest contributing diarist Scott Sunderland is taking part in his second Tour de France in 2004 as part of the versatile Alessio-Bianchi team. Scott's role will be mainly to help Pietro Caucchioli, but he also hopes to have a few opportunities for stage wins. Once again, he'll be providing his highly experienced viewpoint on the Tour, its riders and anything else.
No surprises; well, maybe just a few...
Prologue - July 3: Prologue Liege ITT, 6.1 km
This morning, I went for a quick spin and the legs felt better then what they have been. The hard training I did earlier in the week left me a touch tired the last couple of days, but I felt refreshed today.
I was first off from the team and the eighth rider out of the starting blocks - which was fine by me because I could get it over and done with. It made it a bit more of a relaxed afternoon, rather than starting late and watching everyone else ride - that really builds up the nerves.
I got going and gave it some stick, I possibly started a bit too quick. When I did the warm up laps at 3:00pm, the wind wasn't as strong as it was an hour later. I really butted against it in the last couple of kilometres. The good thing is that I felt the power was there.
Conditions
It was a good circuit with just one hairpin in it, all the other corners were quite smooth. There were huge crowds, people lined all the way round the course, both sides. I heard plenty of supporters yell "Go Scotty; Go Aussie". Among such a big crowd in Europe, it's always nice to hear the calls of supporters.
The race
The overall result was not that surprising. Cancellara has been doing very well in the TTs all along.
And praise for Lance to pull that one out too - I think he surprised a few. Since the Dauphine, he has really freshened up. He had the gloves off today!
By the same token, people shouldn't question Jan yet. He's given away a few seconds, sure, but he's still up there. Heras was a bit disappointing, but Mayo was OK. He was a size smaller than in Dauphiné though. He put some time into Armstrong in Dauphiné prologue. Now he's quite a bit behind. Simoni? I think he's only here for stage wins.
With the sprinters it will be interesting. Danilo Hondo and Tom Boonen have put themselves right up there, as has Cipo - we've not seen him since the Giro but he lashed out today. Thor Hushovd too. He's not as strong for the finishing sprints but he'll be up there for the bonus seconds.
Tomorrow
The parcours is a little bit like Liège-Bastogne-Liège tomorrow, and if this wind keeps up it will be very hard. All in all, being the first road stage of the tour, it's not going to be a "traditional" flat stage... IT will be even more nervous than usual. I think it's going to be a very solid day for the riders riding for the yellow jersey. People will see very tactical racing
Footnote
Someone put it to me today about the number of Aussies in the Tour (nine starters). With that many we could actually field our own pro-outfit! We have more than the Belgians, Dutch, Americans... and they all have their own teams. It's about time we found an Aussie sponsor to put a squad together. The depth is certainly there!
All for now,
Scott