91st Tour de France - July 3-25, 2004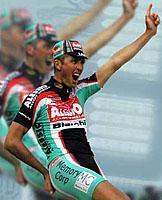 Scott Sunderland
Photo: © Memory Corp
Scott Sunderland's Tour Diary
Cyclingnews' longest contributing diarist Scott Sunderland is taking part in his second Tour de France in 2004 as part of the versatile Alessio-Bianchi team. Scott's role will be mainly to help Pietro Caucchioli, but he also hopes to have a few opportunities for stage wins. Once again, he'll be providing his highly experienced viewpoint on the Tour, its riders and anything else.
Pre-Tour mania
Tour de France, Belgium, July 1-2, 2004
Scott at the Hotel Shamrock
Photo ©: Lynne Vanbelle

I'm writing this after our training ride got cut a little short by a heavy rain shower...
We did the medical testing yesterday (Thursday), and all of that went fine. It was a pretty busy day. We had blood tests in the morning, after which we were expected to be in Liege at 12:00 to do our cardio tests, then we came back and have lunch. It wasn't until late in the arvo that we managed to go training. And then it was dinner time! The day just passed in a blink - there was no time to lay down and relax in bed.
I got a new road bike and I've been training on that for the last couple of days and it feels good. We spent some time adjusting positions and then today (Friday) we all went training over some of the parcours of the Amstel Gold Race. We took in the last four climbs, but when we got back to Valkenburg it started heaving down rain, so we dived into a cafe and called the soigneurs to come and get us. It's not good to ride around in the wet before the prologue. Your legs end up like rock.
Even so, today was more relaxed. We have the team presentation this arvo and we'll be going into Liege at about 5pm. Tomorrow we'll head into Liege and do a few circuits of the prologue course in the morning, then come back for lunch and head back for the TT later.
All the hype around everything is starting to build up. There's people everywhere - all the spectators coming into Liege. Up until now I haven't really noticed it because we're in a hotel out of town. It's very quiet and very relaxed, which is good. We really only noticed that there was a bike race on when we came into the permanence in Liege yesterday. All the sponsors were there, and we got new shirts, socks, shorts, bikes, glasses, shoes...they aim for everything to be on show.
All is going ok health wise. I haven't had any back pain for the last week and my osteopath David is coming in tomorrow, so he should be able to give me some treatment next week. I don't see any major problems with it.
Also, I'm trying not to eat too much at the moment because otherwise you get all blown up. If it'd been up to the cook at this hotel in Riemst we've been at the last couple of days, we'd have beef to the ankles by the start of the race. The food is bloody beautiful and everyone is just full as a goog after every meal. We're afraid it can only downhill from here as far as food is concerned!
Basically I'm just getting on with it. It's only 6 km tomorrow, so that's about 6'30-7'00 racing time. I'm starting at 4.10pm, which means I'll be back at the hotel early for a good rub and an early night!
The Olympic selection
I learned this morning that I wasn't selected in the Australian team for the Olympics. It was a slap in the face of course and I still don't understand the direction the selectors are trying to go in. I mean: taking three sprinters?? Hey, why not make it four?
But I decided while out training: "Scott, don't do your block, the selections will never be understood by just logical reasoning."
I'm happy for the guys who are selected, good on 'em. At least, my frustration is shared this time so it seems to weigh so much less then back in '96 when I was the only one being seriously overlooked. Some other riders putting down good results have been left out of the selection this time around, and they too would perform well on that particular parcours in Athens.
Nevertheless, It'd be good to know the selectors' motives, the reason for their weird strategy. Don't expect me to ask for it right now though, had enough of the duck-shoving.
As I said, I'm not going to lose sleep over it - I'm here to race the Tour!
Cheers,
Scott