Recently on Cyclingnews.com
91st Tour de France - July 3-25, 2004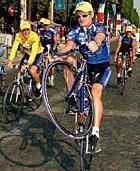 Floyd in action
Photo: © AFP
Hangin' In There: The Floyd Landis Tour Journal
During the Tour de France in 2002, Cyclingnews welcomed Floyd Landis as a reporter. The talented, gutsy, 28 year old former mountain biker had ridden his way to a start in the Tour as a key part of Lance Armstrong's USPS squad, and Landis went on to distinguish himself as an important member of the now legendary "Blue Train" at Le Tour.
Floyd also endeared himself to Cyclingnews readers for his unique take on an American rookie's life in the Tour De France peloton. 2004 has Floyd return with his exclusive journal "Hangin' In There."
Adventures in pavé
Stage 3 - July 6: Waterloo - Wasquehal, 210 km
Hi everybody,
Floyd with his bear,
Photo ©: Cyclingnews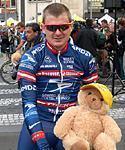 So Monday was July 4 and even though there were no fireworks, we went to the sign-on in Liege together since we are first team on Team GC. We got a teddy bear as our award; it used to be a lion so I don't know what the deal is with that. I thought the Lion was supposed to be a Credit Lyonnais thing... what happened?
Our team's morale is really good and these days leading up to the team time trial will be stressful, with windy and nervous conditions. Everybody's happy now but there's no joking around... it's three serious weeks at the Tour. It was really nervous and stressful on Stages 1 and 2; with the rain and wind, it was ugly. OK, it was a little better on Stage 2, not as hard, but it's always like that the first couple of days. There were guys getting dropped already it was so fast on Stage 1. And I didn't understand what the Fassa Bortolo guys were doing; they went so hard they killed their sprinter and ended up practically committing suicide.
Sunday night, our team chef Willi Balmat cooked some tasty risotto and I spoke to my wife Amber. She and my daughter Ryan have been looking for me on TV. I've heard a few Americans along the road but we've been just too focused on the racing.
Today, Ben Harper came to the team bus today before the stage. I didn't talk to him but he plays good music... we were all too focused to pay that much attention. It's kind of a sad state of affairs now; we just ride and eat and sleep and try to stay 100 percent focused . So far, so good.
Today, there was a pretty big crash today up in the front of the field as we were fighting for position before the cobbles. At that point, it was full speed as everyone was just trying to get to the front. We all knew Mayo had crashed but it didn't really change anything because we were already going flat-out. It was a bad day for Euskaltel today; it's too bad, but it's bound to happen to somebody. It was bad luck for Mayo and I feel bad for Euskaltel, but it can happen to anybody - even Lance.
It was kind of strange today because usually at Paris-Roubaix, it's all big guys fighting for position but today at the Tour, it was half climbers and half skinny stage-race riders! I don't mind the pavé but I don't like the fighting for position. And I was wasn't a fan of that first pavé section - it went on forever. Well I guess it makes a good TV show, so thanks for watching.
And thanks for reading!
Until Next Time,
Floyd
Photography
Images by Tim Maloney/Cyclingnews