91st Tour de France - July 3-25, 2004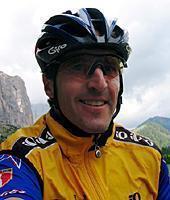 Davis Phinney
Photo: © Davis Phinney
Davis Phinney's Tour Diary: A Sprinter's Tale
With over 300 national and international victories in a career that spanned two decades, Davis Phinney is still the winningest cyclist in U.S. history. In 1986, he was the first American ever to win a road stage in the Tour de France; five years later, he won the coveted USPRO road title in Philadelphia.
In 2000, when Davis was just 40 years old, he was diagnosed with early-onset Parkinson's disease. But that hasn't kept him down. Since retiring from professional cycling, Davis has been a cycling sports commentator, public speaker and journalist. He brings his passion for those two-wheeled machines to Cyclingnews for the 2004 Tour de France.
Rest Day #1 - July 12: Limoges
Rest day reflections
Classically when the Tour has to move a long distance, the riders have to fly on the rest day - making the rest day literally a day with no rest. This year, much to the riders' appreciation, the Tour organized to have them transfer on Sunday evening, leaving Monday free, but free is a relative term when racing in the Tour de France.
Our free day in Varetz for the High Gear Tour was sorely needed. Most of the group had ridden the 237 km Limoges-Saint Flour route of the L'Etape du Tour and were completely spent, but happily so. New respect gained for the Tour riders, and even some crazy thoughts of riding every single stage of the Tour next year... to which I responded, great idea - while thinking, for someone else to lead.
One of the problems with L'Etape is that the riders are forced to abandon the course if they don't maintain a fairly quick pace. This led to some intense altercations from many cyclists including some in our group. One of our riders was threatened with expulsion just 50 km into the ride. As the official turned to gather up and pull other riders, he sped off. He lasted another 140 km before they caught up to him again, at which point he refused to quit and so they ripped off his numbers, and said in French the equivalent of 'You're on your own pal', to which he replied the equivalent of you know what. He finished with many riders who weren't de-frocked or de-numbered.
The scenery in this part of France is surprising. The roads are spectacular. All variety of routes can be found here - lightly trafficked, rolling to flat - and some of the hills very steep as you head toward the Massif Central. For me, it's been a return to a somewhat forgotten part of my past - a time when I raced here as a US amateur. A long-dormant sense of comfort, and a feeling of being at home. Roads and towns whose names I have long forgotten, but have seen and known and experienced before. There is a sense of place, a sense of the person I had once been, a sense of the joy and the struggle of years gone by.
The rest day found me on the outside looking in at the US Postal team hotel in Limoges. Our group was dropped to the parking lot in an admittedly undesirable (read: industrial) part of Limoges in hopes of catching a glimpse of our tour heroes. The talk on our bus ranged from musings about what or who we might find - Lance?
I was under the gun to produce someone of import. Call in a favor, Davis. I could feel the pressure. Still, too keenly I felt the responsibility of not hassling the riders, knowing how much they'd been through. The daily microscope of the Tour, and this - their chance for a fleeting moment of peace. Peace being relative as we saw many of the media going in and out the door. They still had to ride, eat, have a press conference and generally carry on the business of being a Tour rider.
Thankfully, Connie (who joined us late Sunday evening with our kids) spotted the CSC bus and suggested we try to find Bobby Julich. A great idea. We have known Bobby since he first came to our bike camp at age 14. A Colorado native, Bobby had signed up for camp because he was an up-and-coming junior cyclist and as Connie would say, he was totally infatuated with the stars of cycling and at that time, that was me. Connie had worked with the junior squads when Bobby was a junior, and we had applauded his early success culminating when he finished third and stood on the podium in Paris in the 1998 Tour de France (won by Pantani). Bobby has experienced a resurgence this year as he joined Bjarne Riis's CSC program and again finds himself back in the hunt.
Alex Stieda didn't have his credentials but looked enough like a journalist to talk his way into the hotel, luckily Bobby was just coming out of the dining room and was only too happy to oblige our request. Moments after Alex walked in, he walked out with Bobby.
Ask and ye shall receive.
Dressed in the team warm-ups, the tall and thin now 32 year-old exclaimed straightaway how much that early camp meant to him and how he still treasured a photo that I had signed to him - with words of encouragement - to the future star... After exchanging hugs, the group took photos and asked questions. The CSC team had already ridden with Bjarne that morning and that limited their speed and distance, two hours - not too hard.
Bobby spoke about the tension in the race. In his eighth Tour start, the buildup to the mountains is always difficult but the race among the contenders is still close. He spoke about the day on the cobbles in Belgium and how it had been his first experience on those roads. How pleased and surprised he was to find himself on the cobbles in the front with Hincapie, Armstrong, Ullrich and Hamilton, and remarked, "I should do this more often."
As a cyclist, I felt compelled to cut Bobby's time on his feet (why stand when you can sit, why sit when you can lie down). Yet he didn't seem pressed and seemed to enjoy signing and posing and asking questions (especially when Connie asked about his baby girl Olivia whom he would see atop the Alpe d'Huez in a week).
We asked about the crashes; Bobby had crashed in the infamous 1 km to go banner crash a few days prior. He landed hard on his backside, crashing into a barrier. For an hour after, he was uncertain about his chances of starting the next day. Thanks to a mercurial body-worker with his team, he is still on the bike but the rest-day was well-timed.
I felt relieved that the group, thanks to Bobby, had gotten a lot of what they had come for. We meandered back through the row of team buses, mechanics working on the bikes, and generally milling about.
Alex spotted a friend from Canada, a mechanic for Postal Service and chatted a bit. We took advantage of a photo op in front of the team USPS bus. The only disappointment of the day came as we stood there like eager fans and supporters, we were being mocked by US Postal team director Laurenzo Lapage, who was hanging about in the pits with other Belgian support personnel, continuously making turkey calls and laughing at us from the comfort of his roped-in area.
Who was the turkey?
I felt like turning to him and asking how many Tours had he started? How many stages had he won? And who paid his salary? Alex said, let it go. Anyway, I knew the answers to those questions and I knew who was the turkey.
It was an embarrassment for me, in front of our group, especially in light of our mission. The group is dedicated to raising $75,000 for the Lance Armstrong Foundation and we all proudly wear the 'Livestrong' yellow wrist bands.
Our rest day tour ended with a visit to the centre ville, to see the porcelain for which the city is famous. Tomorrow, the Tour presses on and we catch our first glimpse of the action.