Recently on Cyclingnews.com
91st Tour de France - July 3-25, 2004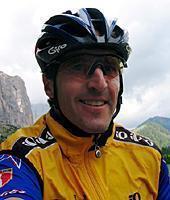 Davis Phinney
Photo: © Davis Phinney
Davis Phinney's Tour Diary: A Sprinter's Tale
With over 300 national and international victories in a career that spanned two decades, Davis Phinney is still the winningest cyclist in U.S. history. In 1986, he was the first American ever to win a road stage in the Tour de France; five years later, he won the coveted USPRO road title in Philadelphia.
In 2000, when Davis was just 40 years old, he was diagnosed with early-onset Parkinson's disease. But that hasn't kept him down. Since retiring from professional cycling, Davis has been a cycling sports commentator, public speaker and journalist. He brings his passion for those two-wheeled machines to Cyclingnews for the 2004 Tour de France.
Saint Brieuc, France, July 10, 2004
A volatile first week
Welcome to France! That's what I said into the phone, both before and after Antonio related his traumatic experience yesterday. Welcome to France indeed...
Antonio Cappelletti is a long time friend from Como. In his past, he was the personal massage therapist for the late Fabio Casartelli among other notables. Now he works for us at bike camp, thus I was the one who invited him along to the Tour, which I'm feeling a bit guilty about just now.
Here's what happened. Antonio left his house early Thursday morning - driving, along with several bikes and pieces of our luggage, to meet me and the High Gear Travel group in Toulouse. We'd been assembling there, on route to Limoges, as part of a TdF/fundraising tour package that involves the L'Etape du Tour (a mass participation ride) - and raise money for the LAF and DPF (Davis Phinney Foundation). So Antonio, a stately 60 year-old, is cruising along listening to Bach and taking in the countryside near Arles, when out of nowhere, a group of police cars appear and emphatically gesture for him to pull over.
What in the world is going on he thinks? The policeman in charge gruffly orders poor Antonio, who speaks very little French, to get out and then his officers 'strip search' the car. Everything comes out. The luggage is torn into, clothes everywhere, the bikes are taken from the rack, seat posts pulled, tyres searched, etc. Anything that could concievably be a place of hiding is looked into. The cops comb through everything, including the car itself, with frightening precision.
As Antonio watches, trembling slightly with fear, he reflects on the stories told from the peloton. Of riders being harassed and searched without mercy, of team cars suffering the same fate - and if any medicine was found without a prescription in hand, off they'd go. But why me, he wondered? He was not in a team car, there's no team insignia anywhere, not on the car or his clothes. Just a elder man driving through the country with two bikes on the rack. Still it is obvious, that due to the current climate surrounding cycling, the police are looking at him as a potential carrier of doping products, bound no doubt for the Tour de France.
That cyclists are being targeted and persecuted in the most extreme manner goes without saying. Witnessing the treatment of David Millar, one would think he was selling heroin to school children, or aligning himself with a terrorist cell. This is absolutely not to excuse doping practices - but give me a break. Is any other sport or athletes subject to such treatment? I highly doubt it.
Finally, after two hours by the roadside, Antonio was released. The police, angry at the fruitless effort, drive off in search of more likely game. Antonio joined us hours later and related the story by which time he could laugh about it. But we were all sobered by the tale...
Such a volatile first week in this years TdF. The wind, the rain, the roads and the tense racing are wreaking their usual selective havoc on the players of this most difficult of contests. Italian pride especially has suffered with poor results, team blunders (Saeco TTT, for example), crashes and the seemingly inevitable abandonment of the Cipo and Petacchi. But Pozzato's win, brilliantly timed this afternoon showed the class and potential of my young Veneto neighbor. And Robbie McEwen's day in yellow gave us old sprinters satisfaction.
Tomorrow another early rise to take on L'Etape, a 237km 'Grand Fondo' which starts in Limoges and follows the same course the pros follow in another few days. A long day in the saddle for many, but not likely for me. I'll start but probably arrange an exit point to preserve my health, while still enjoying the benefits and beauty of 'owning' the road - along with 8,000 other cyclists.
And finally, the hottest item not available in the L'Etape expo is the LIVESTRONG wrist band, which everyone in our group sports. Nice to see Stuart O'Grady wearing the band as he threw up his arms for a magnificient stage victory two days ago. These bands are a symbol of support to everyone touched by cancer and inspired by Lance and hopefully we'll see thousands more as the race approaches Paris.