91st Tour de France - July 3-25, 2004
Maillot jaune Lance Armstrong speaks, July 24, 2004
Armstrong on top of his game, having fun
With only the formality of the final stage to Paris standing between him and a record-breaking sixth consecutive victory in the Tour de France, Lance Armstrong has emerged from this year's Tour almost as a man reborn. The end result was the same, as was the basic process of training and preparation, but somehow the American feels different. This year Armstrong has had fun. For a man dedicated to racing his bicycle, and dedicated to winning the toughest, most prestigious race in the world, Armstrong is also a man who wants to enjoy himself along the way, writes Chris Henry.
Lance Armstrong
Photo ©: Sirotti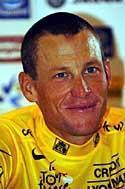 "This is probably the most fun I've had racing a bike," he said after winning his fifth stage in this year's Tour at Saturday's individual time trial in Besançon. "Not just here in Europe but I got to race in America, to keep things a little different. I even got to contest a sprint there, which I hadn't done in a long time.
"For some reason, and I can't really explain it, I'm enjoying the competition more than ever," he continued. "Not to make history, or to make money, but just for the thrill of getting on my bike and race 200 other guys. This year that was something really special to me and it's a big motivation for me."
In the end it's victory that matters, but even Armstrong admits now how difficult the 2003 Tour was for him, and how his smallest margin of victory was a wake up call, the result of illness, bad luck, and less than perfect performances throughout the race. This year, Lance and his dominant US Postal Service team returned order to their world, controlling the race with a grip so tight that no team could rival their collective strength, nor the individual strength of the leader.
Now that he is about to make history with his sixth win, Armstrong is pressed once more to compare his various successes. Armstrong faced the press for a recap of his Tour victories, his thoughts on this year, and just what separates him from the rivals who have repeatedly failed to knock him from the top step of the podium.
Expectant
Photo ©: Jon Devich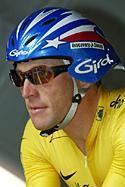 "They're very different," Armstrong said of his sixth win vs. his first. "Winning in 1999 was a complete shock and surprise to me. Not that I've gotten used to winning the Tour de France, but I do know what it means. I know what it feels like to ride onto the Champs Elysées, I know what it feels like to work through the winter as the defending Tour de France champion.
"This one is very, very special," he added. "They're all special, but in 1999 I never thought I'd win a second one or a third one or however many. To be on the verge of making history is incredibly special. I'm humbled by the event. It's always a challenge, and it's always different."
Much of Armstrong's success is due to the flawless tactics and guidance of his team director Johan Bruyneel, and the strong bond between the two. Armstrong is always ready to credit his team and his director for their part in his personal success, and this year's Tour demonstrated as well as ever just how thoroughly US Postal Service understands the race and how to guide the yellow jersey to Paris.
"I think...No, I know that it's a mix of talent and work," Armstrong said. "Many people ask how is it possible? That's a great question. The answer is work. What are you doing on Christmas day, are you riding your bike? January first, are you riding your bike? Absolutely. Six weeks before the Tour de France are you 10 kilos overweight? No. You're getting ready.
Bringing it home
Photo ©: Jon Devich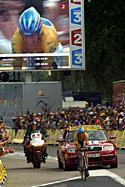 "It's a full year commitment, and that's our secret. And it's not just me, it's an entire team, an entire staff. It's a relationship between a rider and a director. When I go home in the winter, Johan and I still talk daily. It's a special group of people and the answer is total and complete commitment and hard work."
So what's next for Armstrong? In the final days of the Tour, a new round of speculation began over whether or not Armstrong would return to France next year. Having already confirmed that he will ride at least one more season as a professional, with the newly dubbed Discovery Channel team, Armstrong is sure to be looking for victories in the peloton, but not certain to be at the Tour.
One factor in Armstrong's eventual planning for the 2005 season will be family and personal commitments outside the sport. A father of three with children living in Texas, Armstrong knows the importance of keeping his family life on par with his professional life. This year he spent the month of April in the United States, but next year could see him spending even more time away from the European peloton.
"It's the hardest thing for me," he explained. "This spring I spent two months away and then a month at home, and now it'll be three months though I'll be home next week. This is what's going to force me to change my schedule because I refuse to do that again. My kids are three years old and five years old, and in three months they change completely and I'm not prepared to do that again.
"Having said that, I think that a cyclist can adapt his schedule and live in both continents, prepare in both continents, and maintain a family life and have a sporting life. I'm going to have to try to do that, even more than I did this year. It's simply too important for me and I become desperate in the end because they're so far away."
Answering the tough questions
Photo ©: Sirotti
Armstrong is the first to say, however, that the Tour de France is his favourite race and he has a hard time imagining not being there.
"I haven't made a schedule for 2005," he said simply. "I've said that I'd like to do the Giro d'Italia before I stop, and I stand by that because it's a beautiful race. I'd like to also do the World's again and I'd like to do the hour record... There are a lot of things I'd like to do, but I'm 33 and time's running out, so I may have to say 'whoops, I didn't do it.' But we'll see.
"But make no mistake about it, this is the greatest bike race in the world," he insisted. "It's the race that I love the most, so I can't imagine skipping the Tour. And if I do come I would only come with perfect condition. It's too hard and it's too special, so I'd only come to win."