91st Tour de France - July 3-25, 2004
An interview with Stage 18 winner Juan Miguel Mercado, July 23, 2004
David vs. Goliath
Juan Miguel Mercado (Quick.Step-Davitamon)
Photo ©: Sirotti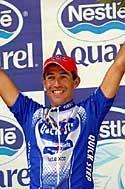 Juan Miguel Mercado, one of Quick.Step-Davitamon's two men for the general classification alongside Michael Rogers, wasn't having the best Tour de France. Until Friday's stage 18, that is. Mercado bounced back from fatigue and overnight illness to make the winning break, create the final selection, and outsprint his companion José Vicente Garcia Acosta (Illes Balears) in the final 300 metres of a transitional mountain stage from Annemasse to Lons le Saunier. Chris Henry reports on Mercado's David vs. Goliath victory
It was something of a surprise to see Mercado, a climber by nature, outsprint his former teammate, the powerful rouleur Garcia Acosta, a former stage winner himself and frequent player in long Tour escapes.
"I knew I had to attack on the last climb, which I did, and Vicente and I rode all out from there," Mercado said of the stage's final selection. "I was lucky to be behind him in the final kilometre, because I knew if I led out the sprint he'd be too strong for me."
Mercado followed his compatriot under the red kite and artfully dodged Garcia Acosta's efforts to get him to pull through in the finale. Sitting tight until 300 metres to the line, Mercado darted to the right side of the road and began a powerful sprint. Garcia Acosta found his back wheel, but left his final acceleration too late, crossing the line in a fume of frustration as Mercado celebrated the win.
Juan Miguel Mercado (Quick.Step-Davitamon)
Photo ©: Roberto Bettini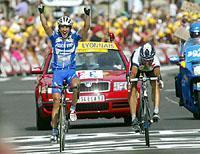 "I wasn't in my best form during the first two weeks, but today I had some luck and got in the winning breakaway," Mercado said after his biggest career win to date. "I was in good condition at the beginning of the Tour, as I had showed at the Dauphiné Libéré. The start of the Tour was very difficult, with the flat stages, the rain and the bad weather. When the Pyrenees came I was ok, but I saw that I wasn't as good as I had hoped.
"I managed to get through the Alps a bit better," he added, "But today all of that is forgotten and I'm so happy with a stage win."
Mercado also received plenty of praise - before his stage win - from teammate Richard Virenque. On his way to a record seventh polka dot jersey of winner of the mountains classification, Virenque didn't hide his appreciation for the work done by his Quick.Step teammates to get him there. Mercado was a key man for Virenque in the mountains, sacrificing his own chances to deliver the Frenchman to the top of the cols or set up Virenque for his numerous breakaways.
"He was sick last night but we said he had to hope for the best and keep trying," Virenque said after congratulating Mercado. "But he was a bit pessimistic..."
"Yesterday was a long stage and very hot, and I didn't feel good," Mercado explained. "I was ok at the finish, but later at the hotel I didn't feel like eating anything. Today I had a little breakfast and I felt better. The stage went well and I won the stage, which was a huge satisfaction for me."
Yee haa!
Photo ©: Caroline Yang

Mercado himself is proud of Virenque's polka dot achievement, which follows a stage win on Bastille Day and an early team win by sprinter Tom Boonen in Angers. Quick.Step has not challenged for the top ten in the general classification, but three stage wins and a distinctive jersey makes for an amply successful Tour.
"The goal of the team was to get the polka dot jersey for Richard, and the whole team worked hard for him. Of course we were also after stage wins, and now we have three with Boonen, Virenque, and me. I hope Boonen can win again on the Champs Elysées."
Inevitably, Mercado was forced to reflect on the bizarre occurrence of the day, the arrival of Lance Armstrong in the breakaway as the then eight riders tried to detach themselves from the main field. Armstrong made a move to follow Filippo Simeoni of Domina Vacanze, settling a personal score by compromising the break's chances unless Simeoni removed himself from the group.
"It was a bit strange," Mercado mused. "We were in the break with only 40 seconds and Phonak was chasing. When I saw Armstrong in front I thought it was over, since nobody would be willing to just let him go. He had some words with Simeoni and with Vicente, and then he and Simeoni dropped back...It wasn't long before we had nine minutes and then I was sure we could go all the way."