Tour of Britain - 2.3
Great Britain, September 1-5, 2004
A quick chat with Eddy Merckx, September 5, 2004
Back in the saddle
Riders, spectators and officials alike did a double take at the start of the final stage of the Tour of Britain on Sunday, with a very fit-looking Eddy Merckx in attendance. The cycling legend looks in better shape than he has for many years, and was a welcome guest of honour in London. Shane Stokes caught up with the king of Belgian cycling for a couple of minutes during the criterium.
The new, lighter weight Merckx (center) with Tour of Britain winner Mauricio Ardila and a ToB podium girl
Photo ©: Shane Stokes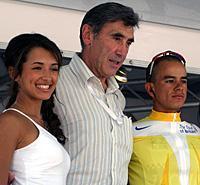 Cyclingnews: Eddy, you are looking very fit. Are you doing many kilometres at the bike at the moment?
Eddy Merckx: Yes, I ride often. I get out on the bike when I can.
CN: You are here at the end of the Tour of Britain. What is your impression of the event?
With KoM Ben Day
Photo ©: Shane Stokes

Eddy Merckx (R) and commentator Hugh Porter
Photo ©: Shane Stokes
That was then...
Photo ©: Miwako Sasaki

... and this is now
Photo ©: John Pierce

EM: I am impressed by the race, especially by the number of spectators. There are a lot of people here, watching the riders and cheering them on. That is very nice, and good for the event itself. To have a Tour of Britain is very important and the support of the crowd is a big plus.
CN: Your son Axel has had a very good season...
EM: Yes, he has been going well. It is a pity he was sick at the start of the race here but perhaps next year he will be back and will do better.
CN: His morale must have been really boosted by his ride at the Olympics?
EM: Yes, yes, I think it was good for him. It is very nice to get a medal at the Olympics. Not so many people can say that they have such a medal - that is something which stays with you all your life. It is a very good achievement for a rider.
CN: What is planned for you in the future?
EM: We will continue to produce our bikes and work with teams. Next year marks the 25th anniversary of the opening of our factory. It is going well and we are looking forward all the time.
CN: So have you anything special planned to mark that occasion?
EM: Yes, we will have a new mix of carbon fibre, some new models of bikes and also some new paint jobs for them.
CN: The Pro Tour is coming in next season - do you think it will be a positive move for cycling?
EM: In certain ways, yes, it will be positive. But I think perhaps there will be too much racing in the Pro Tour. Okay, there will be 28 riders on a team but I think it will still be hard for them. There will be great costs for the teams to send riders to all these races.
CN: What about Belgian cycling - is it in good shape at the moment?
EM: Yes, I think so. We have strong young guys coming through - we have Philippe Gilbert, Boonen, Nuyens - it is not bad, we have some good riders. Also Jurgen Van Den Broeck and a few others. That's encouraging.