Tour of Britain - 2.3
Great Britain, September 1-5, 2004
An interview with Roger Hammond, September 4, 2004
Discovery time for Hammond
Roger Hammond
Photo ©: Shane Stokes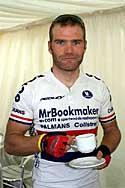 Roger Hammond starts today's fourth stage of the Tour of Britain motivated to do well, having won the British championships for the two years running in this area of South Wales. He was fourth into Manchester yesterday and started the stage eleventh overall, fifteen seconds behind race leader Mauricio Ardila.
Hammond has had a fine season thus far, taking third in Paris-Roubaix and seventh in the Olympic road race, amongst other results. His good form means he will be riding with Lance Armstrong's Discovery Channel next season, marking a big step up for the friendly British rider.
Cyclingnews' Shane Stokes caught up with Roger just before the start of today's stage in Newport, South Wales.
Cyclingnews: You were right up there at the end yesterday - how were you feeling during the stage?
Roger Hammond: Yeah, not too bad...I got through it okay. I am just trying to improve each day. I have been trying to do as little as possible and try to save as much strength for the decisive moments. Yesterday was as close as we will get to a rest day as far as efforts are concerned. We just gambled everything on it being a bunch sprint and it was. Jez (Jeremy Hunt) and I were both trying to get up together but we both got a little bit balked on the last corner which meant we didn't really get a good run at the finish. It was a pity, we ended up fourth and fifth rather than perhaps being closer.
CN: You said you are trying to improve each day...does that mean that you didn't feel great in the first couple of stages?
RH: No, I didn't feel great, no. The second day especially, I felt really rough then. But hopefully it is behind me now.
CN: You won two British championships on roads around here - does that give you additional motivation today?
RH: To me it is the last road stage, so that is the real motivation. The trouble is that I have nothing to gain and everything to lose because I have won here twice so if I do it again it is expected and if I don't, it will be like 'what happened?'
CN: Who will be the guys to watch on the stage?
RH: I think it will be an explosive climber because it finishes on top of that hill. Someone who can climb a little bit and is powerful...I reckon someone from Belgium because it is typical course for them. I don't know, it is hard to say because it is such a strange time of the year, motivation wise.
Tom (Boonen) has got his stage win now, I wonder whether he will be bothered to try to win another. I am not sure...maybe the criterium or something.
CN: You are said to be moving to Discovery next year - how did that come about?
RH: Just through the classics...the team is trying to bolster their team in that area, looking for Classics riders. I am just fortunate that I had a good season in the year they are looking to do that.
CN: Do you know the guys on the team?
RH: I know George (Hincapie) well, I get on well with George, I think that was part of it. I know Dirk Demol, the classics director, I know from quite a long time ago.
I've talked to Lance a few times, each time I race with him I say hello and have a little chat but I don't know him very well. Then again, I don't think I am being employed to be part of his team. I don't think I could ride the Tour as well as the guys he has got.
CN: It must be an exciting move at this stage of your career?
RH: Yeah, it is, it is a challenge, isn't it? I still have to sign and finalise it but if it does happen, it is a big challenge for me. It is a very different way of looking at cycling. It is a good motivation.
CN: Will you remain in Brussels?
RH: Yeah, I'll stay there. I am quite settled there and don't want to move any more. It is ideal to be there for the classics too, even if the weather can be bad!