Malaysia Airlines Herald Sun Tour of Provincial Victoria - 2.3
Australia, October 14-24, 2004
Main Page Results Previous Stage Next Stage
Stage 5 - October 17: Geelong, 77 km
Cooke makes it three from five
Downing hangs in for overall lead
By Rob Morris
Baden Cooke (Team Subaru)
Photo ©: Shane Goss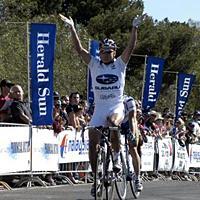 Englishman Dean Downing clings to the lead in the Malaysia Airlines Herald Sun Tour of Provincial Victoria, despite missing a place in the fifth stage at Geelong. Downing was belatedly presented with the leader's yellow jersey after a mix up on Saturday prior to the start of the 77 km kermesse on picturesque Eastern Beach.Riding for the Bendigo sponsored team, Downing lost 7 seconds to David McKenzie (Bicycle Superstore) in bonuses and stage placings, but will still carry yellow into the Tour of Otways at Colac.
Australia's Tour de France star Baden Cooke won his third stage of this week's tour when he out sprinted McKenzie in an extremely exciting race. Cooke is still fourth overall, but he is now only 40 seconds behind Downing and is in a serious position to win his second Herald Sun Tour, following on from his success in 2002.
"It was a very difficult sprint to the line," Cooke said. "You had to make sure you were in the right position as it was quite dangerous and there was not much room to move. Now after five stages, I am confident we can have a good dig at overall honours. Our team has discussed what lies ahead and we are serious about really having a go at trying to win."
McKenzie might have something to say about Cooke winning, as he is now in perfect position to challenge Downing for the lead.
"Firstly, there is no disgrace in finishing second to a rider like Baden Cooke in today's sprint," McKenzie said. "Secondly, General Classification honours are uppermost in our team's mind, we want to win, we're not here to run second."
Corey Sweet (R, Latrobe City)
Photo ©: Shane Goss

While Cooke and McKenzie are carrying the flag for Australia to win this internationally ranked event, riders from overseas are still going to be hard to beat. Downing is in yellow, so obviously the local stars have to catch him, but watch out for Sweden's Jonas Ljungblad (Europcar - Pelaco). Ljungblad scored his second third placing in the Geelong stage and is placed 9th overall.
The Geelong kermesse stage was raced in brilliant sunshine with the heat taking its toll on some riders.
Already Ashley Hutchinson (Jayco) and Englishman Stephen Cumming (Bendigo) have withdrawn from the tour through illness, whilst another one of the English riders, Russell Downing (Bendigo) is in danger of withdrawing.
Downing, the younger brother of the tour leader, is suffering from a race fall in Stage 2 at Werribee and struggled to get through the Geelong stage. With the Bendigo team reduced to just three fit riders, it will make things difficult for Dean Downing to maintain his hold on yellow, as the attacks are coming; it's only a matter of time.
The Geelong stage will be remembered for the courageous performances of Ben Brooks (McGee - NSW IS) and Corey Sweet (La Trobe City). The New South Welshman and the South Australian broke away for 15 laps, sharing seven of the intermediate sprints before the peloton gobbled them up. The pair, whilst not featuring in the end results, were joint winners of the daily most aggressive rider award.
The main field corners
Photo ©: Shane Goss

McKenzie strengthened his hold on the Sprint Championship, moving to 39 points and 12 ahead of Downing.
The HST will continue tomorrow with the Tour of Otways in the Colac district.
Photography
Images by Shane Goss/www.licoricegallery.com
Results

1 Baden Cooke (Aus) Subaru                               1.48.55 (42.42km/h)
2 David McKenzie (Aus) Bicycle Superstore                       
3 Jonas Ljungbald (Swe) Europcar - Pelaco                       
4 Dean Downing (GBr) Bendigo                                    
5 Artur Krzeszowiec (Pol) Europcar - Pelaco                     
6 Luke Roberts (Aus) Latrobe City                               
7 Richard England (Aus) Mitchell Building Supplies              
8 Felix Odebrecht (Ger) Malaysia Airlines                       
9 Jonathan Cantwell (Aus) Half Mile Creek                       
10 Andrew Graham (Aus) Uno Clothing                             
11 David Tanner (Aus) McGee - NSW Institute Of Sport            
12 Damian Forster (Aus) Uno Clothing                            
13 Mark Roland (Aus) Victorian State Home Loans                 
14 Mateusz Mroz (Pol) Europcar - Pelaco                         
15 Thomas Gronqvist (Swe) Europcar - Pelaco                     
16 Glen Mitchell (NZl) Active For Life                          
17 Hans De Clercq (Bel) Bicycle Superstore                      
18 Jorge Libonatti (Uru) Active For Life                        
19 Chrisophe Le Mevel (Fra) Provincial Victoria                 
20 Simon Gerrans (Aus) Jayco                                    
21 Ben Brooks (Aus) McGee - NSW Institute Of Sport              
22 Jorn Reuss (Ger) Malaysia Airlines                           
23 Karl Menzies (Aus) Bicycle Superstore                        
24 Craig McCartney (Aus) Provincial Victoria                    
25 Timo Scholz (Ger) Malaysia Airlines                          
26 William Walker (Aus) Jayco                                   
27 Kieran Page (GBr) Bendigo                                    
28 Jeremy Hunt (GBr) Latrobe City                               
29 Mark Renshaw (Aus) Subaru                                    
30 Tomas Buchacek (Cze) Latrobe City                            
31 Bart Heirewegh (Bel) Half Mile Creek                         
32 Corey Sweet (Aus) Latrobe City                               
33 Rob Sharman (GBr) Sungold Milk - Warrnambool                 
34 Rhys Pollock (Aus) Uno Clothing                              
35 Dominique Perras (Can) Active For Life                       
36 Eric Wohlberg (Can) Active For Life                          
37 Ben Johnson (Aus) Malaysia Airlines                          
38 Kristian House (GBr) Bendigo                                 
39 Paul Healion (Irl) Sungold Milk - Warrnambool                
40 Ruber Marin (Col) Subaru                                     
41 Russell Van Hout (Aus) Subaru                                
42 Jamie Burrow (GBr) Europcar - Pelaco                         
43 Joel Pearson (Aus) Provincial Victoria                       
44 Scott Guyton (NZl) Bicycle Superstore                        
45 Benoit Poilvet (Fra) Provincial Victoria                     
46 Nick Kiraly (Aus) Victorian State Home Loans                 
47 James Meadley (Aus) Mitchell Building Supplies               
48 Steven De Decker (Bel) Half Mile Creek                       
49 Matthew Goold (Aus) Active For Life                          
50 Phillip Thuaux (Aus) Jayco                                   
51 Matthew Rex (Aus) CGU Insurance                              
52 Robert McLachlan (Aus) Argon 18 Bikes - Caravello            
53 Chris Bradford (Aus) CGU Insurance                           
54 David Harrigan (Aus) Latrobe City                            
55 Trent Wilson (Aus) Subaru                                    
56 Anthony Challinor (Aus) Argon 18 Bikes - Caravello           
57 Peter Milostic (Aus) Argon 18 Bikes - Caravello              
58 Hilton Clarke (Aus) Half Mile Creek                          
59 Domenic Gatto (Aus) Victorian State Home Loans               
60 George Vallins (Aus) Uno Clothing                            
61 Thomas Liese (Ger) Malaysia Airlines                         
62 Matthew Lloyd (Aus) Mitchell Building Supplies           0.19
63 Tony Mann (Aus) Argon 18 Bikes - Caravello                   
64 Jonathon Clarke (Aus) Jayco                              0.22
65 Henk Vogels (Aus) Bicycle Superstore                     0.24
66 Chris Sutton (Aus) McGee - NSW Institute Of Sport        0.35
67 Daniel Newnham (Aus) Mitchell Building Supplies          0.38
68 Christian Lademann (Ger) Half Mile Creek                 0.51
69 Richard Moffatt (Aus) McGee - NSW Institute Of Sport     3.58
70 Nigel Dunstone (Aus) Argon 18 Bikes - Caravello              
71 Scott Lyttle (NZl) Mitchell Building Supplies                
72 Ashley Baines (Aus) CGU Insurance                            
73 David Pell (Aus) Uno Clothing                            4.16
74 Steve Cunningham (Aus) CGU Insurance                     4.38
75 Philip Finnegan (Irl) Sungold Milk - Warrnambool         7.05
76 Dermot Nally (Irl) Sungold Milk - Warrnambool                
77 Kieran Cameron (Aus) McGee - NSW Institute Of Sport          
78 Nathan Jones (Aus) CGU Insurance                             
79 Trent Stevenson (Aus) Provincial Victoria                7.23
80 Daniel McConnell (Aus) Victorian State Home Loans       10.40
81 Brian Kenneally (Irl) Sungold Milk - Warrnambool        14.21
82 Russell Downing (GBr) Bendigo                           20.53
83 Simon Walker (Aus) Victorian State Home Loans           32.24
 
Sprints
 
 
End of Lap 2
 
1 Glen Mitchell (NZl) Active For Life                          3 pts
2 Chris Sutton (Aus) McGee - NSW Institute Of Sport            2
3 Mateusz Mroz (Pol) Europcar - Pelaco                         1
 
End of Lap 4
 
1 Jonas Ljungbald (Swe) Europcar - Pelaco                      3 pts
2 Jonathan Cantwell (Aus) Half Mile Creek                      2
3 Scott Guyton (NZl) Bicycle Superstore                        1
 
End of Lap 6
 
1 Matthew Goold (Aus) Active For Life                          3 pts
2 Ashley Baines (Aus) CGU Insurance                            2
3 Dermot Nally (Irl) Sungold Milk - Warrnambool                1
 
End of Lap 8
 
1 Ben Brooks (Aus) McGee - NSW Institute Of Sport              3 pts
2 Corey Sweet (Aus) Latrobe City                               2
3 Kristian House (GBr) Bendigo                                 1
 
End of Lap 10
 
1 Corey Sweet (Aus) Latrobe City                               3 pts
2 Ben Brooks (Aus) McGee - NSW Institute Of Sport              2
3 Christian Lademann (Ger) Half Mile Creek                     1
 
End of Lap 12
 
1 Ben Brooks (Aus) McGee - NSW Institute Of Sport              3 pts
2 Corey Sweet (Aus) Latrobe City                               2
3 Tony Mann (Aus) Argon 18 Bikes - Caravello                   1
 
End of Lap 14
 
1 Corey Sweet (Aus) Latrobe City                               3 pts
2 Ben Brooks (Aus) McGee - NSW Institute Of Sport              2
3 Tony Mann (Aus) Argon 18 Bikes - Caravello                   1
 
End of Lap 16
 
1 Ben Brooks (Aus) McGee - NSW Institute Of Sport              3 pts
2 Corey Sweet (Aus) Latrobe City                               2
3 Anthony Challinor (Aus) Argon 18 Bikes - Caravello           1
 
 
End of Lap 18
 
1 Corey Sweet (Aus) Latrobe City                               3 pts
2 Ben Brooks (Aus) McGee - NSW Institute Of Sport              2
3 Russell Van Hout (Aus) Subaru                                1
 
End of Lap 20
 
1 Ben Brooks (Aus) McGee - NSW Institute Of Sport              3 pts
2 Corey Sweet (Aus) Latrobe City                               2
3 Jonathan Cantwell (Aus) Half Mile Creek                      1
 
End of Lap 22
 
1 Ben Brooks (Aus) McGee - NSW Institute Of Sport              3 pts
2 David McKenzie (Aus) Bicycle Superstore                      2
3 Dean Downing (GBr) Bendigo                                   1
 
End of Lap 24
 
1 David Pell (Aus) Uno Clothing                                3 pts
2 David McKenzie (Aus) Bicycle Superstore                      2
3 Ben Brooks (Aus) McGee - NSW Institute Of Sport              1
 
End of Lap 26
 
1 Hans De Clercq (Bel) Bicycle Superstore                      3 pts
2 Glen Mitchell (NZl) Active For Life                          2
3 David Tanner (Aus) McGee - NSW Institute Of Sport            1
 
End of Lap 28
 
1 Luke Roberts (Aus) Latrobe City                              3 pts
2 Baden Cooke (Aus) Subaru                                     2
3 Jonas Ljungbald (Swe) Europcar - Pelaco                      1
 
End of Lap 30
 
1 Mark Renshaw (Aus) Subaru                                    3 pts
2 Phillip Thuaux (Aus) Jayco                                   2
3 William Walker (Aus) Jayco                                   1
 
End of Lap 32
 
1 Matthew Lloyd (Aus) Mitchell Building Supplies               3 pts
2 Trent Wilson (Aus) Subaru                                    2
3 Dominique Perras (Can) Active For Life                       1
 
General Classification after stage 5
 
1 Dean Downing (GBr) Bendigo                             7.50.30
2 David McKenzie (Aus) Bicycle Superstore                   0.04
3 Karl Menzies (Aus) Bicycle Superstore                     0.20
4 Baden Cooke (Aus) Subaru                                  0.41
5 Jonas Ljungbald (Swe) Europcar - Pelaco                   1.21
6 Ben Brooks (Aus) McGee - NSW Institute Of Sport               
7 Luke Roberts (Aus) Latrobe City                           1.26
8 Robert McLachlan (Aus) Argon 18 Bikes - Caravello         1.29
9 Richard England (Aus) Mitchell Building Supplies          1.33
10 Simon Gerrans (Aus) Jayco                                1.36
11 Eric Wohlberg (Can) Active For Life                      1.43
12 Corey Sweet (Aus) Latrobe City                           1.48
13 Jonathan Cantwell (Aus) Half Mile Creek                  1.49
14 Glen Mitchell (NZl) Active For Life                      1.52
15 Phillip Thuaux (Aus) Jayco                               1.53
16 Kieran Page (GBr) Bendigo                                1.56
17 Trent Wilson (Aus) Subaru                                2.03
18 Hans De Clercq (Bel) Bicycle Superstore                  2.04
19 Kristian House (GBr) Bendigo                             2.05
20 Timo Scholz (Ger) Malaysia Airlines                      2.06
21 Scott Guyton (NZl) Bicycle Superstore                        
22 Mateusz Mroz (Pol) Europcar - Pelaco                     2.07
23 Rob Sharman (GBr) Sungold Milk - Warrnambool             2.08
24 Jamie Burrow (GBr) Europcar - Pelaco                     2.10
25 Ben Johnson (Aus) Malaysia Airlines                          
26 Jeremy Hunt (GBr) Latrobe City                               
27 Bart Heirewegh (Bel) Half Mile Creek                     2.11
28 William Walker (Aus) Jayco                               2.13
29 David Tanner (Aus) McGee - NSW Institute Of Sport        2.14
30 Russell Van Hout (Aus) Subaru                            2.15
31 Craig McCartney (Aus) Provincial Victoria                    
32 Hilton Clarke (Aus) Half Mile Creek                          
33 Matthew Goold (Aus) Active For Life                          
34 Ruber Marin (Col) Subaru                                 2.16
35 Chrisophe Le Mevel (Fra) Provincial Victoria             2.17
36 Dominique Perras (Can) Active For Life                       
37 Tomas Buchacek (Cze) Latrobe City                            
38 Domenic Gatto (Aus) Victorian State Home Loans           2.18
39 Benoit Poilvet (Fra) Provincial Victoria                     
40 Thomas Gronqvist (Swe) Europcar - Pelaco                     
41 Anthony Challinor (Aus) Argon 18 Bikes - Caravello       2.34
42 Matthew Lloyd (Aus) Mitchell Building Supplies               
43 Peter Milostic (Aus) Argon 18 Bikes - Caravello              
44 Chris Bradford (Aus) CGU Insurance                       2.38
45 Steven De Decker (Bel) Half Mile Creek                       
46 Jonathon Clarke (Aus) Jayco                              2.39
47 Andrew Graham (Aus) Uno Clothing                         2.42
48 Mark Roland (Aus) Victorian State Home Loans             2.47
49 Rhys Pollock (Aus) Uno Clothing                          3.06
50 Chris Sutton (Aus) McGee - NSW Institute Of Sport        3.12
51 Joel Pearson (Aus) Provincial Victoria                   3.25
52 James Meadley (Aus) Mitchell Building Supplies           3.33
53 Daniel Newnham (Aus) Mitchell Building Supplies          3.39
54 Thomas Liese (Ger) Malaysia Airlines                     3.40
55 Matthew Rex (Aus) CGU Insurance                          3.47
56 Christian Lademann (Ger) Half Mile Creek                 3.50
57 Jorge Libonatti (Uru) Active For Life                    3.58
58 Paul Healion (Irl) Sungold Milk - Warrnambool            4.10
59 Damian Forster (Aus) Uno Clothing                            
60 Ashley Baines (Aus) CGU Insurance                        6.53
61 Scott Lyttle (NZl) Mitchell Building Supplies            7.48
62 Nigel Dunstone (Aus) Argon 18 Bikes - Caravello          7.59
63 Mark Renshaw (Aus) Subaru                                8.38
64 Artur Krzeszowiec (Pol) Europcar - Pelaco                9.03
65 Felix Odebrecht (Ger) Malaysia Airlines                  9.08
66 Jorn Reuss (Ger) Malaysia Airlines                       9.29
67 Steve Cunningham (Aus) CGU Insurance                     9.37
68 George Vallins (Aus) Uno Clothing                        9.47
69 Nick Kiraly (Aus) Victorian State Home Loans            10.39
70 Richard Moffatt (Aus) McGee - NSW Institute Of Sport    11.08
71 Henk Vogels (Aus) Bicycle Superstore                    11.27
72 David Pell (Aus) Uno Clothing                           15.37
73 David Harrigan (Aus) Latrobe City                       16.26
74 Nathan Jones (Aus) CGU Insurance                        16.41
75 Daniel McConnell (Aus) Victorian State Home Loans       17.16
76 Kieran Cameron (Aus) McGee - NSW Institute Of Sport     17.22
77 Brian Kenneally (Irl) Sungold Milk - Warrnambool        17.47
78 Philip Finnegan (Irl) Sungold Milk - Warrnambool        20.13
79 Trent Stevenson (Aus) Provincial Victoria               24.41
80 Dermot Nally (Irl) Sungold Milk - Warrnambool           28.48
81 Tony Mann (Aus) Argon 18 Bikes - Caravello              31.14
82 Russell Downing (GBr) Bendigo                           38.51
83 Simon Walker (Aus) Victorian State Home Loans         1.10.19
 
Aggressive Rider Awards
 
1 Robert McLachlan (Aus) Argon 18 Bikes - Caravello          400 pts
2 Corey Sweet (Aus) Latrobe City                             200
2 Eric Wohlberg (Can) Active For Life                        200
2 David McKenzie (Aus) Bicycle Superstore                    200
2 Ben Brooks (Aus) McGee - NSW Institute Of Sport            200
6 Karl Menzies (Aus) Bicycle Superstore                      100
6 Dean Downing (GBr) Bendigo                                 100
 
Team Classification
 
1 Bicycle Superstore                                    23.36.11
2 Bendigo                                                   1.07
3 Active For Life                                           1.50
4 Subaru                                                    1.55
5 Europcar - Pelaco                                         1.59
6 Victorian State Home Loans                                    
7 Jayco                                                     2.02
8 Half Mile Creek                                           2.06
9 Provincial Victoria                                           
10 Latrobe City                                             2.20
11 Mitchell Building Supplies                               2.28
12 Mcgee - Nsw Institute Of Sport                           2.39
13 Argon 18 Bikes - Caravello                               2.43
14 Malaysia Airlines                                        3.20
15 Uno Clothing                                             3.26
16 Cgu Insurance                                            7.16
17 Sungold Milk - Warrnambool                              13.53
 
Sprint Classification
 
1 David McKenzie (Aus) Bicycle Superstore                     41 pts
2 Dean Downing (GBr) Bendigo                                  27
3 Ben Brooks (Aus) McGee - NSW Institute Of Sport             24
4 Karl Menzies (Aus) Bicycle Superstore                       23
5 Corey Sweet (Aus) Latrobe City                              20
6 Simon Gerrans (Aus) Jayco                                   11
7 Kieran Page (GBr) Bendigo                                   10
8 Rob Sharman (GBr) Sungold Milk - Warrnambool                10
9 Robert McLachlan (Aus) Argon 18 Bikes - Caravello            8
10 Jeremy Hunt (GBr) Latrobe City                              8
11 Phillip Thuaux (Aus) Jayco                                  8
12 Scott Guyton (NZl) Bicycle Superstore                       7
13 Glen Mitchell (NZl) Active For Life                         7
14 Chris Sutton (Aus) McGee - NSW Institute Of Sport           7
15 Jonas Ljungbald (Swe) Europcar - Pelaco                     6
16 Tony Mann (Aus) Argon 18 Bikes - Caravello                  6
17 Trent Wilson (Aus) Subaru                                   5
18 Rhys Pollock (Aus) Uno Clothing                             4
19 Dermot Nally (Irl) Sungold Milk - Warrnambool               4
20 Peter Milostic (Aus) Argon 18 Bikes - Caravello             4
21 Eric Wohlberg (Can) Active For Life                         4
22 Kristian House (GBr) Bendigo                                4
23 Mark Renshaw (Aus) Subaru                                   4
24 Jonathan Cantwell (Aus) Half Mile Creek                     4
25 Ashley Baines (Aus) CGU Insurance                           4
26 Steve Cunningham (Aus) CGU Insurance                        4
27 Mateusz Mroz (Pol) Europcar - Pelaco                        4
28 Matthew Goold (Aus) Active For Life                         3
29 Bart Heirewegh (Bel) Half Mile Creek                        3
30 Matthew Lloyd (Aus) Mitchell Building Supplies              3
31 Luke Roberts (Aus) Latrobe City                             3
32 Hilton Clarke (Aus) Half Mile Creek                         3
33 Hans De Clercq (Bel) Bicycle Superstore                     3
34 David Pell (Aus) Uno Clothing                               3
35 Baden Cooke (Aus) Subaru                                    3
36 Russell Van Hout (Aus) Subaru                               3
37 William Walker (Aus) Jayco                                  2
38 Daniel Newnham (Aus) Mitchell Building Supplies             2
39 Russell Downing (GBr) Bendigo                               2
40 George Vallins (Aus) Uno Clothing                           2
41 David Tanner (Aus) McGee - NSW Institute Of Sport           1
42 Tomas Buchacek (Cze) Latrobe City                           1
43 Andrew Graham (Aus) Uno Clothing                            1
44 Ben Johnson (Aus) Malaysia Airlines                         1
45 Anthony Challinor (Aus) Argon 18 Bikes - Caravello          1
46 Dominique Perras (Can) Active For Life                      1
47 Jorge Libonatti (Uru) Active For Life                       1
48 Christian Lademann (Ger) Half Mile Creek                    1
49 Jonathon Clarke (Aus) Jayco                                 1
 
Mountains classification
 
1 Phillip Thuaux (Aus) Jayco                                  17 pts
2 Trent Wilson (Aus) Subaru                                   10
3 Eric Wohlberg (Can) Active For Life                          8
4 Scott Guyton (NZl) Bicycle Superstore                        5
5 Baden Cooke (Aus) Subaru                                     5
6 Kieran Page (GBr) Bendigo                                    5
7 William Walker (Aus) Jayco                                   3
8 Luke Roberts (Aus) Latrobe City                              3
9 Kristian House (GBr) Bendigo                                 3
10 Craig McCartney (Aus) Provincial Victoria                   3
11 Nathan Jones (Aus) CGU Insurance                            2
12 Jonas Ljungbald (Swe) Europcar - Pelaco                     2
13 David McKenzie (Aus) Bicycle Superstore                     2
14 Robert McLachlan (Aus) Argon 18 Bikes - Caravello           2
15 Ruber Marin (Col) Subaru                                    2
16 Chrisophe Le Mevel (Fra) Provincial Victoria                1
17 David Pell (Aus) Uno Clothing                               1
18 David Tanner (Aus) McGee - NSW Institute Of Sport           1
19 Thomas Liese (Ger) Malaysia Airlines                        1
 
Criterium Championship
 
1 Dean Downing (GBr) Bendigo                                  25 pts
2 Baden Cooke (Aus) Subaru                                    20
3 David McKenzie (Aus) Bicycle Superstore                     17
4 Jonas Ljungbald (Swe) Europcar - Pelaco                     11
5 Richard England (Aus) Mitchell Building Supplies            11
6 Ben Brooks (Aus) McGee - NSW Institute Of Sport             10
7 Karl Menzies (Aus) Bicycle Superstore                       10
8 Jonathan Cantwell (Aus) Half Mile Creek                      9
9 Matthew Rex (Aus) CGU Insurance                              8
10 Felix Odebrecht (Ger) Malaysia Airlines                     7
11 Robert McLachlan (Aus) Argon 18 Bikes - Caravello           6
12 Artur Krzeszowiec (Pol) Europcar - Pelaco                   6
13 Glen Mitchell (NZl) Active For Life                         6
14 Simon Walker (Aus) Victorian State Home Loans               5
15 Luke Roberts (Aus) Latrobe City                             5
16 Kristian House (GBr) Bendigo                                3
17 Mark Roland (Aus) Victorian State Home Loans                2
18 Eric Wohlberg (Can) Active For Life                         2
19 Andrew Graham (Aus) Uno Clothing                            1
20 David Tanner (Aus) McGee - NSW Institute Of Sport           1
 
Provincial Victoria Under 23 Award
 
1 Jonathan Cantwell (Aus) Half Mile Creek                       
2 Kieran Page (GBr) Bendigo                                     
3 Ben Johnson (Aus) Malaysia Airlines                           
 
Leading Australian Based Rider
 
1 David McKenzie (Aus) Bicycle Superstore                       
2 Robert McLachlan (Aus) Argon 18 Bikes - Caravello             
3 Richard England (Aus) Mitchell Building Supplies              
4 William Walker (Aus) Jayco                                    
5 David Tanner (Aus) McGee - NSW Institute Of Sport             
6 Matthew Goold (Aus) Active For Life