Malaysia Airlines Herald Sun Tour of Provincial Victoria - 2.3
Australia, October 14-24, 2004
Main Page Results Previous Stage Next Stage
Stage 2 - October 15: Werribee Criterium, 36 km
Cooke makes his mark
By Rod Morris in Werribee
Baden Cooke (Team Subaru)
Photo ©: Shane Goss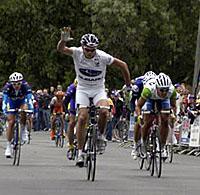 Baden Cooke (Subaru) won the first of two stages on the second day of the Malaysia Airlines Herald Sun Tour of Provincial Victoria, taking the 36 km criterium in Werribee in a bunch sprint ahead of Dean Downing (Bendigo) and Matthew Rex (CGU Insurance). Cooke is now in fifth place overall, moving to within 1'30 of leader Karl Menzies (Bicycle Superstore).
The Werribee Criterium attracted another healthy crowd and the riders didn't disappoint. Whilst it was a completely different race to the Menzies-Downing-McKenzie show on Thursday, riders simply weren't allowed to breakaway. Perhaps it was the tight race circuit, perhaps it was the tough wind conditions, but more likely it was because riders were awake to who the main protagonists are and weren't going to allow them any leeway.
A spectacular fall 100 m past the finish line when the field had two laps to go, upset the rhythm of many of the sprinters, but it didn't detract from Cooke's victory. Downing took second in a photo finish while exciting young South Australian Mathew Rex (CGU Insurance) was third home.
Photography
Images by Shane Goss/www.licoricegallery.com
Results
1 Baden Cooke (Aus) Subaru                                  47.31 (45.46 km/h)
2 Dean Downing (GBr) Bendigo                                     
3 Matthew Rex (Aus) CGU Insurance                                
4 Richard England (Aus) Mitchell Building Supplies               
5 Ben Brooks (Aus) McGee - NSW Institute Of Sport                
6 Simon Walker (Aus) Victorian State Home Loans                  
7 Felix Odebrecht (Ger) Malaysia Airlines                        
8 Jonas Ljungblad (Swe) Europcar - Pelaco                        
9 Mark Roland (Aus) Victorian State Home Loans                   
10 Glen Mitchell (NZl) Active For Life                           
11 Simon Gerrans (Aus) Jayco                                     
12 Joel Pearson (Aus) Provincial Victoria                        
13 Jonathan Cantwell (Aus) Half Mile Creek                       
14 Hans De Clercq (Bel) Bicycle Superstore                       
15 Kieran Page (GBr) Bendigo                                     
16 Karl Menzies (Aus) Bicycle Superstore                         
17 Andrew Graham (Aus) Uno Clothing                              
18 Eric Wohlberg (Can) Active For Life                           
19 David McKenzie (Aus) Bicycle Superstore                       
20 Ben Johnson (Aus) Malaysia Airlines                           
21 James Meadley (Aus) Mitchell Building Supplies                
22 Mateusz Mroz (Pol) Europcar - Pelaco                          
23 Jorge Libonatti (Uru) Active For Life                         
24 Paul Healion (Irl) Sungold Milk - Warrnambool                 
25 David Harrigan (Aus) Latrobe City                             
26 Bart Heirewegh (Bel) Half Mile Creek                      0.07
27 Anthony Challinor (Aus) Argon 18 Bikes - Caravello            
28 Steven De Decker (Bel) Half Mile Creek                        
29 Kristian House (GBr) Bendigo                                  
30 Jamie Burrow (GBr) Europcar - Pelaco                          
31 Timo Scholz (Ger) Malaysia Airlines                           
32 Jorn Reuss (Ger) Malaysia Airlines                            
33 Rhys Pollock (Aus) Uno Clothing                               
34 Matthew Goold (Aus) Active For Life                           
35 Benoit Poilvet (Fra) Provincial Victoria                      
36 Ruber Marin (Col) Subaru                                      
37 Trent Wilson (Aus) Subaru                                     
38 Chris Sutton (Aus) McGee - NSW Institute Of Sport             
39 Tony Mann (Aus) Argon 18 Bikes - Caravello                    
40 Dominique Perras (Can) Active For Life                        
41 Thomas Gronqvist (Swe) Europcar - Pelaco                      
42 Rob Sharman (GBr) Sungold Milk - Warrnambool                  
43 Christian Lademann (Ger) Half Mile Creek                      
44 Jeremy Hunt (GBr) Latrobe City                                
45 Kieran Cameron (Aus) McGee - NSW Institute Of Sport           
46 Chrisophe Le Mevel (Fra) Provincial Victoria                  
47 Corey Sweet (Aus) Latrobe City                                
48 Henk Vogels (Aus) Bicycle Superstore                          
49 David Pell (Aus) Uno Clothing                                 
50 Luke Roberts (Aus) Latrobe City                               
51 William Walker (Aus) Jayco                                    
52 Damian Forster (Aus) Uno Clothing                             
53 Jonathon Clarke (Aus) Jayco                                   
54 Thomas Liese (Ger) Malaysia Airlines                          
55 Scott Guyton (NZl) Bicycle Superstore                         
56 Phillip Thuaux (Aus) Jayco                                    
57 Tomas Buchacek (Cze) Latrobe City                             
58 Stephen Cummings (GBr) Bendigo                                
59 Matthew Lloyd (Aus) Mitchell Building Supplies                
60 Russell Van Hout (Aus) Subaru                                 
61 Chris Bradford (Aus) CGU Insurance                            
62 Hilton Clarke (Aus) Half Mile Creek                           
63 George Vallins (Aus) Uno Clothing                             
64 Peter Milostic (Aus) Argon 18 Bikes - Caravello               
65 Domenic Gatto (Aus) Victorian State Home Loans                
66 Craig McCartney (Aus) Provincial Victoria                     
67 Steve Cunningham (Aus) CGU Insurance                          
68 Daniel Newnham (Aus) Mitchell Building Supplies               
69 Nigel Dunstone (Aus) Argon 18 Bikes - Caravello               
70 Robert McLachlan (Aus) Argon 18 Bikes - Caravello             
71 Russell Downing (GBr) Bendigo                                 
72 Artur Krzeszowiec (Pol) Europcar - Pelaco                     
73 Scott Lyttle (NZl) Mitchell Building Supplies             0.16
74 Philip Finnegan (Irl) Sungold Milk - Warrnambool              
75 Nathan Jones (Aus) CGU Insurance                              
76 Ashley Baines (Aus) CGU Insurance                             
77 Brian Kenneally (Irl) Sungold Milk - Warrnambool          0.23
78 David Tanner (Aus) McGee - NSW Institute Of Sport         0.33
79 Mark Renshaw (Aus) Subaru                                 2.08
80 Dermot Nally (Irl) Sungold Milk - Warrnambool                 
81 Richard Moffatt (Aus) McGee - NSW Institute Of Sport          
82 Trent Stevenson (Aus) Provincial Victoria                     
83 Daniel McConnell (Aus) Victorian State Home Loans         3.43
84 Ashley Hutchinson (Aus) Jayco                             5.18
85 Nick Kiraly (Aus) Victorian State Home Loans              8.28
 
Sprints
 
Sprint 1 - End of Lap 6
 
1 Scott Guyton (NZl) Bicycle Superstore                         3 pts
2 Daniel Newnham (Aus) Mitchell Building Supplies               2
3 Russell Downing (GBr) Bendigo                                 1
 
Sprint 2 - End of Lap 8
 
1 Dean Downing (GBr) Bendigo                                    3 pts
2 Russell Van Hout (Aus) Subaru                                 2
3 Andrew Graham (Aus) Uno Clothing                              1
 
Sprint 3 - End of Lap 10
 
1 Dean Downing (GBr) Bendigo                                    3 pts
2 Ben Brooks (Aus) McGee - NSW Institute Of Sport               2
3 Tomas Buchacek (Cze) Latrobe City                             1
 
Sprint 4 - End of Lap 12
 
1 Simon Gerrans (Aus) Jayco                                     3 pts
2 Glen Mitchell (NZl) Active For Life                           2
3 Corey Sweet (Aus) Latrobe City                                1
 
Sprint 5 - End of Lap 14
 
1 Chris Sutton (Aus) McGee - NSW Institute Of Sport             3 pts
2 Jonas Ljungblad (Swe) Europcar - Pelaco                       2
3 Russell Downing (GBr) Bendigo                                 1
 
Sprint 6 - End of Lap 16
 
1 Jeremy Hunt (GBr) Latrobe City                                3 pts
2 Robert McLachlan (Aus) Argon 18 Bikes - Caravello             2
3 Ben Johnson (Aus) Malaysia Airlines                           1
 
Sprint 7 - End of Lap 18
 
1 Robert McLachlan (Aus) Argon 18 Bikes - Caravello             3 pts
2 Jeremy Hunt (GBr) Latrobe City                                2
3 Baden Cooke (Aus) Subaru                                      1
 
Sprint 8 - End of Lap 20
 
1 Simon Gerrans (Aus) Jayco                                     3 pts
2 David McKenzie (Aus) Bicycle Superstore                       2
3 Jonathan Cantwell (Aus) Half Mile Creek                       1
 
Sprint 9 - End of Lap 22
 
1 Hilton Clarke (Aus) Half Mile Creek                           3 pts
2 Simon Gerrans (Aus) Jayco                                     2
3 William Walker (Aus) Jayco                                    1
 
Sprint 10 - End of Lap 24
 
1 Rob Sharman (GBr) Sungold Milk - Warrnambool                  3 pts
2 Trent Wilson (Aus) Subaru                                     2
3 Dean Downing (GBr) Bendigo                                    1
 
Sprint 11 - End of Lap 26
 
1 Kristian House (GBr) Bendigo                                  3 pts
2 Tony Mann (Aus) Argon 18 Bikes - Caravello                    2
3 Rob Sharman (GBr) Sungold Milk - Warrnambool                  1
 
General classification after stage 2
 
1 Karl Menzies (Aus) Bicycle Superstore                   1.31.16
2 Dean Downing (GBr) Bendigo                                 0.07
3 David McKenzie (Aus) Bicycle Superstore                    0.27
4 Ben Brooks (Aus) McGee - NSW Institute Of Sport            1.29
5 Baden Cooke (Aus) Subaru                                   1.30
6 Matthew Rex (Aus) CGU Insurance                            1.35
7 Jonathan Cantwell (Aus) Half Mile Creek                    1.36
8 Richard England (Aus) Mitchell Building Supplies           1.37
9 Glen Mitchell (NZl) Active For Life                            
10 Simon Walker (Aus) Victorian State Home Loans             1.41
11 Robert McLachlan (Aus) Argon 18 Bikes - Caravello             
12 Jonas Ljungblad (Swe) Europcar - Pelaco                   1.43
13 Felix Odebrecht (Ger) Malaysia Airlines                       
14 Simon Gerrans (Aus) Jayco                                     
15 Mark Roland (Aus) Victorian State Home Loans              1.47
16 Eric Wohlberg (Can) Active For Life                           
17 Kristian House (GBr) Bendigo                              1.49
18 Andrew Graham (Aus) Uno Clothing                          1.50
19 Ben Johnson (Aus) Malaysia Airlines                           
20 James Meadley (Aus) Mitchell Building Supplies            1.51
21 Joel Pearson (Aus) Provincial Victoria                        
22 Paul Healion (Irl) Sungold Milk - Warrnambool                 
23 Mateusz Mroz (Pol) Europcar - Pelaco                          
24 Kieran Page (GBr) Bendigo                                     
25 Hans De Clercq (Bel) Bicycle Superstore                       
26 David Harrigan (Aus) Latrobe City                             
27 Jeremy Hunt (GBr) Latrobe City                            1.53
28 Rob Sharman (GBr) Sungold Milk - Warrnambool              1.54
29 Chris Sutton (Aus) McGee - NSW Institute Of Sport         1.55
30 Hilton Clarke (Aus) Half Mile Creek                           
31 Scott Guyton (NZl) Bicycle Superstore                         
32 Daniel Newnham (Aus) Mitchell Building Supplies           1.56
33 Tony Mann (Aus) Argon 18 Bikes - Caravello                    
34 Russell Downing (GBr) Bendigo                                 
35 Russell Van Hout (Aus) Subaru                                 
36 Trent Wilson (Aus) Subaru                                     
37 William Walker (Aus) Jayco                                1.57
38 Tomas Buchacek (Cze) Latrobe City                             
39 Corey Sweet (Aus) Latrobe City                                
40 Matthew Lloyd (Aus) Mitchell Building Supplies            1.58
41 Steve Cunningham (Aus) CGU Insurance                          
42 Chris Bradford (Aus) CGU Insurance                            
43 Kieran Cameron (Aus) McGee - NSW Institute Of Sport           
44 Domenic Gatto (Aus) Victorian State Home Loans                
45 Rhys Pollock (Aus) Uno Clothing                               
46 George Vallins (Aus) Uno Clothing                             
47 David Pell (Aus) Uno Clothing                                 
48 Anthony Challinor (Aus) Argon 18 Bikes - Caravello            
49 Nigel Dunstone (Aus) Argon 18 Bikes - Caravello               
50 Peter Milostic (Aus) Argon 18 Bikes - Caravello               
51 Craig McCartney (Aus) Provincial Victoria                     
52 Chrisophe Le Mevel (Fra) Provincial Victoria                  
53 Benoit Poilvet (Fra) Provincial Victoria                      
54 Artur Krzeszowiec (Pol) Europcar - Pelaco                     
55 Jamie Burrow (GBr) Europcar - Pelaco                          
56 Thomas Gronqvist (Swe) Europcar - Pelaco                      
57 Stephen Cummings (GBr) Bendigo                                
58 Timo Scholz (Ger) Malaysia Airlines                           
59 Jorn Reuss (Ger) Malaysia Airlines                            
60 Thomas Liese (Ger) Malaysia Airlines                          
61 Christian Lademann (Ger) Half Mile Creek                      
62 Bart Heirewegh (Bel) Half Mile Creek                          
63 Steven De Decker (Bel) Half Mile Creek                        
64 Henk Vogels (Aus) Bicycle Superstore                          
65 Matthew Goold (Aus) Active For Life                           
66 Dominique Perras (Can) Active For Life                        
67 Phillip Thuaux (Aus) Jayco                                    
68 Jonathon Clarke (Aus) Jayco                                   
69 Ruber Marin (Col) Subaru                                      
70 Luke Roberts (Aus) Latrobe City                               
71 Scott Lyttle (NZl) Mitchell Building Supplies             2.07
72 Nathan Jones (Aus) CGU Insurance                              
73 Ashley Baines (Aus) CGU Insurance                             
74 Brian Kenneally (Irl) Sungold Milk - Warrnambool          2.14
75 David Tanner (Aus) McGee - NSW Institute Of Sport         2.22
76 Jorge Libonatti (Uru) Active For Life                     3.19
77 Damian Forster (Aus) Uno Clothing                         3.26
78 Mark Renshaw (Aus) Subaru                                 3.59
79 Philip Finnegan (Irl) Sungold Milk - Warrnambool          5.03
80 Richard Moffatt (Aus) McGee - NSW Institute Of Sport      5.27
81 Trent Stevenson (Aus) Provincial Victoria                     
82 Daniel McConnell (Aus) Victorian State Home Loans         5.34
83 Dermot Nally (Irl) Sungold Milk - Warrnambool             6.55
84 Ashley Hutchinson (Aus) Jayco                             7.09
85 Nick Kiraly (Aus) Victorian State Home Loans             10.19
 
Kr Castlemaine Foods - Sprint Championship
 
1 David McKenzie (Aus) Bicycle Superstore                      26 pts
2 Dean Downing (GBr) Bendigo                                   26
3 Karl Menzies (Aus) Bicycle Superstore                        23
4 Simon Gerrans (Aus) Jayco                                     8
5 Jeremy Hunt (GBr) Latrobe City                                5
6 Robert McLachlan (Aus) Argon 18 Bikes - Caravello             5
7 Rob Sharman (GBr) Sungold Milk - Warrnambool                  4
8 Hilton Clarke (Aus) Half Mile Creek                           3
9 Scott Guyton (NZl) Bicycle Superstore                         3
10 Kristian House (GBr) Bendigo                                 3
11 Chris Sutton (Aus) McGee - NSW Institute Of Sport            3
12 Glen Mitchell (NZl) Active For Life                          2
13 Trent Wilson (Aus) Subaru                                    2
14 Russell Van Hout (Aus) Subaru                                2
15 Ben Brooks (Aus) McGee - NSW Institute Of Sport              2
16 Russell Downing (GBr) Bendigo                                2
17 Tony Mann (Aus) Argon 18 Bikes - Caravello                   2
18 Jonas Ljungblad (Swe) Europcar - Pelaco                      2
19 Daniel Newnham (Aus) Mitchell Building Supplies              2
20 Andrew Graham (Aus) Uno Clothing                             1
21 Corey Sweet (Aus) Latrobe City                               1
22 Jonathan Cantwell (Aus) Half Mile Creek                      1
23 Baden Cooke (Aus) Subaru                                     1
24 Tomas Buchacek (Cze) Latrobe City                            1
25 Ben Johnson (Aus) Malaysia Airlines                          1
26 William Walker (Aus) Jayco                                   1
 
Active For Life - Criterium Championship
 
1 Dean Downing (GBr) Bendigo                                   18 pts
2 Ben Brooks (Aus) McGee - NSW Institute Of Sport              10
3 Karl Menzies (Aus) Bicycle Superstore                        10
4 Baden Cooke (Aus) Subaru                                     10
5 Matthew Rex (Aus) CGU Insurance                               8
6 David McKenzie (Aus) Bicycle Superstore                       8
7 Richard England (Aus) Mitchell Building Supplies              7
8 Jonathan Cantwell (Aus) Half Mile Creek                       7
9 Glen Mitchell (NZl) Active For Life                           6
10 Robert McLachlan (Aus) Argon 18 Bikes - Caravello            6
11 Simon Walker (Aus) Victorian State Home Loans                5
12 Felix Odebrecht (Ger) Malaysia Airlines                      4
13 Jonas Ljungblad (Swe) Europcar - Pelaco                      3
14 Kristian House (GBr) Bendigo                                 3
15 Mark Roland (Aus) Victorian State Home Loans                 2
16 Eric Wohlberg (Can) Active For Life                          2
17 David Tanner (Aus) McGee - NSW Institute Of Sport            1
 
Emu Spirit Aggressive Rider Awards
 
1 David McKenzie (Aus) Bicycle Superstore                       2 pts
2 Robert McLachlan (Aus) Argon 18 Bikes - Caravello             2
3 Karl Menzies (Aus) Bicycle Superstore                         1
4 Dean Downing (GBr) Bendigo                                    1