Recently on Cyclingnews.com
2003 Road World Championships - CM
Hamilton, Canada, October 7-12, 2003
Main Page Start List Live coverage Results
Day 6 - October 13: Elite Men Road Race, 260.4 km
Who will crown them all in Hamilton?
By Jeff Jones
No Cipo, but will Italy prevail?
Photo: © Sirotti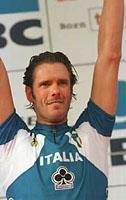 On a circuit described as one of the toughest in recent years, the Elite Men's World Championship will be decided on Sunday, October 12 in Hamilton. The men will have to race over 21 laps of the 12.4 km loop, with a 1.6 km @ 4.9% and a 2.5 km @ 4.2 % climb per lap. Once the pace heats up, those climbs are going to come round very quickly and many riders will be struggling to recover. On paper it looks to be a very selective race and the 2003 World Champion will certainly earn his rainbow stripes. But sometimes, the fear of the course can subdue the peloton and the race can remain closed for a long time, giving the stronger sprinters a chance.
It's going to take an extremely strong team to control this race, as it's nothing like last year's super-slick and relatively flat Zolder circuit. But like last year in Zolder (and indeed most years), the strongest team looks to be Italy, which will be doing everything possible to get Paolo Bettini the horizontally striped rainbow jersey to go with his (impending) vertically striped World Cup jersey. Bettini has been the man of the classics this year, winning an unprecedented three World Cup races despite missing several due to a crash in April. Most are tipping Bettini as the outright favourite for Hamilton, and he will certainly be the most marked man in the peloton. Whether anyone can stay with him when he attacks is another question.
Although Bettini is the top man, Italy has other strings to its bow, with one day specialists like Francesco Casagrande, Danilo Di Luca, Ivan Basso, Giovanni Lombardi, Luca Paolini and Daniele Nardello all able to play a role if given the opportunity. The main Italians not present this year include Mario Cipollini, who as the defending champion had the option to go as rider number 13 for Italy, but lack of form precluded this. Michele Bartoli, Davide Rebellin and Mirko Celestino are the other Italian big guns who will miss out in Hamilton, as national selector Franco Ballerini is interested in building a champion team rather than a team of champions. Bartoli and Bettini's failure to work together in the past (notably 2000 and 2001) has had a lasting impression on Ballerini it seems.
The Spanish team also boasts a lot of depth, and most importantly they are known for their team spirit and selflessness. With team captain and two time World Champion Oscar Freire at the helm and in great form, Spain will be doing everything possible to ensure that Freire makes the final selection, and the Cantabrian sprinter can usually look after himself from there. Save for Freire, all of the riders in the Spanish team have ridden the Vuelta, and the only one that is missing is Vuelta winner Roberto Heras. The rest include Manuel Beltran, Igor Gonzalez de Galdeano, Francisco Mancebo, Isidro Nozal, Oscar Sevilla Ribera and the potential star Alejandro Valverde, who can also handle himself in a sprint.
The Germans will likely be placing a lot of stock in Erik Zabel's chances, which are realistic given his form at the moment. Zabel finished third last year in Zolder, and is in arguably better form this year, coming off two stage wins and the points jersey in the Vuelta and Paris-Tours last Sunday where he beat Alessandro Petacchi. Maybe the course will be a little too hilly for Zabel, but a negative race could certainly play in his favour. Germany can also look to Rolf Aldag, Matthias Kessler and Fabian Wegmann as second string riders to Zabel.
The French will be looking for their first World Champion since Laurent Brochard in 1997, and while 'Broche' is an important part of the 2003 squad, the captaincy will probably fall to the in-form Cedric Vasseur, who has several recent victories to his credit including the Hessen Rundfahrt and Paris-Correze. Vasseur is a bit of an outsider, but he can ride all day and will be a dangerous man to let go in the finale.
The Belgian squad this year will be without Johan Museeuw who has decided to call it a season, and the rest of the team could miss his experience and leadership. The top riders for Hamilton will be Peter Van Petegem, Axel Merckx and Dave Bruylandts. Van Petegem in particular has the necessary experience to win a World Championship, and the quiet man from Brakel will be hoping to find the form that won him Paris-Roubaix and the Ronde van Vlaanderen this year.
The Swiss team for Hamilton includes 1998 World Champion Oscar Camenzind, who will once again have Swiss hopes pinned to his jersey. However Oscar's form is a little uncertain and the other Swiss man to watch will be Fabian Jeker, who had a very solid Vuelta.
The USA is taking 12 riders to the World's possibly for the first time ever, and they are realistic medal chances with a very motivated George Hincapie at the helm. Powerful over this type of course, Hincapie even left the Vuelta Espana a week early to specifically prepare for the World's, and he will have a solid team behind him. Bobby Julich, Floyd Landis, Guido Trenti and Levi Leipheimer are all coming off the Vuelta in reasonable shape, while domestic riders such as Chris Horner, John Lieswyn and Mark McCormack could factor in the race.
Despite winning the silver medal with 12 men in Zolder last year, Australia is sending a comparatively small team of seven riders to Hamilton this year. The Aussies will have to play their cards right in order to be in the moves that count, and strong men like Mathew Hayman and Matthew White will be valuable alongside Scott Sunderland and Michael Rogers. The team also has youngsters Scott and Allan Davis, along with Australian TT champion Ben Day, who will all be looking to gain experience at the World's.
The Dutch team has no standouts, although if in form, Michael Boogerd and Erik Dekker would certainly be at home on this course. Look for Karsten Kroon and Gerben Lowik to fly the orange colours in Hamilton.
The remaining countries in the World's road race lack the strength of the top 10 nations, which are all allowed 12 riders per team, however a strong rider can often profit from the teamwork of others if he stays out of trouble. Latvian Romans Vainsteins demonstrated this in 2000 in Plouay, where he was able to sprint to victory after Italy, Spain and Belgium chased each other's attacks down. Vainsteins is back this year, but Hamilton is not really a course for him.
Opportunists include Frank Hoj (Denmark), David Millar (Great Britain), Kim Kirchen (Luxembourg), Cezary Zamana (Poland), Yaroslav Popovych (Ukraine) and Serguei Ivanov (Russia), who will need everything to fall into place if they are to succeed.
Finally, host nations Canada will be flying the flag with Michael Barry, Dominique Perras, Mark Walters and Eric Wohlberg, hoping to make the most of their only opportunity to race the World Championships on home ground.
Start list
1 Ivan Basso (Italy)
2 Paolo Bettini (Italy)
3 Francesco Casagrande (Italy)
4 Danilo Di Luca (Italy)
5 Dario Frigo (Italy)
6 Giovanni Lombardi (Italy)
7 Cristian Moreni (Italy)
8 Daniele Nardello (Italy)
9 Andrea Noe (Italy)
10 Luca Paolini (Italy)
11 Fabio Sacchi (Italy)
12 Mario Scirea (Italy)
13 Allan Davis (Australia)
14 Scott Davis (Australia)
15 Ben Day (Australia)
16 Mathew Hayman (Australia)
17 Michael Rogers (Australia)
18 Scott Sunderland (Australia)
19 Matthew White (Australia)
20 Rolf Aldag (Germany)
21 Bert Grabsch (Germany)
22 Torsten Hiekmann (Germany)
23 Matthias Kessler (Germany)
24 Andreas Klier (Germany)
25 Sebastian Lang (Germany)
26 Ronny Scholz (Germany)
27 Stephan Schreck (Germany)
28 Patrik Sinkewitz (Germany)
29 Fabian Wegmann (Germany)
30 Christian Werner (Germany)
31 Erik Zabel (Germany)
32 Martin Derganc (Slovenia)
33 Jure Golcer (Slovenia)
34 Gorazd Stangelj (Slovenia)
35 Tadej Valjavec (Slovenia)
36 Frederic Bessy (France)
37 Laurent Brochard (France)
38 Sylvain Chavanel (France)
39 Samuel Dumoulin (France)
40 Andy Flickinger (France)
41 Nicolas Fritsch (France)
42 Patrice Halgand (France)
43 Maryan Hary (France)
44 David Moncoutie (France)
45 Franck Renier (France)
46 Christophe Rinero (France)
47 Cedric Vasseur (France)
48 Erki Puetsep (Estonia)
49 Janek Tombak (Estonia)
50 Glen Mitchell (New Zealand)
51 Michal Hrazdira (Czech Republic)
52 Milan Kadlec (Czech Republic)
53 Ondrej Sosenka (Czech Republic)
54 Lubor Tesar (Czech Republic)
55 Bekim Christensen (Denmark)
56 Bo Hamburger (Denmark)
57 Frank Hoj (Denmark)
58 Michael Skelde (Denmark)
59 Bernhard Eisel (Austria)
60 Gerrit Glomser (Austria)
61 Peter Luttenberger (Austria)
62 Jochen Summer (Austria)
63 Gerhard Trampusch (Austria)
64 Christopher Baldwin (USA)
65 David Clinger (USA)
66 George Hincapie (USA)
67 Chris Horner (USA)
68 Tim Johnson (USA)
69 Bobby Julich (USA)
70 Floyd Landis (USA)
71 Levi Leipheimer (USA)
72 John Lieswyn (USA)
73 Mark Mccormack (USA)
74 Fred Rodriguez (USA)
75 Guido Trenti (USA)
76 Goncalo Amorim (Portugal)
77 Pedro Lopes (Portugal)
78 Sergio Paulinho (Portugal)
79 Nuno Ribeiro (Portugal)
80 Mario Aerts (Belgium)
81 Serge Baguet (Belgium)
82 Tom Boonen (Belgium)
83 Christophe Brandt (Belgium)
84 Dave Bruylandts (Belgium)
85 Philippe Gilbert (Belgium)
86 Axel Merckx (Belgium)
87 Nico Sijmens (Belgium)
88 Jurgen Van Goolen (Belgium)
89 Peter Van Petegem (Belgium)
90 Wim Vansevenant (Belgium)
91 Marc Wauters (Belgium)
92 Alexandre Botcharov (Russia)
93 Viatcheslav Ekimov (Russia)
94 Vladimir Karpets (Russia)
95 Alexander Kolobnev (Russia)
96 Dmitri Konyshev (Russia)
97 Denis Menchov (Russia)
98 Evgeni Petrov (Russia)
99 Michael Boogerd (Netherlands)
100 Jan Boven (Netherlands)
101 Bram De Groot (Netherlands)
102 Steven De Jongh (Netherlands)
103 Erik Dekker (Netherlands)
104 Maarten Den Bakker (Netherlands)
105 Karsten Kroon (Netherlands)
106 Gerben Loewik (Netherlands)
107 Koos Moerenhout (Netherlands)
108 Matthe Pronk (Netherlands)
109 Rik Reinerink (Netherlands)
110 Bram Schmitz (Netherlands)
111 Dawid Krupa (Poland)
112 Marek Rutkiewicz (Poland)
113 Sylwester Szmyd (Poland)
114 Cezary Zamana (Poland)
115 Benoit Joachim (Luxembourg)
116 Kim Kirchen (Luxembourg)
117 Raivis Belohvosciks (Latvia)
118 Romans Vainsteins (Latvia)
119 Volodymyr Bileka (Ukraine)
120 Vladimir Duma (Ukraine)
121 Ruslan Gryschenko (Ukraine)
122 Volodymir Gustov (Ukraine)
123 Serhiy Honchar (Ukraine)
124 Yuriy Krivtsov (Ukraine)
125 Yaroslav Popovych (Ukraine)
126 Kyrylo Pospyeyev (Ukraine)
127 Aliaksandr Usov (Belarus)
128 Shinri Suzuki (Japan)
129 Felix Rafael Cardenas Ravalo (Colombia)
130 Cesar Augusto Grajales (Colombia)
131 Israel Ochoa Plazas (Colombia)
132 Victor Hugo Pena Grisales (Colombia)
133 Marlon Alirio Perez Arango (Colombia)
134 Niki Aebersold (Switzerland)
135 Roger Beuchat (Switzerland)
136 Oscar Camenzind (Switzerland)
137 Fabian Cancellara (Switzerland)
138 Martin Elmiger (Switzerland)
139 Fabian Jeker (Switzerland)
140 Sven Montgomery (Switzerland)
141 Alexandre Moos (Switzerland)
142 Daniel Schnider (Switzerland)
143 Marcel Strauss (Switzerland)
144 Steve Zampieri (Switzerland)
145 Beat Zberg (Switzerland)
146 Ruslan Ivanov (Moldavia)
147 Igor Pugaci (Moldavia)
148 Tomas Vaitkus (Lithuania)
149 Igor Astarloa (Spain)
150 Manuel Beltran Martinez (Spain)
151 Inigo Cuesta Lopez De Castro (Spain)
152 Oscar Freire Gomez (Spain)
153 Gonzalez De Galdeano Aranzabal (Spain)
154 Gorka Gonzalez Larranaga (Spain)
155 Francisco Mancebo Perez (Spain)
156 Aitor Osa Eizaguirre (Spain)
157 Luis Perez Rodriguez (Spain)
158 Serrano Rodriguez M. (Spain)
159 Oscar Sevilla Ribera (Spain)
160 Alejandro Valverde Belmonte (Spain)
161 Kurt-Asle Arvesen (Norway)
162 Bjoernar Vestoel (Norway)
163 Radoslav Rogina (Croatia)
164 Roger Hammond (Great Britain)
165 David Millar (Great Britain)
166 Maximilian Sciandri (Great Britain)
167 Charles Wegelius (Great Britain)
168 Laszlo Bodrogi (Hungary)
169 Balazs Rohtmer (Hungary)
170 Mark Scanlon (Ireland)
171 Dmitriy Fofonov (Kazakhstan)
172 Andrey Mizourov (Kazakhstan)
173 Ryan Cox (South Africa)
174 David George (South Africa)
175 Michael Barry (Canada)
176 Dominique Perras (Canada)
177 Mark Walters (Canada)
178 Eric Wohlberg (Canada)
179 Thomas Groenqvist (Sweden)
180 Gustav Erik Larsson (Sweden)