2003 Road World Championships - CM
Hamilton, Canada, October 7-12, 2003
Day 1 - October 7: Junior Women's Time Trial, 15.0 km
Knöpfle opens Germany's account
By Mark Zalewski in Hamilton
Bianca Knöpfle powers to victory
Photo: © Sirotti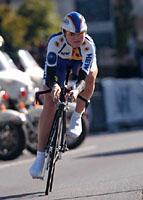 17 year old German, Bianca Knöpfle, took out the first rainbow jersey in the 2003 World Championships, winning the Junior Women's time trial with a time of 22.17.08 to beat Dutch pair Loes Markerink and Iris Slappendel by 16 and 31 seconds respectively.
At just 17 years-old, Bianca Knöpfle has been cycling since she was nine. However, that was mainly as a mountain biker. This race is serving as an introduction to the road for her. "The World Championships is only my fourth or fifth race in time trial," said Knöpfle. "I started training three weeks ago, as I competed at the Mountain Bike World Championships in Lugano. I can't imagine to have this medal, it's incredible. I don't know what to say."
34 young women took to the streets of Hamilton first this morning, turning in one lap (15 km) of the "short time-trial" course. It might have been short, but it was not easy. The 15 km trip took the riders up Hamilton's Escarpment, a lovely climb southwest of the downtown. Second-place Loes Markerink of The Netherlands said it best, "In Holland the courses are very flat, there are no hills - [this] is different."
The best early time check at the 8.2 km mark was set by Australian Stephanie Williams, with 12'52. However Williams faded in the second half to eventually finish sixth. "All I can say is I gave it everything on the day," said Williams. "The other girls were obviously just stronger today but at the finish I had a bit of a vomit so I knew I had given it my all."
Knöpfle, starting ninth last, surpassed Williams' time at the 8.2 km mark with 12'50, then proceeded to hold her tempo all the way to the finish to end in 22'17, pushing the Dutch pair Markerink and Slappendel into second and third place.
Photography
Images by Mark Zalewski/Cyclingnews.com
Images by Fotoreporter Sirotti
Results
1 Bianca Knöpfle (Germany)          22.17.08 (40.38 km/h)
2 Loes Markerink (Netherlands)       0.16.52
3 Iris Slappendel (Netherlands)      0.30.93
4 Laura Telle (Latvia)               0.31.52
5 Magdalena Zamolska (Poland)        0.34.91
6 Stephanie Williams (Australia)     0.37.42
7 Sara Peeters (Belgium)             0.42.97
8 Emmanuelle Merlot (France)         0.43.34
9 Larssyn Staley (USA)               0.47.65
10 Chiara Nadalutti (Italy)          0.49.10
11 Sabine Fischer (Germany)          0.49.56
12 Daiva Tuslaite (Lithuania)        0.49.58
13 Iryna Shpilyova (Ukraine)         0.51.32
14 Laura Bozzolo (Italy)             0.53.08
15 Monika Furrer (Switzerland)       0.53.85
16 Audrey Lemieux (Canada)           0.56.95
17 Kate Nichols (Australia)          0.59.21
18 Emilie Roy (Canada)               0.59.94
19 Valentina Gavrilova (Russia)      1.09.48
20 Nina Homovec (Slovenia)           1.10.27
21 Marta Kozakiewicz (Poland)        1.10.58
22 Marta Jimenez Jimenez (Spain)     1.11.66
23 Milda Galdikaite (Lithuania)      1.12.68
24 Karen Amundson (USA)              1.15.26
25 Angélique Saldana (France)        1.21.42
26 Liudmila Zakirova (Russia)        1.22.32
27 Maryia Halan (Bieloyrussia)       1.34.91
28 Debora Galvez Lopez (Spain)       1.43.04
29 Carolina Asplund (Sweden)         1.45.32
30 Natalya Figurskaya (Ukraine)      1.48.87
31 Yolandi Du Toit (South Africa)    1.56.50
32 Ly Paat (Estonia)                 2.09.42
33 Laura Lepasalu (Estonia)          2.55.31
34 Nadia Swanepoel (South Africa)    2.57.71
 
Intermediate check - 8.2 km
 
1 Bianca Knöpfle (Germany)          12.50.04
2 Stephanie Williams (Australia)     0.02.67
3 Loes Markerink (Netherlands)       0.04.61
4 Iris Slappendel (Netherlands)      0.07.46
5 Laura Telle (Latvia)               0.07.53
6 Daiva Tuslaite (Lithuania)         0.13.21
7 Magdalena Zamolska (Poland)        0.15.99
8 Sara Peeters (Belgium)             0.16.38
9 Monika Furrer (Switzerland)        0.16.64
10 Emmanuelle Merlot (France)        0.18.82
11 Larssyn Staley (USA)              0.20.36
12 Kate Nichols (Australia)          0.21.18
13 Sabine Fischer (Germany)          0.22.02
14 Chiara Nadalutti (Italy)          0.22.09
15 Laura Bozzolo (Italy)             0.22.96
16 Iryna Shpilyova (Ukraine)         0.25.39
17 Valentina Gavrilova (Russia)      0.25.73
18 Emilie Roy (Canada)               0.26.89
19 Audrey Lemieux (Canada)           0.27.40
20 Nina Homovec (Slovenia)           0.27.61
21 Angélique Saldana (France)        0.29.42
22 Marta Jimenez Jimenez (Spain)     0.36.16
23 Marta Kozakiewicz (Poland)        0.36.53
24 Milda Galdikaite (Lithuania)      0.37.21
25 Karen Amundson (USA)              0.38.20
26 Liudmila Zakirova (Russia)        0.48.42
27 Debora Galvez Lopez (Spain)       0.49.64
28 Natalya Figurskaya (Ukraine)      0.53.18
29 Maryia Halan (Bieloyrussia)       0.55.39
30 Yolandi Du Toit (South Africa)    0.57.59
31 Carolina Asplund (Sweden)         1.04.71
32 Ly Paat (Estonia)                 1.09.38
33 Nadia Swanepoel (South Africa)    1.27.52
34 Laura Lepasalu (Estonia)          1.38.06