3rd San Rafael Classic - NE
USA, September 13, 2003
Rapinski and Palmer Komar defy the heat
By Kristy Scrymgeour
Viktor Rapinski (Saturn) enjoys another criterium victory for the season
Photo ©: Kristy Scrymgeour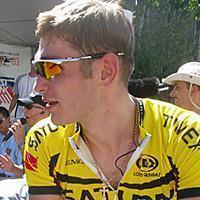 One Hundred degree heat greeted riders today at the annual San Rafael Cycling Classic, which in the last few years has become the perfect lead up to the T-Mobile International which will be held tomorrow in downtown San Francisco. Viktor Rapinksi (Saturn) won the men's race in a powerful sprint out of a 10 person breakaway, whereas in the women's race Canadian talent, Sue Palmer Komar (Genesis Scuba) was able to break away from a strong field to solo to victory.
The men raced 90 minutes on the 1km course that begins on an uphill drag leading into another uphill pinch. On the long back straight the road flattens out before diving back into the final corner before the slightly uphill finishing drag. The race was aggressive from the gun despite the heat and attacks continued to come until the final break of about 10 riders developed. Navigators were very visible having four of their riders represented in the break whilst Saturn had three and Mike Sayers (Health Net) and Miguel Meza (Schroeder Iron) included in the ten.
In the last lap, a small crash upset the finish of a few riders and Sayers led the remainder of the break through the last corner. Sayers looked like he had it won but Rapinki was able to come off the wheel of his teammate Eric Wohlberg and past Sayers in the final meter to take the win.
Palmer Komar enjoys the podium, with Lindberg and Kelly
Photo ©: Kristy Scrymgeour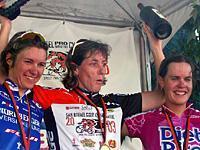 Rapinski was pleased with another criterium victory for the season and thanked the crowd in the Belorussian accent, whilst Sayers had a lot more to say. "I have been riding this race since I was a cat 4 and have come second too many times. Last year I nearly beat Jonas Carney because I took the corner wide and was able to start pedaling earlier. I did the same today but this time it was Viktor is a very strong rider, in fact he is the future of racing in the US and a very good sprinter. I can sprint but I wouldn't consider myself a sprinter. Basically today was another one for team Saturn, 2003 has been their year."
When asked about next year, Sayers seemed excited. "Lets just say, I'm getting the band back together."
The one hour women's race was also aggressive from the gun with Saturn rider Amy Moore attacking early followed by counter attacks from her teammates. It was Palmer Komar who was able to stay away when she attacked midway through the race. Initially the field hesitated and let her get a gap and later Ina Teutenberg (Saturn) and Anne Samplonius (TDS) both made separate attempts to bridge the gap, but her strength was once again underestimated and the field was unable to make an impression on her lead. She soloed to the finish to take the win with Kori Kelly (Diet Rite) taking the bunch sprint for second place in front of Swedish Madeleine Lindberg (Nurnberger).
Komar agreed that the field let her go a little when she initially broke away. "I'm sure they were just thinking 'oh, it's just Sue, she never does anything in criteriums anyway,'" It was true that riders wouldn't have expected Palmer Komar to be aggressive today, as she is usually more suited to the hilly road races and most would have expected her to be saving herself for tomorrow. "I'm not sure how I will go tomorrow. I am not really in my peak form right now. I am fit, but I don't have my top end, but it will be a great race."
Photography
Images by Kristy Scrymgeour/cyclingnews.com
Results

Men
 
1 Viktor Rapinski (Saturn)
2 Mike Sayers (Health Net)
3 Miguel Meza (Schroeder Iron)
4 John Lieswyn (7 Up Maxxis) 
 
Women
 
1 Sue Palmer Komar (Genesis Scuba)
2 Kori Kelly (Diet Rite)
3 Madeleine Lindberg (Nurnberger)