83rd Volta a Catalunya - 2.HC
Spain, June 16-22, 2003
Main page Results Previous stage
Stage 7 - June 22: Sant Joan Despi / Barcelona (La Pedrera), 128 Km
Final stage to Vicioso in sprint
Pecharroman takes second big win
Jose Antonio Pecharroman
Photo: © AFP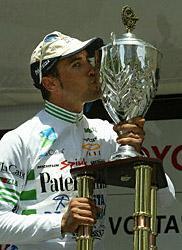 As expected, the last stage of the Volta a Catalunya finished in a modestly sized bunch sprint, with half the field making it over the climbs and into the front group. In the absence of Erik Zabel and Oscar Freire, ONCE's Angel Vicioso took the victory in front of US Postal's George Hincapie, with Matthias Kessler (Telekom) rounding out the top three. The GC riders all finished in the same time, meaning that Jose Antonio Pecharroman (Paternina) won his second major stage this month, beating defending champion Roberto Heras (USPS) by 43 seconds on GC.
"I'm on a cloud, as people say, but also with my feet on the ground, because I've had to come through many difficult moments to achieve success like this, usually reserved for the big names of the peloton," Pecharroman commented after sealing his victory.
Pecharroman dedicated the win to his family, honouring his father who passed away several months prior. The victor also recognised the efforts of his teammates, whom he said "have been the reason for his recent success."
Photo: © AFP

The final stage was quite short, only 128 kilometres between Sant Joan Despi and Barcelona (La Pedrera). It wasn't a flat sprinter's stage however, containing two Cat. 2 and two Cat. 3 climbs, thus riders like Erik Zabel, Oscar Freire and Rene Haselbacher weren't able to make it to the finish in front.
An early attack by 17 riders, including Hruska (ONCE), Bartoli (Fassa Bortolo), Flecha (iBanesto), De Groot (Rabobank), and Hauptman (Vini Caldirola) gained 1'30 after 20 kilometres, but both Paternina and ONCE were vigilant and reduced the gap over the middle section of the stage. IT all came back together with 30 km to go, and despite several more attacks on the Cat. 3 Alt Del Forat Del Vent, no-one was really able to get clear.
ONCE kept the tempo high on the descent into Barcelona, and their confidence was rewarded with a victory to Angel Vicioso. Now many of the local riders will have a few days rest before the Spanish championships begin mid-week, and the Tour in two weeks' time.
Photography
Images by AFP Photo
Results
1 Angel Vicioso (Spa) ONCE-Eroski                     3.08.00
2 George Hincapie (USA) US Postal-Berry Floor
3 Matthias Kessler (Ger) Telekom
4 Ellis Rastelli (Ita) Gerolsteiner
5 David De La Fuente (Spa) Vini Caldirola-So.Di
6 Jose Enriqu Gutierrez (Spa) Kelme-Costa Blanca
7 Inaki Isasi (Spa) Euskaltel-Euskadi
8 Bram De Groot (Ned) Rabobank
9 David Lopez (Spa) Labarca 2-Cafe Baque
10 Gorka Gerrikagoitia (Spa) Euskaltel-Euskadi
11 Volodymir Gustov (Ukr) Fassa Bortolo
12 Benjamin Noval (Spa) Colchon Relax-Fuenlabrada
13 Roberto Heras (Spa) US Postal-Berry Floor
14 Jose A. Pecharroman (Spa) Paternina-Costa Almeria
15 Rafael Casero (Spa) Paternina-Costa Almeria
16 Jose Manuel Maestre (Spa) Colchon Relax-Fuenlabrada
17 Karsten Kroon (Ned) Rabobank
18 Michele Bartoli (Ita) Fassa Bortolo
19 Oscar Laguna (Spa) Colchon Relax-Fuenlabrada
20 Mario Aerts (Bel) Telekom
21 Evgeni Petrov (Rus) iBanesto.com
22 Francisco J. Cerezo (Spa) Labarca 2-Cafe Baque
23 Inigo Landaluze (Spa) Euskaltel-Euskadi
24 Juan Antonio Flecha (Spa) iBanesto.com
25 Jorge Ferrio (Spa) Paternina-Costa Almeria
26 Aitor Kintana (Spa) Labarca 2-Cafe Baque
27 Udo Bolts (Ger) Gerolsteiner
28 Ivan Ramiro Parra (Col) Kelme-Costa Blanca
29 Gorka Arrizabalaga (Spa) Euskaltel-Euskadi
30 Rolf Aldag (Ger) Telekom
31 Jose Luis Arrieta (Spa) iBanesto.com
32 Guido Trentin (Ita) Cofidis
33 Benoit Joachim (Lux) US Postal-Berry Floor
34 Daniel Atienza (Spa) Cofidis
35 Ivan Basso (Ita) Fassa Bortolo
36 Joaquim Lopez (Spa) Paternina-Costa Almeria
37 Santiago Blanco (Spa) Colchon Relax-Fuenlabrada
38 Koldo Gil (Spa) ONCE-Eroski
39 Rene Andrle (Cze) ONCE-Eroski
40 Unai Etxebarria (Ven) Euskaltel-Euskadi
41 Xabier Zandio (Spa) iBanesto.com
42 Jan Hruska (Cze) ONCE-Eroski
43 David Arroyo (Spa) ONCE-Eroski                         0.14
44 Michael Rasmussen (Den) Rabobank
45 Jose Antonio Garrido (Spa) Paternina-Costa Almeria     0.18
46 Joaquin Rodriguez (Spa) ONCE-Eroski                    0.30
47 Dario David Cioni (Ita) Fassa Bortolo                  1.46
48 David Latasa (Spa) Kelme-Costa Blanca                  1.56
49 Cesar Garcia (Spa) Labarca 2-Cafe Baque                6.09
50 Alexei Kuznetsov (Rus) Lokomotiv                       9.33
51 Nikita Eskov (Rus) Lokomotiv
52 Luis Pasamontes (Spa) Colchon Relax-Fuenlabrada       11.41
53 Andrej Hauptman (Slo) Vini Caldirola-So.Di
54 Antonio Tauler (Spa) Kelme-Costa Blanca               13.53
55 Marc Wauters (Bel) Rabobank
56 Xavier Florencio (Spa) ONCE-Eroski
57 Lander Euba (Spa) Euskaltel-Euskadi                   15.56
58 Fabian Wegmann (Ger) Gerolsteiner                     16.26
59 Massimo Apollonio (Ita) Vini Caldirola-So.Di
60 Filippo Pozzato (Ita) Fassa Bortolo
61 Jesus Maria Manzano (Spa) Kelme-Costa Blanca
62 Erik Zabel (Ger) Telekom
63 Josep Jufre (Spa) Colchon Relax-Fuenlabrada
64 Pavel Brutt (Rus) Lokomotiv
65 Rene Haselbacher (Aut) Gerolsteiner
66 Nicola Loda (Ita) Fassa Bortolo
67 Paolo Bossoni (Ita) Vini Caldirola-So.Di
68 Michael Barry (Can) US Postal-Berry Floor
69 Mauro Gerosa (Ita) Vini Caldirola-So.Di
70 Uwe Hardter (Ger) Gerolsteiner
71 Roberto Lozano (Spa) Kelme-Costa Blanca
72 Jose Ivan Gutierrez (Spa) iBanesto.com
73 Javier P. Llorente (Spa) Kelme-Costa Blanca
74 Jon Odriozola (Spa) iBanesto.com
75 Juan De Los Angeles (Spa) Fassa Bortolo
76 Antonio Cruz (USA) US Postal-Berry Floor
77 Steven De Jongh (Ned) Rabobank
78 Gorazd Stangelj (Slo) Fassa Bortolo
79 Serguei Klimov (Rus) Lokomotiv
80 Steffen Kjaergaard (Nor) US Postal-Berry Floor
81 Gustavo Miguel Otero (Spa) Labarca 2-Cafe Baque
82 Alberto Hierro (Spa) Labarca 2-Cafe Baque
83 Bingen Fernandez (Spa) Cofidis
84 Santiago Botero (Col) Telekom
85 Matthew White (Aus) US Postal-Berry Floor
86 Andreas Kloden (Ger) Telekom
87 Gian Matteo Fagnini (Ita) Telekom
88 Oscar Freire (Spa) Rabobank
 
Points
 
1 Angel Vicioso (Spa) ONCE-Eroski                           25 pts
2 George Hincapie (USA) US Postal-Berry Floor               20
3 Matthias Kessler (Ger) Telekom                            16
4 Ellis Rastelli (Ita) Gerolsteiner                         14
5 David De La Fuente (Spa) Vini Caldirola-So.Di             12
6 Jose Enriqu Gutierrez (Spa) Kelme-Costa Blanca            10
7 Inaki Isasi (Spa) Euskaltel-Euskadi                        9
8 Bram De Groot (Ned) Rabobank                               8
9 David Lopez (Spa) Labarca 2-Cafe Baque                     7
10 Gorka Gerrikagoitia (Spa) Euskaltel-Euskadi               6
11 Volodymir Gustov (Ukr) Fassa Bortolo                      5
12 Benjamin Noval (Spa) Colchon Relax-Fuenlabrada            4
13 Roberto Heras (Spa) US Postal-Berry Floor                 3
14 Jose A. Pecharroman (Spa) Paternina-Costa Almeria         2
15 Rafael Casero (Spa) Paternina-Costa Almeria               1
 
Mountains
 
Alt Torreblanca - Cat. 2, km 45,50
 
1 Josep Jufre (Spa) Colchon Relax-Fuenlabrada               10 pts
2 Marcelino Garcia (Spa) Labarca 2-Cafe Baque                7
3 Jan Schaffrath (Ger) Telekom                               5
4 Michele Bartoli (Ita) Fassa Bortolo                        3
 
Alt D'ullastrell - Cat. 2, km 68,40
 
1 Alberto Hierro (Spa) Labarca 2-Cafe Baque                 10 pts
2 Josep Jufre (Spa) Colchon Relax-Fuenlabrada                7
3 Michele Bartoli (Ita) Fassa Bortolo                        5
4 Jon Odriozola (Spa) iBanesto.com                           3
5 Antonio Tauler (Spa) Kelme-Costa Blanca                    2
6 Andrej Hauptman (Slo) Vini Caldirola-So.Di                 1
 
Alt Del Tibidabo - Cat. 2, km 98,40
 
1 Michael Rasmussen (Den) Rabobank                          10 pts
2 Aitor Kintana (Spa) Labarca 2-Cafe Baque                   7
3 Oscar Laguna (Spa) Colchon Relax-Fuenlabrada               5
4 Unai Etxebarria (Ven) Euskaltel-Euskadi                    3
5 Xabier Zandio (Spa) iBanesto.com                           2
6 Joaquim Lopez (Spa) Paternina-Costa Almeria                1
 
Alt Del Forat Del Vent - Cat. 3, km 117,50
 
1 Michael Rasmussen (Den) Rabobank                           6 pts
2 Aitor Kintana (Spa) Labarca 2-Cafe Baque                   4
3 Jose Antonio Garrido (Spa) Paternina-Costa Almeria         2
4 Jorge Ferrio (Spa) Paternina-Costa Almeria                 1
 
Metas volantes
 
Monistrol De Montserrat, km 35,80
 
1 Josep Jufre (Spa) Colchon Relax-Fuenlabrada                3 pts
2 Bram De Groot (Ned) Rabobank                               2
3 Alberto Hierro (Spa) Labarca 2-Cafe Baque                  1
 
Molins De Rei, km 82,80
 
1 Mauro Gerosa (Ita) Vini Caldirola-So.Di                    3 pts
2 George Hincapie (USA) US Postal-Berry Floor                2
3 Inaki Isasi (Spa) Euskaltel-Euskadi                        1
 
Teams
 
1 Euskaltel-Euskadi                                   9.24.00
2 Colchon Relax-Fuenlabrada
3 US Postal presented by Berry Floor
4 Team Telekom
5 Paternina-Costa de Almeria
6 Labarca-2-Café Baqué
7 Fassa Bortolo
8 iBanesto.com
9 O.N.C.E.-Eroski
10 Rabobank                                               0.14
11 Kelme-Costa Blanca                                     1.56
12 Gerolsteiner                                          16.26
13 Cofidis, Le Crédit par Téléphone
14 Vini Caldirola-SO.DI                                  28.07
15 Lokomotiv                                             35.32
 
Final general classification
 
1 Jose A. Pecharroman (Spa) Paternina-Costa Almeria   22.15.13
2 Roberto Heras (Spa) US Postal-Berry Floor               0.43
3 Koldo Gil (Spa) ONCE-Eroski                             3.46
4 Rafael Casero (Spa) Paternina-Costa Almeria             4.02
5 Ivan Basso (Ita) Fassa Bortolo                          4.29
6 Benjamin Noval (Spa) Colchon Relax-Fuenlabrada          4.36
7 Guido Trentin (Ita) Cofidis                             4.39
8 Santiago Blanco (Spa) Colchon Relax-Fuenlabrada         5.28
9 Daniel Atienza (Spa) Cofidis                            5.45
10 Evgeni Petrov (Rus) iBanesto.com                       5.55
11 Juan Antonio Flecha (Spa) iBanesto.com                 6.00
12 Jose Luis Arrieta (Spa) iBanesto.com                   6.01
13 Ivan Ramiro Parra (Col) Kelme-Costa Blanca             6.24
14 Joaquim Lopez (Spa) Paternina-Costa Almeria            7.03
15 Unai Etxebarria (Ven) Euskaltel-Euskadi                7.12
16 David De La Fuente (Spa) Vini Caldirola-So.Di          7.40
17 Rene Andrle (Cze) ONCE-Eroski                          8.43
18 Mario Aerts (Bel) Telekom                              9.46
19 Francisco J. Cerezo (Spa) Labarca 2-Cafe Baque        10.02
20 Ellis Rastelli (Ita) Gerolsteiner                     11.14
21 Udo Bolts (Ger) Gerolsteiner                          11.48
22 Matthias Kessler (Ger) Telekom                        12.04
23 Dario David Cioni (Ita) Fassa Bortolo                 17.25
24 George Hincapie (USA) US Postal-Berry Floor           18.49
25 Angel Vicioso (Spa) ONCE-Eroski                       19.44
26 Inaki Isasi (Spa) Euskaltel-Euskadi                   21.14
27 Luis Pasamontes (Spa) Colchon Relax-Fuenlabrada       22.11
28 Cesar Garcia (Spa) Labarca 2-Cafe Baque               22.24
29 Aitor Kintana (Spa) Labarca 2-Cafe Baque              22.37
30 Jose Manuel Maestre (Spa) Colchon Relax-Fuenlabrada   26.14
31 Bram De Groot (Ned) Rabobank                          26.37
32 David Arroyo (Spa) ONCE-Eroski                        26.52
33 Xabier Zandio (Spa) iBanesto.com                      26.56
34 Volodymir Gustov (Ukr) Fassa Bortolo                  28.37
35 Jan Hruska (Cze) ONCE-Eroski                          29.04
36 Jose Enriqu Gutierrez (Spa) Kelme-Costa Blanca        30.14
37 Rolf Aldag (Ger) Telekom                              30.29
38 Jorge Ferrio (Spa) Paternina-Costa Almeria
39 Jose Antonio Garrido (Spa) Paternina-Costa Almeria    32.24
40 Michael Rasmussen (Den) Rabobank                      33.22
41 Jesus Maria Manzano (Spa) Kelme-Costa Blanca          33.38
42 Michele Bartoli (Ita) Fassa Bortolo                   36.18
43 Xavier Florencio (Spa) ONCE-Eroski                    36.49
44 Oscar Laguna (Spa) Colchon Relax-Fuenlabrada          37.33
45 Paolo Bossoni (Ita) Vini Caldirola-So.Di              38.19
46 Joaquin Rodriguez (Spa) ONCE-Eroski                   38.36
47 Rene Haselbacher (Aut) Gerolsteiner                   39.05
48 Matthew White (Aus) US Postal-Berry Floor             40.46
49 Benoit Joachim (Lux) US Postal-Berry Floor            40.55
50 Lander Euba (Spa) Euskaltel-Euskadi                   41.04
51 Karsten Kroon (Ned) Rabobank                          41.14
52 Gorka Gerrikagoitia (Spa) Euskaltel-Euskadi           42.04
53 David Lopez (Spa) Labarca 2-Cafe Baque                44.29
54 Alexei Kuznetsov (Rus) Lokomotiv                      45.41
55 Inigo Landaluze (Spa) Euskaltel-Euskadi               46.32
56 Gorka Arrizabalaga (Spa) Euskaltel-Euskadi            46.37
57 David Latasa (Spa) Kelme-Costa Blanca                 48.02
58 Santiago Botero (Col) Telekom                         56.00
59 Andrej Hauptman (Slo) Vini Caldirola-So.Di            58.40
60 Gorazd Stangelj (Slo) Fassa Bortolo                   59.17
61 Andreas Kloden (Ger) Telekom                          59.43
62 Oscar Freire (Spa) Rabobank                         1.00.03
63 Erik Zabel (Ger) Telekom                            1.00.07
64 Nicola Loda (Ita) Fassa Bortolo                     1.00.21
65 Jose Ivan Gutierrez (Spa) iBanesto.com              1.00.34
66 Nikita Eskov (Rus) Lokomotiv                        1.00.42
67 Serguei Klimov (Rus) Lokomotiv                      1.01.50
68 Josep Jufre (Spa) Colchon Relax-Fuenlabrada         1.01.56
69 Gustavo Miguel Otero (Spa) Labarca 2-Cafe Baque     1.02.06
70 Juan De Los Angeles (Spa) Fassa Bortolo             1.03.26
71 Alberto Hierro (Spa) Labarca 2-Cafe Baque           1.03.28
72 Jon Odriozola (Spa) iBanesto.com                    1.03.41
73 Filippo Pozzato (Ita) Fassa Bortolo                 1.03.44
74 Marc Wauters (Bel) Rabobank                         1.04.00
75 Antonio Tauler (Spa) Kelme-Costa Blanca             1.04.28
76 Bingen Fernandez (Spa) Cofidis                      1.04.42
77 Roberto Lozano (Spa) Kelme-Costa Blanca             1.04.51
78 Antonio Cruz (USA) US Postal-Berry Floor            1.05.03
79 Massimo Apollonio (Ita) Vini Caldirola-So.Di        1.06.11
80 Mauro Gerosa (Ita) Vini Caldirola-So.Di             1.06.19
81 Pavel Brutt (Rus) Lokomotiv                         1.07.05
82 Fabian Wegmann (Ger) Gerolsteiner                   1.09.47
83 Gian Matteo Fagnini (Ita) Telekom                   1.11.29
84 Michael Barry (Can) US Postal-Berry Floor           1.12.44
85 Javier P. Llorente (Spa) Kelme-Costa Blanca         1.13.41
86 Steven De Jongh (Ned) Rabobank                      1.16.33
87 Uwe Hardter (Ger) Gerolsteiner                      1.17.52
88 Steffen Kjaergaard (Nor) US Postal-Berry Floor      1.28.41
 
Points classification
 
1 Angel Vicioso (Spa) ONCE-Eroski                           79 pts
2 George Hincapie (USA) US Postal-Berry Floor               54
3 Jose A. Pecharroman (Spa) Paternina-Costa Almeria         50
4 Matthias Kessler (Ger) Telekom                            46
5 Roberto Heras (Spa) US Postal-Berry Floor                 40
6 Rene Haselbacher (Aut) Gerolsteiner                       40
7 Inaki Isasi (Spa) Euskaltel-Euskadi                       37
8 Aitor Kintana (Spa) Labarca 2-Cafe Baque                  34
9 Bram De Groot (Ned) Rabobank                              33
10 David De La Fuente (Spa) Vini Caldirola-So.Di            29
11 Jesus Maria Manzano (Spa) Kelme-Costa Blanca             28
12 Oscar Freire (Spa) Rabobank                              25
13 Rafael Casero (Spa) Paternina-Costa Almeria              21
14 Michael Rasmussen (Den) Rabobank                         20
15 Santiago Blanco (Spa) Colchon Relax-Fuenlabrada          18
16 Benjamin Noval (Spa) Colchon Relax-Fuenlabrada           16
17 Santiago Botero (Col) Telekom                            16
18 Ellis Rastelli (Ita) Gerolsteiner                        15
19 Roberto Lozano (Spa) Kelme-Costa Blanca                  14
20 Juan Antonio Flecha (Spa) iBanesto.com                   12
21 Paolo Bossoni (Ita) Vini Caldirola-So.Di                 12
22 Jose Luis Arrieta (Spa) iBanesto.com                     11
23 Xabier Zandio (Spa) iBanesto.com                         11
24 Guido Trentin (Ita) Cofidis                              10
25 Evgeni Petrov (Rus) iBanesto.com                         10
 
Mountains classification
 
1 Michael Rasmussen (Den) Rabobank                          83 pts
2 Aitor Kintana (Spa) Labarca 2-Cafe Baque                  75
3 Jesus Maria Manzano (Spa) Kelme-Costa Blanca              52
4 Josep Jufre (Spa) Colchon Relax-Fuenlabrada               40
5 Jose Enriqu Gutierrez (Spa) Kelme-Costa Blanca            40
6 Rafael Casero (Spa) Paternina-Costa Almeria               38
7 Lander Euba (Spa) Euskaltel-Euskadi                       32
8 Jose A. Pecharroman (Spa) Paternina-Costa Almeria         32
9 Roberto Heras (Spa) US Postal-Berry Floor                 23
10 Cesar Garcia (Spa) Labarca 2-Cafe Baque                  22
11 Ivan Ramiro Parra (Col) Kelme-Costa Blanca               20
 
Metas volantes classification
 
1 Josep Jufre (Spa) Colchon Relax-Fuenlabrada               10 pts
2 Alberto Hierro (Spa) Labarca 2-Cafe Baque                  8
3 Joaquin Rodriguez (Spa) ONCE-Eroski                        8
4 Bram De Groot (Ned) Rabobank                               7
5 Jose Ivan Gutierrez (Spa) iBanesto.com                     3
6 Mauro Gerosa (Ita) Vini Caldirola-So.Di                    3
7 Cesar Garcia (Spa) Labarca 2-Cafe Baque                    3
8 Jose Enriqu Gutierrez (Spa) Kelme-Costa Blanca             3
9 Pavel Brutt (Rus) Lokomotiv                                3
10 Rafael Casero (Spa) Paternina-Costa Almeria               2
11 George Hincapie (USA) US Postal-Berry Floor               2
 
Catalan Rider classification
 
1 Jose A. Pecharroman (Spa) Paternina-Costa Almeria
2 Roberto Heras (Spa) US Postal-Berry Floor
3 Koldo Gil (Spa) ONCE-Eroski
4 Rafael Casero (Spa) Paternina-Costa Almeria
5 Ivan Basso (Ita) Fassa Bortolo
 
Teams classification
 
1 Paternina-Costa de Almeria                          66.55.56
2 iBanesto.com                                            5.07
3 Colchon Relax-Fuenlabrada                               5.22
4 O.N.C.E.-Eroski                                         7.21
5 Euskaltel-Euskadi                                      26.40
6 US Postal presented by Berry Floor                     28.59
7 Fassa Bortolo                                          32.32
8 Labarca-2-Café Baqué                                   33.32
9 Kelme-Costa Blanca                                     37.31
10 Team Telekom                                          37.44
11 Gerolsteiner                                          41.03
12 Cofidis, Le Crédit par Téléphone                    1.04.49
13 Vini Caldirola-SO.DI                                1.11.58
14 Rabobank                                            1.21.12
15 Lokomotiv                                           2.30.28