5th Jacob's Creek Tour Down Under - 2.3
Australia, January 21-26, 2003
News for January 22, 2003
Hendrik Redant on Brown v. McEwen
The directeur sportif of Lotto-Domo, Hendrik Redant, spoke to Cyclingnews about the argy bargy between Robbie McEwen and Graeme Brown during the sprint for stage one.
By Khairunnisa Schebella in Adelaide
CN: Run me through the finish, a controversial start to this year's race.
The sprint
Photo: © Tom Balks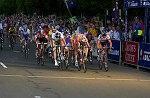 HR: As far as I know, he (McEwen) immediately went for a complaint. I didn't make an official protest though, through the UCI, I think the judges saw the same thing and they decided to disqualify him. Robbie told me that it was quite a big offence, other guys said it was not so bad, but you know it should be fair and I hope next time we have a fair fight between them.
CN: There seems to be a history between them?
HR: Yeah, I heard about that. I heard that a few races, a few months back Graeme did the same to Robbie and he nearly crashed into a parked car, so maybe that made Robbie a bit pissed and he just complained immediately. It seems that he has a bit of a reputation. I don't know him so well, but I think there is something going on between them.
CN: There was no real advantage to Robbie in the race by complaining though.
HR: No, he just wanted to make a complaint because he felt the move made by Graeme was not right. He was third in the race and it means he came second and second doesn't count. Baden Cooke won the race and Robbie didn't get anything out of it, just a feeling of getting something right. That was important for him. He wanted to make a point and the judges agreed with him.
CN: Are you happy with your team today? Nick Gates was in the break and your team worked hard to bring it back together.
HR: Very happy. The youngsters did well, they were still there in the finale. Nick was away in the first group and made a big effort for the team. I only put the boys to work on the 3 last laps. I saw in the front there was not really any co-operation happening with the break for the last 4 or 5 laps, so I said you wait as long as possible. Only in the last 5 or 6 kms try to pull it all together try to make a break and prepare the sprint for Robbie. They did very well, my youngsters did very well, my old guys were there where they should be, I was quite contented with the team. Unlucky we didn't win, but that's what cycling is all about.
CN: And tomorrow?
HR: Tomorrow is going to be quite hard. It's a nice climb, we have done the climb last week in our training but I think there's a possibility that one of our guys can go for the win. So let's hope that Robbie's there.