2003 Jayco Geelong Bay Classic
Victoria, Australia, January 8-12, 2003
Start List Races Dinner with the riders
Shadow boxing starts as champion cyclists get ready for classic stoush

O'Grady and McEwen
Photo: © Norman Fay
Australia's greatest road cyclists Robbie McEwen and Stuart O'Grady are set for the biggest cycling grudge match in years, when the cream of the nation's best riders race in the five-day Jayco Geelong Bay Cycling Classic in January.
McEwen, the first Australian cyclist to ever win the sprinters Green Jersey in this year's Tour de France believes O'Grady will be his toughest challenger, when racing starts at the Victorian coastal town of Rye on January 8 in what is now recognised as the world's No. 1 criterium series.
O'Grady, who for three years was runner up for the Green Jersey, only to see McEwen win the prize, admits McEwen has speed, but he believes stamina is what counts over the five days, as the circuits are all so different and include Rye, then Portarlington, Geelong - Ritchie Boulevard, Geelong - Botanic Gardens and the final at Crown Entertainment Complex.
And if both these riders think its between themselves, the likes of last year's runner up Hilton Clarke, Olympic Gold Medallist and former Classic winner Brett Aitken, Robert Crowe, who has been an Australian road champion, along with another former winner David McKenzie believe they have the power to win the title.

O'Grady, Katie Mactier and McEwen
Photo: © Norman Fay
Race director John Trevorrow said at the launch of the program for the five-day street circuit series in Melbourne that the 80-strong field for the 2003 Jayco Geelong Bay Cycling Classic had attracted the strongest contingent of European-based Australian riders in the 10-year history of the event.
"There was a time when we relied on overseas riders to lift the quality of the field, but Australians are performing so strongly internationally, they are now recognised as among the world's best, " said Trevorrow.
"But because we have such a strong field of home-grown champions, that has lured at least a dozen overseas riders American Mike Tillman and Italian Roberto Gaggioli, who has won more criteriums than any other rider in thr world, to compete in the event.
"When people watch the racing over the five days, they will see exceptionally talented, strong and courageous riders, often reaching speeds of up to 70km an hour. The racing is as good as you will see anywhere," Trevorrow added.
The women's event has again attracted Australia's world beaters Anna Millward, Sara Carrigan, the 2001 Ausatralian road champion Katie Mactier, and the 2002 women's classic winner Rochelle Gilmour, whose family home was lost in last January's NSW bushfires. Even Emma Carney former world triathlon athlete will be racing.
Going round down south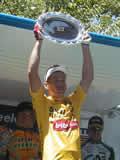 Robbie McEwen
Photo: © Karen Forman/CN
Australia's Best
The Bay Classic produced some amazing fireworks of its own last January with the 'Brownie Show', where super sprinter Graeme Browne clashed heatedly with Robbie McEwen and Scott McGrory.
There is no doubt that there will be some very close racing in the first race at Rye. This would have to be the tightest criterium circuit in Australia and at only a little over 500 m around, there will be some spectacular action. Hilton Clarke was first across the line last year with teammate Graeme Browne second and Robbie third. Stuart O'Grady clipped a spectator's motorcycle helmet that was hanging over the fence with about two laps to go which put him out of contention and nearly broke his arm.
The Classic has again attracted the cream of Australian cyclists including Robbie McEwen, Stuart O'Grady, Brett Aitken, Baden Cooke, David McKenzie, Hilton Clarke, Jamie Drew, Henk Vogels, Corey Sweet and Jay Sweet, as well as many internationals.

O'Grady and McEwen get busted
Photo: © Norman Fay
McEwen, the defending champion, will be vying for a record fifth win, but although he may be recognised as the best criterium rider in the world, he will be under extreme pressure to win again Cycling fans will get the chance to show their support for Robbie. Most Aussies were glued to their TV sets watching Robbie in that titanic struggle with Eric Zabel for the Maillot Vert (Green Jersey). Then Robbie and Baden Cooke stole the show on the final stage on the Champs Elysées. Both riders battled side by side in a hard charging sprint as millions upon millions of people watched on. Robbie and Baden are sure to do battle again in the Bay Cycling Classic and you can watch them live. Australia's radical new professional cycling squad iTeamNova.com is ready for its second year after joining forces with Belgian Category two team Flanders. Team leader and former Classic winner Dave McKenzie will definitely be in with a chance to win the Jayco Geelong Bay Cycling Classic.
Hopefully the international women's event will feature world number one Anna Millward. We say hopefully because Anna has been battling a debilitating nerve problem which has sidelined her for the latter part of the past season. But defending champion, NSW star Rochelle Gilmore will be out to show that she is one of the fastest women in the world and her brilliant finishing sprint will make her the woman to beat. The cream of Australian women will be racing and the Friday evening Australian Criterium Championship will be a special feature.
How It Works
Each criterium is contested by teams and prizes are awarded for the three best teams overall. However, the individual award is the most prestigious. Each day the first 10 cyclists receive points awarded for their finishing position as follows: 12 for first then 10, 8, 7, 6, 5, 4, 3, 2, 1. The leading rider on points wears the Yellow Jersey and the rider with the most points at the end of the final race is the series winner. In addition there is a Sprint Ace Award with 3, 2 and 1 points awarded for the intermediate sprints each day that go towards the overall ranking. The leading Sprint Ace wears the green jersey.
TV Coverage (Australia only)
Make sure you tune in every day to Channel 10 because they will be screening daily coverage on Ten News and Sports Tonight. Then there will be a two hour national highlights special on Sunday January 26, with the men's action screening from 2.00 pm to 3.00 pm and the women taking over your screens from 3.00 pm to 4.00 pm.
Past Winners
2002 Robbie McEwen (Qld) Rochelle Gilmore (NSW)
2001 Robbie McEwen (Qld) Anna Millward (Vic)
2000 Brett Aitken (SA) Karen Barrow (Vic)
1999 Robbie McEwen (Qld) Anna Wilson (Vic)
1998 Brett Aitken (SA) Anna Wilson (Vic)
1997 Robbie McEwen (Qld) Sandra Smith (WA)
1996 David McKenzie (Vic) Anna Wilson (Vic)
1995 Neil Stephens (ACT) Kathy Watt (Vic)
1994 Rik McCaig (Vic) Kathy Watt (Vic)
1993 Peter Attard (Vic)
1992 Glen Clarke (Vic)
1990 Mornington Peninsula: Glen Clarke (Vic) - Bellarine Peninsula: Glen Clarke (Vic)
1989 Mornington Peninsula: Peter Stieger (Swi) - Bellarine Peninsula: Gary Sutton (NSW)