89th Tour de France - Grand Tour
France, July 6-28, 2002
2002 Tour de France journals
A Podium Girl Gone Bad
Nationality: USA
For the duration of the Tour de France Podium Girl Gone Bad will be bringing us a unique slant on the world's biggest annual sporting event.
Digging deep
What do you think of it so far then?
Photo: © PGGB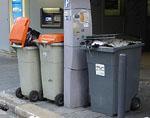 Well, my dearies, a most wondrous, sneaky idea was sent to me in a dream last night. My fairy Pod mother told me, that if television crews could find fame and fortune by digging through garbage, then PGGB should do the same. Have I told you that what we poor Podium Girls get does not pay the rent? Sad, but true. So, compromising my Podium integrity, I stooped to a new low.
For this midnight foray, I chose a red and white ensemble, my dearies, and put on my best red polka dot sash to conceal any splatters. Very sneakily, I crept to a garbage can behind a hotel where the teams were staying. With a furtive glance over my polka-dot shoulder, I opened zee garbage can lid.
EEECH! PeeeYuuu! Gross! It was disgusting. My delicate little Podium Nose could not take this mal odeur. Mon Dieu, maybe television crews are accustomed to such stench, but Pas Moi!
I sped away on my little red pumps and hid behind a team van. The only other human who was out at this time of night was a drunken mechanic, who tripped over the can and spilled the garbage. He did not seem to notice the odeur.
It was then that I discovered the Real Secret of the Peloton. Junk food wrappers blew all over the parking lot. Snickers, Mars, Twixt, Schoks, Le Petite Ecolier, Haribo, Cosmics, M&Ms, and McDonalds were just a few. Junk Food, c'est tout!
While the Directeurs Sportifs sleep, dreaming of Podium Girls in yellow, those disobedient little climbers and sprinters eat junk food. They speed out on their bicycles to McDrive and 8 a Huit and stuff their faces with forbidden goodies. Alas, the naughtiest thing those boys do is snarf fast food and chocolate. My hopes for the fame and fortune of a sensational expose went down the drain just like the French Officials' doping case.
Junk food... Ah, c'est la vie Podium.
Until later,
PGGB