89th Tour de France - Grand Tour
France, July 6-28, 2002
2002 Tour de France journals
A Podium Girl Gone Bad
Nationality: USA
For the duration of the Tour de France Podium Girl Gone Bad will be bringing us a unique slant on the world's biggest annual sporting event.
A la Recherche du Cans Perdu
Off to see the wizard…
Photo: © Credit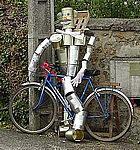 As your Podium Girl travelled along the Tour route, I came upon the most pitiful sight – a forgotten rider from an earlier Tour, abandoned by even the Broom Wagon. Poor fellow, I thought, a Podium Girl is just what he needs right now. I gave him zee leetle kiss, kiss, kiss bizou and promised him a fuzzy, huggy lion. Even without wearing my proper little yellow suit and heels, I got zee scoop. I have my ways…
It seems that this poor fellow had stopped to answer nature's call, and whilst he was watering the lovely sunflowers for Graham Watson, someone in the peloton had the nerve to launch an attack. He's not sure, but he thinks Jacky Dudu might have had a go at it. Away they all went, huffing and puffing and swearing at each other. And there he stood, with nothing but time on his hands. Nobody missed him, not even his team. "Why do you stand here still?" I asked. He shamefully whispered in my ear that he couldn't go home because Tour fans would know that he had been canned.
Until later,
PGGB