89th Tour de France - Grand Tour
France, July 6-28, 2002
2002 Tour de France journals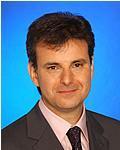 TV Guy
Photo: © SBS
Mike Tomalaris, SBS broadcaster
Nationality: Australian
Mike Tomalaris is the producer and sometimes presenter of SBS TV's Toyota World Sports, the only daily prime time sports show on Australian TV. Mike has covered the Tour de France for SBS Sport since 1996, and always brings a distinct Australian perspective to the network's coverage of the world's biggest annual sporting event.
Stage 5 - Thursday, July 11: Soissons - Rouen, 195 km
Zabel under threat
I get the strong feeling Erik Zabel is afraid - very afraid!
He's afraid of another Aussie on the charge for his prized green jersey at the Tour de France. Australian cyclists could have well enjoyed a 1-2-3 finish into Rouen, but failed to catch the five-man breakaway by 33 seconds.
Part of the reason was the lack of aggression from Zabel's Deutcshe Telekom team. While Robbie McEwen's Lotto-Adecco, Baden Cooke's FDJeux.com and Stuart O'Grady's Credit Agricole all worked tirelessly to catch the escapees, there was no sign of the "German train" which decided to ride at a casual tempo.
After all, why would Zabel and co. pursue the leaders? Zabel has come to realise he is slowing down. He's not the guaranteed fast-man of the sprints he may have been in previous years.
And for that he has McEwen to blame. Had Zabel joined in the chasers and gone for the stage win, it could have spelled disaster and he may have surrendered his lead in the points competition. But he played a shrewd tactical game.
There's no doubt McEwen and Zabel remain the fastest sprinters in the peloton and finishing second to the Aussie has become a tremendous risk at this TdF. A second placing for Zabel yesterday would have resulted in McEwen wearing green and not the man who has won the competition for six years in a row.
McEwen has never looked as fit, as hungry and as confident as he does in 2002. I'm sure his time in green will come sooner rather than later.