89th Tour de France - Grand Tour
France, July 6-28, 2002
2002 Tour de France journals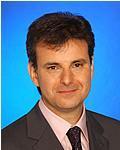 TV Guy
Photo: © SBS
Mike Tomalaris, SBS broadcaster
Nationality: Australian
Mike Tomalaris is the producer and sometimes presenter of SBS TV's Toyota World Sports, the only daily prime time sports show on Australian TV. Mike has covered the Tour de France for SBS Sport since 1996, and always brings a distinct Australian perspective to the network's coverage of the world's biggest annual sporting event.
Stage 17 - Thursday July 25: Aime - Cluses, 142 km
From Cluses, down in the Arve valley
Brad McGee should not be asked to race at the Commonwealth Games.
I hate to be a bearer of bad tidings, but what Brad is going through in the Tour de France at the moment is pain and suffering, it is bordering on torture. After crashing in the mountain stage of the Tour in the Pyreness, Brad fell on a descent while trying to chase the race leader at the time, Laurent Jalabert. Images of a torn team jersey with blood stains through it continue to send chills down my spine. Can you imagine the pain and suffering Brad went through - yet still managed to finish? Somehow he has decided to continue in the Tour for reasons known to himself only.
Brad is a proud cyclist. He wants to ride into Paris on Sunday as a personal tribute to himself for the success he enjoyed after winning the stage into Avranches, and the toil he has gone through since that fateful crash. To ask Brad to race in the 4000 metres individual pursuit in Manchester is ridiculous. What will he and Australian cycling gain from the exercise? Brad is currently competing against the best professionals in the world. He needs time to fully recover and not race on a track where he will be denied the opportunity to perform at his absolute best.
Brad McGee is a World Champion, Olympic medallist and Tour de France stage winner. His next goal is to one win the Tour de France. You may think it's a long shot, but along with Cadel Evans, Brad has the potential and know-how to win a Grand Tour.
Please - spare him the indignity of possible failure in Manchester.