89th Tour de France - Grand Tour
France, July 6-28, 2002
2002 Tour de France journals
Mike Tomalaris, SBS broadcaster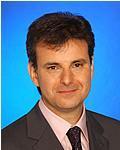 TV Guy
Photo: © SBS
Entries
Nationality: Australian
Mike Tomalaris is the producer and sometimes presenter of SBS TV's Toyota World Sports, the only daily prime time sports show on Australian TV. Mike has covered the Tour de France for SBS Sport since 1996, and always brings a distinct Australian perspective to the network's coverage of the world's biggest annual sporting event.
Stage 1 - July 7: Luxembourg - Luxembourg, 192.5 km
The frustration on Stuart O'Grady's face said it all.
He crossed the line after a harrowing stage 1, rode to the team bus and went inside.
That's where he stayed for a good 20 minutes before emerging to ride back to his hotel.
I stopped him.
He didn't want to talk.
Why would you when your team leader, Christophe Moreau has crashed, not once, but twice during the race and is virtually out of contention after just 24 hours of the Tour de France.
O'Grady finished sixth, little comfort when your German nemesis beats you in the first intermediate sprint and then does the job on you by finishing four places higher in the sprint home.
Erik Zabel is a machine. Everything worked in his favour - everything except a stage win, which would have capped a wonderful 32nd birthday.
O'Grady spoke, but what came out of his mouth is not for broadcast or website consumption.
He was visibly upset. No time to think about tomorrow just yet, but dwell on the a gruelling start to the world's most unforgiving bike race. Maybe its time for Credit Agricole to devote all its resources to Stuey. He did well last year by wearing yellow and then dominating the green competition all the way to Paris, only to lose it on the Champs Elysees. There's no reason why he cannot do it again.
Stage 2 - Monday July 8: Luxembourg - Saarbrücken (Germany), 181 km
Where did he come from?
Along with the throng of international media, I was watching the stage 2 sprint at the finish in Saarbrucken on the huge screens provided by the Tour de France organisers.
It looked simple enough - Erik Zabel and Robbie McEwen going for it. It should have been a 1-2 finish and the only questionwas, in what order? Robbie was tracking the right side of the runway, Erik on the left - who would touch the line first?
What do you mean it was Oscar?
The Spanish world champion came from the inside and upstaged everyone. Robbie couldn't believe it and as for Erik I'm sure a victory in front of his German people would have been more than fitting.
McEwen rolled up to my SBS camera crew seconds after missing out. The shock on his face told the story. He kept shaking his head in disbelief. I'm sure he was thinking: "How did I let this one slip away?"
He was gracious in defeat but knew it was the one that got away. For the first time that Freire had shown his sprinting qualities against McEwen, and while the great Ausssie hope may have thought the German would be his main concern over the first week of sprinting - well, Robbie may have just have to review the situation over the next few days.
The little Spaniard with the big heart is not going to life easy for anyone - especially when he's wearing the rainbow coloured jersey as world champion.