89th Tour de France - Grand Tour
France, July 6-28, 2002
2002 Tour de France rider journals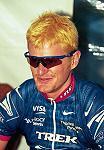 Champion in the making
Photo: © Jonathan Devich
Floyd Landis
Nationality: American
Team: United States Postal Service
A strong climber and time trialist, 26 year old Landis, from Lancaster Co., PA, burst onto the road scene in 1999 in his rookie road year, wearing the Maillot Jaune and finishing third in the Tour de l'Avenir stage race, followed by 4th place in 2000. After an up and down 2001 season with Mercury, Landis has been a great addition to USPS in 2002, recently placing 2nd overall behind winner and team leader Lance Armstrong in the Dauphiné Libéré.
Rest day - Monday, July 22
Restful, restful
Man I am sleepy today. I just finished my massage and I'm catching up with my Tour de France diary. We had a restful rest day, with no traveling at all. I slept until 10am. That was a record so far this Tour. Then we went out and rode 80km and went pretty hard. Lance and the guys said you have to ride hard on rest day to keep your system from shutting down. I didn't really like it, but since it's my first Tour I'm going to follow the program.
After our ride, we had lunch and I had a two hour nap. Man that was great! Now there are a lot of press people around trying to talk to Lance but he just wants to relax on rest day. His family is here today. Yesterday I heard there were some hecklers on Mont Ventoux that were yelling stuff "Go Virenque" and then yelling at Lance "Dopage" or something... are they crazy? Did they forget about Virenque? Sometimes I wonder if Lance might be scared that someone might do something to him on one of these mountain climbs. It happened to Eddy Merckx. And there's no way to stop it; you're on a public road and it's all out in the open.
We're in a nice hotel here for two days; the food has been good and I've got no complaints. Ol' Chef Willy mentioned something about veal and rice tonight. Saturday night we stayed in this Campanile hotel near Beziers and it was unbelieveably hot! There was no ventilation in the room so I had to sleep with the door open.
Tomorrow the stage is really long and hard. 226.5km... so the plan for the team from now on is to maintain Lance's lead. Nothing drastic... I mean, Lance wants to win stages if he can. Beloki sounds like he's conceded; he said that he's now just looking to keep his second place on GC. So this is as good as it gets.
The guys at Cyclingnews told me that Saiz [ONCE directuer sportif - Ed] and the Banesto director [Unzue] were saying that CSC and Rabobank were working for Lance. That's bogus; we didn't ask anybody to work for us. CSC was working for Jalabert's climbers' jersey and Rabobank was working for Levi. He's riding well. Plus the Banesto guy said that our team isn't as invulnerable as people are saying and to isolate Armstrong in the Alps well before the finish and crack his team, Banesto has to ride differently. What's up with that? Where has his team been anyway? If they want to crack us, they had better send their first guy on GC Mancebo [5th @ 10'49"] from the gun!
Well it's time for dinner and an early night; we've got three big days ahead of us in the Alps so I need my rest. Thanks for reading.
Until Next
Time Floyd