89th Tour de France - Grand Tour
France, July 6-28, 2002
2002 Tour de France rider journals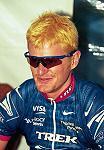 Champion in the making
Photo: © Jonathan Devich
Floyd Landis
Nationality: American
Team: United States Postal Service
A strong climber and time trialist, 26 year old Landis, from Lancaster Co., PA, burst onto the road scene in 1999 in his rookie road year, wearing the Maillot Jaune and finishing third in the Tour de l'Avenir stage race, followed by 4th place in 2000. After an up and down 2001 season with Mercury, Landis has been a great addition to USPS in 2002, recently placing 2nd overall behind winner and team leader Lance Armstrong in the Dauphiné Libéré.
Stage 9 - Monday, July 15, 2002: Lanester - Lorient ITT, 52km
Romancing The Bike
Candles, soft music...
Photo: © Sirotti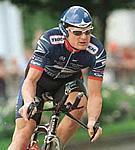 Have you ever been to TheOnion.Com? My friend Will sent just me this thing called "you must romance the music from the tambourine" and he changed the tambourine to bike... it was really funny!
We're at the Hotel Nowhere NoService today... nah, it's okay actually. I try to be serious when we're racing but not always. The guys have a good sense of humor. Eki's a good guy to joke around with.
It's a new race now that the flat stages and time trial are over. In the time trial today, Johan told Chechu, Eki, Roberto and me to go 90 percent so we could go in the breaks in the mountains. I felt pretty good today. It wasn't a bad time trial; up and down, never flat with lots of wind. It was a good time trial course, not dangerous at all with a lot of people out there.
I was a little tired but everyone's tired at this point. I'm looking forward to a rest day! Lance was good and Botero was really good; in the Dauphine, he beat Lance by like 40 seconds in the time trial. Lance was 11 seconds down today but nobody's real concerned. Botero's a good rider but Lance still has plenty of confidence.
So far, this Tour has been a fast race. We've covered 1400 kilometres, but there are still a lot to cover until we get to Paris. The hard part is still to come. The racing has been mentally stressful because of the wind and the attacking but the mountains are going to the deciding factor. We have our work cut out for us for sure, but until now it's been great. I haven't had any misfortunes like ending up in a crash or anything. There isn't anything I can complain about except the stress. The racing has been really good.
We always hear the Americans cheering for us and my website is getting a lot of email telling me to hang in there and I'm doing great, which I really appreciate. It's hard to explain how hard this racing is. I understand you have to be quite a bike racer to win this race now. I have a lot more respect now for the Tour De France. I hope it makes me stronger.
We don't know what's going to happen in the mountains. The other teams haven't ganged up on us so far, which is surprising. It would have been more to their advantage before, so I guess that they will stick with their plan.
Tomorrow we fly to Bordeaux, have a ride and I am looking forward to having a nap until the guys from Cyclingnews call me to bug me! Maybe they'll forget...
Until next time,
Floyd