89th Tour de France - Grand Tour
France, July 6-28, 2002
2002 Tour de France rider journals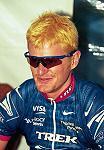 Champion in the making
Photo: © Jonathan Devich
Floyd Landis
Nationality: American
Team: United States Postal Service
A strong climber and time trialist, 26 year old Landis, from Lancaster Co., PA, burst onto the road scene in 1999 in his rookie road year, wearing the Maillot Jaune and finishing third in the Tour de l'Avenir stage race, followed by 4th place in 2000. After an up and down 2001 season with Mercury, Landis has been a great addition to USPS in 2002, recently placing 2nd overall behind winner and team leader Lance Armstrong in the Dauphiné Libéré.
Stage 7 - Saturday July 13: Bagnoles De l'Orne - Avranches, 176 km
Keep Hangin' In There
Finishing
Photo: © Sirotti

Another day, another adventure. We've just finished Stage 7, at the end of my first week at the crazy Tour De France.
What an adventure. Everybody's tired now, you can feel it, since the speed is getting slower day after day. [editors note: After 8 days and 8 stages, the 2002 TDF has covered 1193km in 27h39'59" of racing at an average speed of 43.121 km/h]. The attack that got away today wouldn't have gotten away earlier this week, that's for sure. ONCE rode tempo again, so that's great - I'll take at least one more day of that!
Lance was in a debacle at the end of the stage today. He didn't crash or anything, but he got tangled up with Roberto (Heras). We waited for him, but he went too fast up the final hill he just blew right by us. George went down too, in the same crash with Freire, but he's OK too.
Yeah, there were a lot of crashes today. It's because the speed has been so fast and a lot of guys are tired. There is also a lot of attention from the media here at the Tour de France, but that's the least of my problems. I just keep my head down if I don't want to talk to journalists. And this team knows how to handle the media, that's for sure!
Some foreign journalists have been asking me lately what I think of Normandy, what it means to me as an American.
I mean, what kind of a question is that?! I think that's a stupid question to ask. My answer is that it's irrelevant; this is a bike race. But I'm not sure if they get it.
Le Mont
Photo: © Sirotti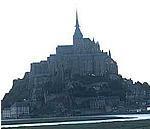 Look, we're here to race. We're so focused on this race every day it's not funny. The Tour de France is so stressful, so difficult. Like I was saying, the crashes are getting worse because guys are getting more and more tired and their reaction time is just getting worse. Everyone wants to be in the front, but it's not going to happen.

But anyway, today was a really nice day with sun and pretty scenery. I saw le Mont-St.Michel today. I'd like to come back here to see it when I have some free time. But not today. OK it's time for dinner. Gotta go choke down some more pasta. Hey, the food is fine, but nothing tastes good anymore.

See you tomorrow,
Floyd