89th Tour de France - Grand Tour
France, July 6-28, 2002
2002 Tour de France rider journals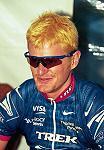 Champion in the making
Photo: © Jonathan Devich
Floyd Landis
Nationality: American
Team: United States Postal Service
A strong climber and time trialist, 26 year old Landis, from Lancaster Co., PA, burst onto the road scene in 1999 in his rookie road year, wearing the Maillot Jaune and finishing third in the Tour de l'Avenir stage race, followed by 4th place in 2000. After an up and down 2001 season with Mercury, Landis has been a great addition to USPS in 2002, recently placing 2nd overall behind winner and team leader Lance Armstrong in the Dauphiné Libéré.
Stage 5 - Thursday, July 11: Soissons - Rouen, 195 km
Ice cream dreams
We just finished dinner; we had pasta with some kind fresh tomato sauce. It was good but if I could have any food right now, it would be ice cream, but we're not supposed to eat it because there's the idea it might make you sick. So I'll just listen to what they tell me and have some ice cream after the Tour.
I was in a break today and the guys from Cyclingnews told me that I was Yellow Jersey on the road for a little while. That's good but I don't know how they calculate that. We were supposed to cover breaks today and we didn't know if ONCE would send send any good guys up the road. I didn't think the break I was in would go anywhere. There was only one ONCE guy and he was no threat. I think he got dropped yesterday in the TTT. So we had the luck again, since we didn't have to work today but it was hard no matter what.
There is so much going on here at the Tour. It's just chaos, a circus, a mess mostly. There are so many people at the start and finish lines. People ask for hats and bottles and I'd give them stuff if I had it. People ask me for autographs and I can stop some of the time, but I gotta get to the race or the bus after the race, so I try not to offend anyone.
After all the riding we've done so far, today might have been the hardest stage. Maybe it was because it was after the team time trial. I don't know… it was really stressful all day. So I am going to get some sleep so I'm good to go tomorrow.
Good Night
Floyd