89th Tour de France - Grand Tour
France, July 6-28, 2002
2002 Tour de France rider journals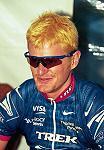 Champion in the making
Photo: © Jonathan Devich
Floyd Landis
Nationality: American
Team: United States Postal Service
A strong climber and time trialist, 26 year old Landis, from Lancaster Co., PA, burst onto the road scene in 1999 in his rookie road year, wearing the Maillot Jaune and finishing third in the Tour de l'Avenir stage race, followed by 4th place in 2000. After an up and down 2001 season with Mercury, Landis has been a great addition to USPS in 2002, recently placing 2nd overall behind winner and team leader Lance Armstrong in the Dauphiné Libéré.
Stage 2 - Monday July 8: Luxembourg - Saarbrücken (Germany), 181 km
Moving Targets

Photo: © Sirotti
So far, the first two days, we've been lucky. Other teams have been willing to take responsibility and not just look at us, as was the case in other years, I guess.
So apart from the stress of just the level of everything being higher, it was a reasonably uneventful day today. The break wasn't anything dangerous and Lampre was willing to do a lot of work. OK, it was a hard race, but it wasn't anything out of the ordinary.
The amount of spectators on the course today was unbelievable! The majority of the time, you couldn't have even talked to the person beside you in the pack it was so loud. Once we got to Germany, there were more people than I've ever seen on a race. It was tremendous. I guess it was a big party; there were people shoulder to shoulder for 150km on both sides of the road. It was a big party, I guess. Most of the people can't even see. They are probably just out there for something to do but it was great today.
I've been seeing some other Americans on other teams.We say "hi" but it's not like other races where there's actually time to socialize. The Tour De France is stressful! Lance wants to race in the front and I want to race in the front and it's dangerous in the back, so the fact that we want to always keep it together in the front keeps the socializing down. There's not much time for that.
Once the break got away today, Lampre put there whole team on the front. I thought they might say "Whatever, it's not our problem" and ride for Rumsas, but they got on the front and rode until Zabel's team started to ride with 30km. to go because the finish was in Germany. It was great; the more days that go by that the better.
It's the strangest thing; I still can't get over the fact that the spectators are sticking their heads way out in the road. Maybe they just don't know that if they get hit, it's going to hurt! Each person wants to move their head out so they can see and when they are looking through their camera, it's worse because their depth perception is totally different and they don't know they are going to get hit. It's been like that both days now. Benoît (Joachim) hit a guy yesterday and somebody crashed in front of him. I've raced in Europe before and seen big crowds in the finish and an occasional town with a lot people but nothing like this.
Tomorrow's weather might be pretty rough; it might be a passing thunderstorm so I hope it doesn't rain all the time. That's certainly a change from today. It was hot today but not unbearable, but we haven't been riding in the heat that much. You have to be careful when it's hot. I drank about 10 bottles today; AllSport or water.
See you tomorrow,
Floyd