89th Tour de France - Grand Tour
France, July 6-28, 2002
2002 Tour de France rider journals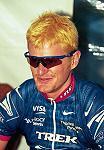 Champion in the making
Photo: © Jonathan Devich
Floyd Landis
Nationality: American
Team: United States Postal Service
A strong climber and time trialist, 26 year old Landis, from Lancaster Co., PA, burst onto the road scene in 1999 in his rookie road year, wearing the Maillot Jaune and finishing third in the Tour de l'Avenir stage race, followed by 4th place in 2000. After an up and down 2001 season with Mercury, Landis has been a great addition to USPS in 2002, recently placing 2nd overall behind winner and team leader Lance Armstrong in the Dauphiné Libéré.
Stage 19 - Saturday July 27: Regnie-Durette-Macon, Individual TT, 50 km
Guacamole & Chips In My Musette Bag
We're almost to Paris and I'm bored! Bored because all of a sudden after three weeks of racing around France, I'm just sitting here in the hotel after the Time Trial doin' nothing. Tomorrow we leave in the morning to go to Melun by the TGV...Train A Grand Vitesse. It goes 300 kilometres and I guess Lance gets to drive it for a while.
Then we get to watch McEwen and Zabel race for the Green jersey. They ought to do a one-on-one match sprint or something since we are all mostly so tired that we don't want to race 80km/hr around Paris tomorrow. Haha that's a joke...you know some days my sense of humour is better. Lance wasn't joking around today either. He won the stage and it was really a good ride today.
I heard from the Cyclingnews guys that Lance was talking about playing ZZ Top Greatest Hits in the press conference today. About a week ago, I just figured it was time to do something different with the music on the bus. I put in the ZZ Top and it was funny! The guys didn't to know what to make of it at first but then we started rockin' out and everybody got into it. Pretty soon, Chechu and Roberto were singing along! But Lynrd Skynrd wasn't such a big hit.
Willy says no pasta tonight and that's good because I am sick of it. What I'd really like is some guacamole & chips and a burrito. Man I can't wait to get back to San Diego.
Until next time
Floyd