89th Tour de France - Grand Tour
France, July 6-28, 2002
2002 Tour de France rider journals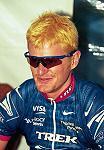 Champion in the making
Photo: © Jonathan Devich
Floyd Landis
Nationality: American
Team: United States Postal Service
A strong climber and time trialist, 26 year old Landis, from Lancaster Co., PA, burst onto the road scene in 1999 in his rookie road year, wearing the Maillot Jaune and finishing third in the Tour de l'Avenir stage race, followed by 4th place in 2000. After an up and down 2001 season with Mercury, Landis has been a great addition to USPS in 2002, recently placing 2nd overall behind winner and team leader Lance Armstrong in the Dauphiné Libéré.
Stage 16 - Wednesday July 24: Les Deux Alpes - La Plagne, 179.5 km &
Stage 17 - Thursday July 25: Aime - Cluses, 142 km
Nothing Can Hurt Me Now
Doesn't it sound nice, though? "Le Tour De France"…sounds like a nice little merry ride through the countryside. The actual racing is so hard. The team really has it down; we've got Johan and Dirk running the show so well, Yogi Muller to handle the press and we've got Chef Willy Balmat making sure the foods good. Everything is as organized as it can be, but this is such a hard race. There is no time to relax at all. Normally, like at the Dauphine', I could read a couple of books and relax between stages. At the Tour, I've barely had time to call my wife Amber. It just doesn't stop, which in some ways is probably good. As long as it keeps right on going.
Like the rest days, for instance. I'm not sure they actually helped me. You certainly don't recover in one day, but don't tell the Tour De France to take the rest days away. On top of that, one of the rest days was spent travelling; a "transfer" day or whatever it's called. Yesterday on the Galibier, we chased that first attacking group down and some other guys were taking shots like Boogerd. A couple of guys went that we didn't care about; at that time, Chechu had gone back for bottles so we didn't really bother to chase. And Boogerd stayed away for a long time; he was strong and ended up winning the stage. Good for him, he deserved it. As far as my day went yesterday, I made it over the Galibier and Telegraphe OK, and Benoit and Eki & I did a good bit of work on the first half. I meant to do the whole thing, but when Banesto picked up the pace halfway up the Madeleine, I was dropped. I have my limit now and I just can't go any faster. Maybe Banesto wanted to get rid of guys like me and isolate the team faster. They may have said "look we can't let 9 USPS guys go to the last climb together." George and Pavel made it over the Madeleine OK. I saw the TV after the stage and I feel sorry for ONCE; Lance just made them look stupid. If it was me I'd feel stupid. Beloki and ONCE is a good racer and they deserve a lot of credit. They may have hurt themselves in defending the Yellow Jersey and it saved us a lot of work. I'm glad I'm on this team; I wouldn't want to race against Lance.
Today I was better and now I can see the light of day at the end of the race. Tomorrow's Stage 18 will be tough too; but this is no tougher than anything we've been doing. There should be no big surprises. Botero was really good today and the ONCE guys had to chase him for a change.
I am having my wife Amber come over to Paris. I couldn't take it anymore since I haven't seen her in two months. She'll come in Sunday for the last day on the Champs-Elysees. I've seen my wife no more than 4 weeks in the last 7 months and that's no good! I feel like there is nothing that can hurt me now; I've gotten this far so I must go all the way to Paris.
Until next time
Floyd