89th Tour de France - Grand Tour
France, July 6-28, 2002
2002 Tour de France rider journals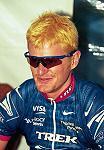 Champion in the making
Photo: © Jonathan Devich
Floyd Landis
Nationality: American
Team: United States Postal Service
A strong climber and time trialist, 26 year old Landis, from Lancaster Co., PA, burst onto the road scene in 1999 in his rookie road year, wearing the Maillot Jaune and finishing third in the Tour de l'Avenir stage race, followed by 4th place in 2000. After an up and down 2001 season with Mercury, Landis has been a great addition to USPS in 2002, recently placing 2nd overall behind winner and team leader Lance Armstrong in the Dauphiné Libéré.
Stage 15 - Tuesday July 23: Vaison-le-Romaine - Les deux Alpes, 226.5km
No More Pasta!
We just finished dinner so I'm sending another Tour diary. We had veal and pasta again for dinner tonight. Have you ever heard that an army travels on its stomach? Whatever you've heard, I'm wondering how much more pasta I can eat!
Tonight it was in a different shape, but we're eating it for breakfast and dinner for three weeks! That's too much for anybody.
My roommate Benoit Joachim got some kind of a fine today. ["Fined SFR100 for incorrect comportment and dangerous manoeuvre (he suddenly swerved left on a climb and knocked Sylvain Chavanel off his bike) - Ed] He's a really good guy and puts up with it when I'm on the phone to the guys from Cyclingnews in the room after the stage when we don't want to talk to anyone. He works crazy hardÉ today I thought he was going to take his last pull but he came back and kept on pulling more!
I wasn't exceptional today but I got through it. I was a little stiff after the rest day. That happened after the last day too; I don't know why. There are only three more tough days until the mountains are finished. I'm glad that I have something to work for at the Tour; I'd hate to be this tired and just hanging on the back!
Botero was good today and the stage was really fast again so I didn't have any chance to look at the scenery. It took so long for the break to go so that made it really fast. Jalabert really wanted to be in a break today but it just didn't work out for him. Tomorrow is the Galibier; we did this climb in training and it's really long. I guess some crazy is going to attack from the start!
By the way, thanks for all the e-mails you guys have been sending to my web site, www.Floydlandis.com. I'm going to sleep so see you tomorrow.
Until next time
Floyd