89th Tour de France - Grand Tour
France, July 6-28, 2002
2002 Tour de France rider journals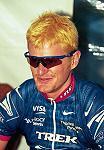 Champion in the making
Photo: © Jonathan Devich
Floyd Landis
Nationality: American
Team: United States Postal Service
A strong climber and time trialist, 26 year old Landis, from Lancaster Co., PA, burst onto the road scene in 1999 in his rookie road year, wearing the Maillot Jaune and finishing third in the Tour de l'Avenir stage race, followed by 4th place in 2000. After an up and down 2001 season with Mercury, Landis has been a great addition to USPS in 2002, recently placing 2nd overall behind winner and team leader Lance Armstrong in the Dauphiné Libéré.
Stage 14 - Sunday July 21: Lodève - Mont Ventoux, 221 km
Calling All Starbucks
"In the Alps I'll have Chechu, and Floyd is coming back. I think in the Alps we'll see a different Floyd Landis than we saw in the Pyrenees." – Lance Armstrong, 21 July 2002
The course today kind of reminded me of San Diego County with the hills and the rocks sticking out and the heat! The only thing that was missing was the Mexican restaurants. And Starbucks... I doubt if they'll let them into France any time soon. Anyway I wasn't looking around much today. It was just a long and really fast stage.
No one really dangerous was in the break but we didn't want to give anybody an hour. CSC and Rabobank came up to help chase after the feed zone. I guess CSC wanted it close so that someone other than Virenque would win the stage and take the KOM points from Jalabert. Rabobank was riding for Levi, who was very good again today.
At the foot of Ventoux, George rode hard for 4km, then we made the left hand hairpin where it gets steep and I rode hard for the next 15 minutes, then Chechu took over. When I pulled off, there were only like 10 guys left with Lance. There's still a long way to go from there so I ended up in a group with Axel Merckx and some other Domo guys. Then I rode down the back side of Ventoux to the team bus. I was on the bike for almost seven hours today.
Tomorrow's a rest day! I really need it and I guess everybody else does too. We'll go for a ride for a few hours and then eat and I'm looking forward to taking a nap. Since we don't have to travel, tomorrow's rest day will be a real rest for me.
Until next time,
Floyd