89th Tour de France - Grand Tour
France, July 6-28, 2002
2002 Tour de France rider journals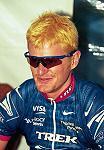 Champion in the making
Photo: © Jonathan Devich
Floyd Landis
Nationality: American
Team: United States Postal Service
A strong climber and time trialist, 26 year old Landis, from Lancaster Co., PA, burst onto the road scene in 1999 in his rookie road year, wearing the Maillot Jaune and finishing third in the Tour de l'Avenir stage race, followed by 4th place in 2000. After an up and down 2001 season with Mercury, Landis has been a great addition to USPS in 2002, recently placing 2nd overall behind winner and team leader Lance Armstrong in the Dauphiné Libéré.
Stage 13 - Saturday July 20: Lavelanet - Béziers, 171 km
Hot, windy day
Well it was a hot, windy day today but it wasn't too stressful and not too long either. That's good; one less day to worry about until we get to Paris. Today was pretty uneventful, we were just pedaling along in the headwind and I was up front so I saw myself on TV today - that was funny.
It was one of those days where if you weren't in the break, there was nothing to do. Everytime I went back for bottles, people seemed miserable from the heat and the wind. There wasn't much socializing today at all. I guess Jalabert should be tired by now since he's been in the break for the last three days. But he'll get through it - he's a real pro.
The team morale is really good; after yesterday's performance, everybody's got plenty of confidence in Lance, Roberto and Chechu in the mountains. We're all solid; no one's cracked yet but the race is by no means a given. Not until Paris.

Mustn't forget the 25 cog
Photo: © Sirotti
Today I tried out some new Nike shoes as the other ones had been giving me some problems yesterday; so I tried these new ones today, but I'll go back to the old ones tomorrow for Ventoux. I've been up it like five or six times; last year in Paris-Nice and the Dauphine I think, then this year a couple of times in our training camp and Dauphine. So I know what to expect. It's really good to know what to expect on these tough climbs, the way we check them out before in our training camps. Not so much at the top but for what the climb is like at the bottom when guys are still racing. I guess we'll have 25's [rear sprocket] for tomorrow. That's what the mechanics usually put on for Ventoux. I don't care if I don't have an 18 but I DO want that extra gear if I need it.
Tonight we're staying in a Campanile; it's like the French version of a truck stop or something. Willy whipped up a really good pasta with red sauce and garlic, then we had turkey breast. Tomorrow and the rest day we are in a little hotel that has really good food, so that's something to look forward to. That and being another stage closer to Paris.
Until Next Time,
Floyd