89th Tour de France - Grand Tour
France, July 6-28, 2002
2002 Tour de France rider journals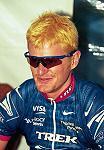 Champion in the making
Photo: © Jonathan Devich
Floyd Landis
Nationality: American
Team: United States Postal Service
A strong climber and time trialist, 26 year old Landis, from Lancaster Co., PA, burst onto the road scene in 1999 in his rookie road year, wearing the Maillot Jaune and finishing third in the Tour de l'Avenir stage race, followed by 4th place in 2000. After an up and down 2001 season with Mercury, Landis has been a great addition to USPS in 2002, recently placing 2nd overall behind winner and team leader Lance Armstrong in the Dauphiné Libéré.
Stage 12 - Friday July 19: Lannenezan - Plateau de Beille, 199.5 km
100% Better
Today I had good legs; I recovered from my terrible day yesterday. I still don't know what happened to me. Today the team was unbelievable. I mean, 9 guys rode hard at the front for 5 hours in the mountains and we got 1st and 2nd. We proved after yesterday and today that we are the the strongest team in the race.
I didn't see what ONCE was dong since the only time I ever went back was for bottles. But I've got to give it to them; ONCE rode hard when they had the jersey and are a really good team.
Today was a nice day, it was cool on the mountain tops and hot but not unbearable in the valleys. Yesterday I was so miserable I didn't know how hot it was. Today I just rode hard and did my job and rode steady up to the finish. Lance is so strong and so is Beloki and it's good that he keeps trying. He's some rider and it makes a really good race.
There are these crazy guys from Philly who came to the bus a few times and today I saw them on the last climb. They have a big blow-up whale and there is one guy who dressed like Uncle Sam and another guy who wears a duck float with stickers around his waist. They ran beside me for like a kilometre today and I was talking to them. I was just cruising after Lance, Roberto and Chechu went up the road. They're just having fun at the Tour De France.
Tomorrow is a late start and not that hard of a stage with a little climb at the beginning. We'll still have to ride but the stage is not nearly as hard as a mountain stage. It might be hot, too but the heat is better than the cold rain any day. Sunday is a long stage to Mont Ventoux. I've been up that sucker a few times so I know what to expect. It's a long stage but there is just one climb at the end.
We are staying in a little hotel that is not too far from the stage finish, It's a nice place, but it cracked me up that there's a rotary phone in my room! My parents have a newer phone than this. They just got a touch-tone phone a couple of years ago and before that we had the same phone in the kitchen for like 23 years! Well I have to go because my wife Amber is calling me and then ol'Willy is cooking up something good tonight!
Until Next Time,
Floyd