89th Tour de France - Grand Tour
France, July 6-28, 2002
2002 Tour de France rider journals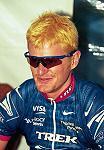 Champion in the making
Photo: © Jonathan Devich
Floyd Landis
Nationality: American
Team: United States Postal Service
A strong climber and time trialist, 26 year old Landis, from Lancaster Co., PA, burst onto the road scene in 1999 in his rookie road year, wearing the Maillot Jaune and finishing third in the Tour de l'Avenir stage race, followed by 4th place in 2000. After an up and down 2001 season with Mercury, Landis has been a great addition to USPS in 2002, recently placing 2nd overall behind winner and team leader Lance Armstrong in the Dauphiné Libéré.
Stage 10 - Wednesday July 17: Bazas - Pau, 147 km
Mountain men a comin'
Yesterday was a so-called rest day. It wasn't exactly what I would call restful. Sure, it was less stressful than a regular race day, but I would have rather just stayed in the hotel and slept. We took a charter flight down to Bordeaux, then drove to our hotel. We got their at 12:30 and then we rode for a couple of hours. Then it was lunch and finally a nap. The day was over before I knew it.
Today wasn't too bad; I was in a break for a while, but I guess I was too dangerous so we were chased down by ONCE. Finally the right break went about midway on the stage. It was short today, only 147 km. So when the break got away, ONCE rode tempo behind. I've got to give them credit, ONCE has up until now taken the responsibility to defend the Yellow Jersey.
Today was a beautiful day, too. Not too hot or anything. We had a bit of a tailwind so it was really fast. I guess a lot of guys are like me; they don't like just jumping right into the mountains. I guess you can see the Pyrenees when you come into Pau, but I didn't look up at all! It was way too intense today.
We're staying in the same hotel two nights. That's good in some ways but bad if you have to pack everything up! Tonight for dinner we are going to have rice - or risotto. That's what our chef Willy Balmat calls it. Don't get me wrong; it's good and everything but I get sick of pasta. Willy is an old nut; he's as crazy as ever! I told him that but he doesn't care.
Yeah, tomorrow is the Pyrenees. I've raced on them in the Tour de l'Avenir. Tomorrow we want to have at least a couple of guys with Lance at the end to make it easier on him. Tomorrow's stage is tough and Friday's stage is longer and tougher.
We'll go by Fabio Casartelli's monument Friday and I hope I can see it - but I probably won't since I never look around. It's not that I'm focused, I'm just scared! Lance is bloody strong and he is so focused! And he's been a lot further behind the Maillot Jaune before going into the mountains.
Hangin' in there,
Floyd