89th Tour de France - Grand Tour
France, July 6-28, 2002
2002 Tour de France rider journals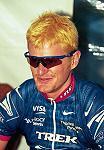 Champion in the making
Photo: © Jonathan Devich
Floyd Landis
Nationality: American
Team: United States Postal Service
A strong climber and time trialist, 26 year old Landis, from Lancaster Co., PA, burst onto the road scene in 1999 in his rookie road year, wearing the Maillot Jaune and finishing third in the Tour de l'Avenir stage race, followed by 4th place in 2000. After an up and down 2001 season with Mercury, Landis has been a great addition to USPS in 2002, recently placing 2nd overall behind winner and team leader Lance Armstrong in the Dauphiné Libéré.
Prologue - July 6: Luxembourg ITT, 7km
So far, so good
Today, the day of the Tour De France prologue, was not too stressful. After we tried out the course in the morning, we went for a two hour ride back to the hotel. I had a late start at 6:05, so I had time for a nap and a nice lunch. It was pretty relaxing and when I rode, I was pleased the way my race went.
I didn't take any risks on the course; it's my first Tour de France and I didn't want to have any crashes. There is a really good vibe on the team - even before the Tour. And since we've been here before, everybody's riding well and we're all happy to be here. Lance's win really boosts our confidence, since we know we have the guy who can win it.
As for the yellow jersey, we are going to have a team meeting and discuss it, but I assume we're not going to defend it. There are a lot of sprinters' teams, and it's almost pointless to try and keep it from start to finish.
Today I tried to look at the Tour like just another race and overlook the chaos; I know there will be no huge surprises when we are racing. Today was just 10 minutes out of an almost 100 hour race, but so far, so good.
Until next time,
Floyd