Rider Interview and profile: Ivan Basso
The story of the wolf and the stallion
After the debacle surrounding this year's Giro d'Italia, where superstars Stefano Garzelli, Gilberto Simoni and Francesco Casagrande all fell from their gold-encrusted pedestals, you could say Italian cycling was in a spot of bother. Add Mapei's withdrawal that was largely perpetuated by events surrounding these circumstances and you wouldn't be far off saying Italian cycling is now up the proverbial creek, with the paddle nowhere in sight.
By Anthony Tan
Ivan Basso

Ivan Basso
Born: November 26, 1977 in Gallarate, Varese, Italy
Lives: Cassano Magnano, Varese, Italy
Teams: Riso Scotti - Vinavil (1999), Amica Chips-Tacconi Sport (2000), Fassa Bortolo (2001-present)
Professional since: 1999
Palmares
2002, Fassa Bortolo
2nd stage 4 & 2nd GC, Volta a la Comunitat Valenciana
3rd stages 3 & 5, Volta a la Comunitat Valenciana
3rd Liège-Bastogne-Liège
2001, Fassa Bortolo
1st stage 1, Tour Méditerranéen
2nd La Flèche Wallonne
1st stage 5, Euskal Bizikleta/Bicicleta Vasca
1st stage 5, Bank Austria Tour-Int.
2000, Amica Chips-Tacconi Sport
Stages 1 & 3b, Regio-Tour International
1999, Riso Scotti - Vinavil
No wins
And it's times like these where Minties all round just won't suffice. Italy needs a hero. Fast. Ivan Basso may be the hero that saves what dignity remains within a country that worships the sport of football and cycling above all else.
He's got the looks for a start - Virenque may be the French housewives' favourite, but Basso would most certainly be Italy's most wanted among the casalinge in Italy. Fortunately he's not just a pretty boy either: second in the under-19 Worlds at San Marino in 1995, then under-23 world champion three years later in Valkenburg meant that it wasn't just the housewives dreaming about Basso.
Master of Mont Faron
Photo: © Sirotti

Two stage wins in the Regio-Tour International in 2000 was a promising, although not spectacular beginning in the senior ranks. However astute directeur-sportif of Fassa Bortolo, Giancarlo Feretti, nicknamed "Feron" for his wolf-like cunningness, saw what could be and lured Basso into the Fassa den for the 2001 season.
Ever since then, the Italian stallion has flourished beautifully under the nurturing of wolverine Feretti, despite being the victim of fate on more than one occasion. In the 2001 Tour Méditerranéen, he smashed the field on the most fiercely contested stage of the race on the road to Mont Faron, but disappointingly crashed out on stage four while holding the leader's jersey. Basso then bounced back at La Flèche Wallonne after being in the initial 12-man breakaway for 183 kilometres, finishing second to Belgian juggernaut Rik Verbrugghe.
In the flesh at La Flèche
Photo: © Sirotti

A few months later at the Bicicleta Vasca in June, Basso won the final and most difficult stage that contained no less than seven climbs and finished on the first category climb to Arrate. He was then primed for a great ride in the 2001 Tour de France, and created the winning Bastille Day break on stage seven to Colmar, attacking on the descent of the Col de Fouchy. Yet again Basso became a crash victim, falling heavily as his front wheel slipped on a paint strip; Jalabert then made his winning solo move and rode home a winner in front of his home crowd on the national day of France.
However all was not lost. In the short space of a week, Basso fell in love with the Le Tour and vowed to return stronger - to learn the "trade of the Tour" - so that one day he may find himself on the highest step of the podium in Paris. Basso concluded his 2001 season in style, confirming his potential as a future Tour rider by winning the queen stage of the Bank Austria Tour, where he stayed away on his own for 120 out of the 138 kilometres. Interestingly, the race was won by another up-and-coming Tour star - 2002 Giro revelation Cadel Evans.
Odds against basso in L-B-L
Photo: © Sirotti

Basso's 2002 season hasn't been quite as spectacular - yet. His attacking style almost won him the Volta a la Comunitat Valenciana in February, placing second overall to Alex Zuelle by only nine seconds. A fantastic ride at Liège-Bastogne-Liège demonstrated his defiance against the irrepressible Mapei duo of Garzelli and Bettini, which was also indicative of his prowess as a future Tour star. It's no surprise then that Feron's got Basso firmly clenched between his teeth.
It's quite clear that this man from Varese is prepared to make all the necessary sacrifices to reach the heights of the sport. What is also apparent is that Ivan Basso is laying down the building blocks to follow in the footsteps of legendary Italian Tour winners that have included riders like Bottechia, Bartali, Coppi, Gimondi and Pantani. Cyclingnews caught up with Ivan Basso just before yesterday's ITT, where Basso now lies 17th overall, four minutes down on leader Igor Gonzalez de Galdeano.
Cyclingnews: Ivan, you're riding very well in your first Tour de France, with a top 30 in the prologue and currently 21st on GC after eight stages, 1.41 down on Igor Gonzalez de Galdeano. How are your legs feeling right now, and are you happy with how things are going for you?
Ivan Basso: I'm feeling really good; but the first part of the Tour is the easiest one and the real race for me will tomorrow with the time trial and then with the mountain stages. [Basso came 22nd in the ITT and now lies 17th overall, 4.05 down from Galdeano - Ed]
Basso Trivia

Il gatto's now with Basso at Fassa
Married to:
Micaela, two years ago

Foreign languages:
Spanish
Which are the three adjectives that best define you?
Good, honest and reliable
The greatest achievement in your personal life?
To have married my wife
Likes And Dislikes
Your preferred type of film?
Thrillers
Favourite type of music?
Italian music (a band called Mango)
What do you like to read?
I always read the daily newspaper and the sport section
What do you like to watch on TV?
The television news and dossier
Are you interested in fashion?
I'm Italian - of course!
What do you like to wear?
I dress casually [for an Italian! - Ed]
Your preferred dish?
Pizza!
The sport that you like to play most when you're not training?
Football
Your favourite soccer team?
AC Milan
The car of your dreams?
No one in particular [very strange!]
Do you like the mountains or the ocean?
It depends on the season
Black or white?
Black
Do you look at something being half full or half empty?
Half empty
Ivan Basso And Cycling
How did you develop your passion for cycling?
From watching it on television
The biggest achievement of your professional career so far?
The 1998 World Under 23 Championships win in Valkenburg
Your race of your dreams?
The Tour de France
The secret of your success?
The will to win in life
Your role model or favourite champion in the history of the cycling?
Miguel Indurain
Enjoys training and racing solo
Photo: © AFP

CN: You mentioned earlier in the year that you wanted to have some success in the Spring Classics to prepare yourself for the Tour de France. You rode well in both Milan-San Remo and Amstel Gold, and had a great ride at Liege-Bastogne-Liege, coming in behind eventual winner Paolo Bettini and Stefano Garzelli from Mapei. Were you satisfied with your performance?
IB: I did two big Classics this year and I'm really happy about my third place finish at Liège-Bastogne-Liège; it has been really satisfying for me to do so well.
CN: What other training have you done to prepare yourself for the Tour de France? Have you trained specifically in the big mountains, and have you and the Fassa boys had some time to ride any of the mountains in the Pyrenees or Alps that you will be facing one week from now?
IB: I competed in the Tour of Switzerland to prepare myself and find optimal condition before riding the Tour. It's a very difficult race, but it is great training for the Tour de France. There are two things that makes it perfect training: the first is the number of mountain stages and the second is that you will meet almost all the riders that you'll see then in the Tour de France. Last year I prepared differently with shorter stage races and more one-day Classics - we'll see in the next few days what type of preparation works out better, but I think I made a good choice this year with the Tour de Suisse. [Basso finished 44th overall, 44.35 down on winner Alex Zulle from Team Coast - Ed]
CN: What is your aim in this Tour de France; and secondly, what are the team's objectives? Has "Feron" asked you to help Gontchar and Belli in the general classification, or will you be trying to help Fabio Baldato to hopefully win a stage?
Fate has played its hand on more than one occasion
Photo: © Sirotti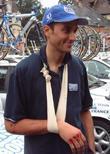 IB: My aim is to try to do well on GC and to win a stage if I can. I'm not the right man who can help led out in the sprints, but I'd like to try to be with Wladimir Belli during the mountain stages - if we're together, we'll definitely try something and help each other out.
CN: Will the team be testing any new equipment during this year's Tour - any new frames or wheels? And how do you like riding your Pinarello - do you use the Pinarello Prince or the Pinarello Opera for riding?
IB: I use a Pinarello LS. It's a very light bike, and I use it for stage races where I know there's going to be alot of mountains.
CN: How do you relax during a race as big as the Tour de France? Do you read any books or listen to music, and if so, what types of books or music do you like? Or do you prefer to sleep?
IB: I listen to heaps of music, and I especially like the Italian group Mango; I occasionally read some magazines.
CN: You were World Under 23 Road Champion four years ago. Have you felt a lot of pressure from the Italian public and media after they were saying that you would be the next Fausto Coppi? And do you feel more pressure now at 24 years old, or have you learnt how to deal with the stress better these days?
Let the facts speak
Photo: © Sirotti

IB: I've always had pressure placed upon me, but it is not a problem for me personally; I just go on my way and always try to do my best.
CN: You are still very young for a professional. What type of rider do you see yourself developing into in the next few years?
IB: I'm young, but I'm also very ambitious. I don't want to answer that question right now, but to keep my future plans in my mind, and let the facts speak for themselves as time goes on.
And with the real test of the Le Tour starting tomorrow, we will soon see Basso's future potential unfold.
Grazie mille to Myriam Nordemann from Fassa Bortolo Public Relations for helping with the interview.