Results and Reports from the USA
Promoters wishing to submit results should send them to cyclingnews
Michigan Challenge Series #3
Saturday, June 19, 2004
By Joe Lekovish
Frankie Andreu
Photo ©: Doug Gatto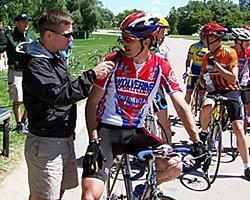 The 3rd race in the Michigan Challenge Series was held on Saturday, June 19, 2004. After 3 weeks of rain, the weather cooperated and riders were blessed with a perfect day. Over 200+ racers showed up for a full day of criterium racing action.
Everyone in attendance were treated to great racing. A special bonus was the appearance of 9 time Tour de France finisher and former US Postal Service pro rider Frankie Andreu.
Frankie raced in the Men's Cat 1/2 and Masters 35+ races, as well as sharing some of his experiences drawn from his 20+ years in bike racing.
Frankie's prediction on who will win the 2004 Tour de France, Lance Armstrong, of course!!!
Dan Klein (Essex Brass)
Photo ©: Doug Gatto

A dominating performance was put on by the West Michigan Coast Riders team, with team riders winning 4 of the 10 separate category races. Other teams well represented were Team Bikesport/Lifetime Fitness/AAVC, Ford/Giant/AAVC, Saturn of Toledo/Shell, Wolverine Sports Club, ABG Cycling, Flying Rhinos Cycling Club and Team By Grace.
Tom Demerly, owner of Bikesport in Dearborn, MI, was race announcer for the day. Tom is put his encyclopedic knowledge of cycling and endurance sport to work with lively commentating all day.
An interesting aside was the bake sale run by family and friends of Team Bikesport/Lifetime Fitness/AAVC riders. The sale helped raise funds for the team and their junior rider development program.
The Allen Park Criterium was promoted by Team Bikesport/Lifetime Fitness/AAVC.
Photography
Images by Doug Gatto
Results

Men Category 1,2 - Field 48
 
1 Brandt Hendler                   
2 Charles Allaire                  
3 Scott Anderson                   
4 David Chenosk                    
5 Jeff Hamilton                    
6 Brian Adams                      
7 Jason Swiatlowski                
8 John Card                        
9 Jameson Hendler                  
10 Stefan Kocur                    
11 Fred Anderson                   
12 Michael Roland                  
13 Joe Keomany                     
14 Bruce Rivera                    
15 TBC                             
 
Men Category 3 - Field 50
 
1 Nick Wierzba                     
2 Tucker Olander                   
3 Jonathon Harbin                  
4 Jon Heeringa                     
5 Norman Zellers                   
6 David Baar                       
7 Matt Cheely                      
8 Mark Caswell                     
9 Jeff Crawford                    
10 Alex Keomany                    
11 Randy Hermann                   
12 Jeff Elam                       
13 Travis Stebbins                 
14 Luke Kujazinski                 
15 Michael Mascarenhas             
 
Women Category 1,2,3 - Field 8
 
1 Juli VanAbbema                   
2 Rachel Stelle                    
3 MacKenzie Woodring               
4 Ellen Bruce                      
5 Jamie Galawnbos                  
6 Teresa Holmgren                  
7 Lisa Pinkelman                   
8 Roberta Misko                    
9 Mary Dekker                      
 
Women Category 4 - Field 8
 
1 Molly Muste                      
2 Marcy Halik                      
3 Diana Rose                       
4 Jessica Ables                    
5 Danielle Scaglione               
6 April Yerge                      
7 Kristen Zegers                   
8 Whitney Kroll                    
 
Men Masters 35-44 - Field 45
 
1 Jameson Hendler                  
2 Frankie Andreu                   
3 Nick Durrie                      
4 Jim Regan                        
5 Jeff Weinert                     
6 Jon Morgan                       
7 Paul Wincour                     
8 Jim Bruce                        
9 Jonathon Card                    
10 Rob Foshag                      
11 Scott Claes                     
12 Jamie Smith                     
13 Dan Fanslow                     
14 ???                             
15 Robert Herriman                 
 
Men Masters 45+ - Field 43
 
1 Fred Anderson                    
2 Dave Komives                     
3 George Lufty                     
4 Matthew Baroli                   
5 Charles Powell                   
6 Mark Cahn                        
7 Bernie Cloncke                   
8 Loren Simons                     
9 Mark Armstrong                   
10 Larry Bohnsack                  
11 Cullen Watkins                  
12 David Linden                    
13 Brian Sedik                     
14 Eric Snider                     
15 Jeffrey Kline                   
 
Men Category 4 - Field 38
 
1 Craig Rawlins                    
2 Jakob Steefy                     
3 Mark Viergutz                    
4 Wesley Horner                    
5 Eric Chase                       
6 Andy Birko                       
7 Cory Durbish                     
8 Jonathon Brinkman                
9 Jason Rafeld                     
10 Kurt Rushmore                   
11 Rick Fryer                      
12 Scott Hes                       
13 Greg Aerts                      
14 Kevin McGrew                    
15 David Weiss                     
 
Men Category 5 - Field 25
 
1 Ian Phillips                     
2 Andrew Wise                      
3 Rob Pulcipher                    
4 Aaron Sheehan                    
5 Edward Schowalter                
6 Paul Bonner                      
7 Michael Pizzorno                 
8 Craig Schaffer                   
9 John Burrows                     
10 Greg Johnson                    
11 David Starling                  
12 Joshua Osborn                   
13 Michael Rutledge                
14 Jason Brake                     
15 Richard Stark                   
 
Juniors 15-18 - Field 5
 
1 Cory Durbish                     
2 Corey Brinkman                   
3 Jeremy St. Johns                 
4 Travis Stebbins                  
5 Tim Drier                        
 
Junior Men 10-14 - Field 5
 
1 Christopher Brinkman             
2 Dan Strong                       
3 Andrew Forian                    
4 Zach Roman                       
5 Brendan Pauley                   
 
Junior Women 10-14
 
1 Kathryn Ourlain                  
2 Erin Hardin                      

Local results 2004