Results and Reports from Canada
Promoters wishing to submit results should send them to cyclingnews
Ontario Provincial Championships
August 10, 2003
By Scott Gerrie, Team Cervélo
Birthday girl gets her pressie
Photo: © Scott Gerrie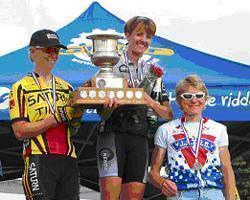 As the sun was trying to poke its hot rays out of the cloud cover we all were hoping for it to stay in to keep the mid-day heat a bit lower for the Provincial Championships.
Team Cervélo lined up on the start line in the women's field with Leigh Hobson, Anna Garnett just back from the Tour de Toona, and Claudine Labelle nicely rested after a couple of weeks off from racing. However, this was not going to be an easy race with the likes of Amy Moore (Saturn Racing), Ann Turrin (Victory Brewing/Amoroso's), Chloe Black (Team Terry Precision) and current O-Cup leader Merrill Collins (La Bicicletta - J Lindeberg).
The first half of the race saw a couple of attacks that did not amount to that much other then breaking up the 35 riders that started the race. On about lap 3 of the 87km race was the first big break of the day which saw all of the riders above in it. As the time gap grew larger, we all knew it was going to come down to an uphill sprint finish, with Leigh one of the best climbers in the break I knew it was going to be exciting, and that it was!
As the breakaway group rounded the final corner you could see two riders that had jumped and I knew Leigh was not one of the two. Then came the yellow jersey of Amy, followed by Ann and tucked in ever so nicely was the black and white jersey of Leigh. As the three riders caught the two that had jumped the drag race was now on, single file, then two across then three, but were is Leigh? With about 75 meters to go out came Leigh from Amy's wheel with a perfectly timed jump, and the 2003 Ontario Provincial Champion on her birthday was Leigh Hobson.
Results

1 Leigh Hobson (Team Cervélo)
2 Amy Moore (Saturn Racing)
3 Ann Turrin (Victory Brewing/Amoroso's)