Eschborn-Frankfurt City Loop - 1.2U
Frankfurt, Germany, May 1, 2009
2008 Results Results Past winners
Bobridge takes winning run to Germany
Jack Bobridge (Australia)
Photo ©: Florian & Susanne Schaaf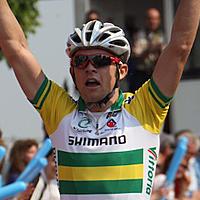 South Australian Jack Bobridge (Team AIS) has claimed victory in the U23 Eschborn-Frankfurt City Loop race in Germany. Bobridge completed the 140 kilometre event in a time of 3:30:57, outclassing Austrian National Team pair Daniel Schorn and Matthias Brandle in a sprint across the line.
The trio managed to hold off the chasing bunch to contest the finish.
Bobridge's team mates Adam Semple and Michael Matthews finished in 11th and 12th places respectively coming home with the main bunch at 30 seconds.
The win continues a run of impressive results from Bobridge which have included gold medals on the road in both the time trial and road race in the U23 division at the Australian Open Championships in January whilst on the track in the individual and team pursuit events the 19 year old claimed Oceania titles, Australian titles and silver medals at the World Championships.
Photography
For a thumbnail gallery of these images, click here
Images by Florian & Susanne Schaaf/www.cyclingpictures.de
Results
1 Jack Bobridge (Aus) Australian National Team           3.30.57  (40.016 km/h)
2 Daniel Schorn (Aut) Austrian National Team                     
3 Matthias Brändle (Aut) Austrian National Team                  
4 Michael Hümbert (Ger) Seven Stones                        0.06
5 Christoph Pfingsten (Ger) Ked-Bianchi Team Berlin         0.10
6 Alexander Nordhoff (Ger) Seven Stones                     0.15
7 Juraj Sagan (Svk) Slovakian National Team                 0.30
8 Martin Schöffmann (Aut) Austrian National Team                 
9 Timon Seubert (Ger) Ked-Bianchi Team Berlin                   
10 Kirk Carlsen (USA) US National Team                          
11 Adam Semple (Aus) Australian National Team                   
12 Michael Mathews (Aus) Australian National Team               
13 Jelle Posthuma (Ned) Cyclingteam Jo Piels U23                
14 Kim Lachmann (Ger) Seven Stones                              
15 Chris Pachale (Ger) Ked-Bianchi Team Berlin                  
16 Björn Gollhardt (Ger) Ked-Bianchi Team Berlin            0.38
17 Patrick Bercz (Ger) Seven Stones                             
18 Matthias Hesse (Ger) Team Rothaus                            
19 Jakob Fiedler (Ger) Ked-Bianchi Team Berlin                  
20 Pascal Weerts (Ger) Team Bergstraße Team                     
21 Dominik Hrinkow (Aut) Austrian National Team                  
22 Frank Lütters (Ger) Team Egn-Rose-Nrw                        
23 Jan Oelerich (Ger) Team Egn-Rose-Nrw                         
24 Luk Howard (Aus) Australian National Team                    
25 Jacob Madsen (Den) Team Reelight-Bikepro                     
26 Henrik Albinus (Ger) Seven Stones                            
27 Julian Kern (Ger) Team Rothaus                               
28 Norman Weichel (Ger) Team Espoirs Robert Lange               
29 Maurice De Bekker (Ned) Cyclingteam Jo Piels U23             
30 Tom Slagter (Ned) FC Midi Center-Ruiter Whielerteam          
31 Georg Lauscha (Aut) Austrian National Team                    
32 Matthias Krizek (Aut) Team Radland Tirol                     
33 Peter Salon (USA) US National Team                       0.47
34 Fuchs Felix (Ger) Team Bergstraße Team                       
35 Janosch Wintermantel (Ger) Team Bergstraße Team              
36 Nicki Rasmussen (Den) Team Reelight-Bikepro                  
37 Mart Van Blanken (Ned) Cyclingteam Jo Piels U23              
38 Jakob Thiemeier (Ger) Team LG Frankfurt                      
39 Mirco Saggiorato (Swi) Stegcomputer-Neotel                   
40 Matej Vysna (Svk) Slovakian National Team                    
41 Brändle Dominik (Aut) Team Radland Tirol                     
42 Riccardo Zoidl (Aut) Austrian National Team                   
43 Dion Beukeboom (Ned) FC Midi Center-Ruiter Whielerteam       
44 Ole Quast (Ger) Rad-Team Hamburg                             
45 Marcel Weber (Ger) Stegcomputer-Neotel                       
46 Lukas Kalt (Swi) Stegcomputer-Neotel                         
47 Heiko Breitwieser (Ger) Team Espoirs Robert Lange            
48 Martin Gründer (Ger) Team Brandenburg                        
49 Pascal Prieto (Ger) Team Bergstraße Team                     
50 Milos Masny (Svk) Slovakian National Team                    
51 Johannes Heider (Ger) Team Brandenburg                       
52 Peter Clauß (Ger) Stadler Racing Team                        
53 Dominik Ivo (Ger) Team Egn-Rose-Nrw                          
54 Benjamin Thomas (Ger) Team LG Frankfurt                      
55 Arjen Ten Dam (Ned) FC Midi Center-Ruiter Whielerteam    1.02
56 David Wöhrer (Aut) Team Radland Tirol                        
57 Stefan Müller (Ger) Ked-Bianchi Team Berlin                  
58 Franz Grassmann (Aut) Austrian National Team              1.05
59 Tjeend Van Aurich (Ned) Metec Cycling Team               1.06
60 Sascha Wagner (Ger) Team Espoirs Robert Lange            1.08
61 Nils Flemming (Ger) Team Espoirs Robert Lange            1.10
62 Felix Dehmel (Ger) Team Brandenburg                          
63 Jonas Brödel (Ger) Team Bergstraße Team                  1.14
64 Andreas Stauff (Ger) Team Kuota-Indeland                     
65 Bastian Faltin (Ger) Rad-Team Hamburg                    1.17
66 Rohan Dennis (Aus) Australian National Team                  
67 Travis Meyer (Aus) Australian National Team                  
68 Stefan Mair (Aut) Team Radland Tirol                         
69 Alexander Grad (Ger) Team Kuota-Indeland                     
70 David Heimpel (Ger) Team Bergstraße Team                     
71 Christopher Roth (Ger) Seven Stones                      1.21
72 Michael Weicht (Ger) Team Brandenburg                    1.31
73 Mathias Bertling (Ger) Team Kuota-Indeland               1.34
74 Rainer Rettner (Ger) Team Bergstraße Team                2.18

Past winners
Rund um den Henninger Turm

2008 Stefan Denifl (Aut) Austrian National Team