Giro di Sardegna - 2.1
Italy, February 24-28, 2009
Main Page Results Overall standings Previous Stage Next Stage
Stage 4 - February 27: Arbatax - Cagliari, 147.5km
Bennati takes Sardegna stage and overall
Daniele Bennati (Liquigas) wins stage four of the Giro di Sardegna
Photo ©: Roberto Bettini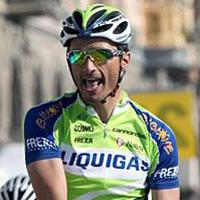 Daniele Bennati of Liquigas won the fourth stage of the Giro di Sardegna Friday in Cagliari ahead of Mirco Lorenzetto (Lampre-NGC) and Yuri Mitlushenko (Amore & Vita-McDonald's). The 147.5-kilometres stage was Bennati's second win of the season after stage four of the Giro della Provincia di Grosseto stage one.
"I was hungry for revenge and to repay my companions for their efforts in recent days," said Bennati, who missed out on winning in the last three days.
Fabio Sabatini led Bennati out to 600 metres remaining. He remained on the wheel of rival Alessandro Petacchi (LPR Brakes-Farnese Vini) until 300 metres. Mattia Gavazzi (Serramenti PVC Diquigiovanni-Androni Giocattoli), Alessandro Ballan (Lampre-NGC), Bernardo Riccio (Ceramica Flaminia-Bossini Docce) and Petacchi claimed places fourth through seventh, respectively.
A group of three – Sergiy Gretchyn (Amore & Vita-McDonald's), Mauro Abel Richeze (CSF Group-Navigare) and Alessandro Maserati (Ceramica Flaminia-Bossini Docce) – remained clear for most of the day. They enjoyed a maximum of 2:50 at kilometre 63.
The ISD team of race leader Oscar Gatto pulled the three back at kilometre 113. Lampre, Liquigas and LPR joined in on the pacemaking to ensure a sprint finish.
Tomorrow the Giro di Sardegna will travel from Carbonia to the island's capital city of Cagliari, 143.9 kilometres. Bennati will seek to defend his six-second lead over Gatto to win the final overall classification. (GB)
Photography
For a thumbnail gallery of these images, click here
Images by Roberto Bettini/www.bettiniphoto.net
Results
1 Daniele Bennati (Ita) Liquigas                                               3.28.59 (42.204 km/h)
2 Mirco Lorenzetto (Ita) Lampre - N.G.C.                                              
3 Yury Metlushenko (Ukr) Amore & Vita - McDonald's                                    
4 Mattia Gavazzi (Ita) Serramenti PVC Diquigiovanni-Androni Giocattoli                
5 Alessandro Ballan (Ita) Lampre - N.G.C.                                             
6 Bernardo Riccio (Ita) Ceramica Flaminia - Bossini Docce                             
7 Alessandro Petacchi (Ita) LPR Brakes  - Farnese Vini                                
8 Daniel Musiol (Ger) Vorarlberg - Corratec                                           
9 Oscar Gatto (Ita) ISD                                                               
10 Egidijus Juodvalkis (Ltu) Team Piemonte                                            
11 Marco Frapporti (Ita) CSF Group - Navigare                                         
12 Ruggero Marzoli (Ita) Acqua & Sapone - Caffe Mokambo                               
13 Krzysztof Szczawinski (Pol) Miche - Silver Cross - Selle Italia                    
14 Grega Bole (Slo) Amica Chips - Knauf                                               
15 Rodrigo Garcia Rena (Spa) Miche - Silver Cross - Selle Italia                      
16 Jesus Del Nero (Spa) Fuji-Servetto                                                 
17 Michal Golas (Pol) Amica Chips - Knauf                                             
18 Dmytro Grabovskyy (Ukr) ISD                                                        
19 Marius Kukta (Ltu) Team Piemonte                                                   
20 Giovanni Visconti (Ita) ISD                                                        
21 Lorenzo Bernucci (Ita) LPR Brakes  - Farnese Vini                                  
22 Pasquale Muto (Ita) Miche - Silver Cross - Selle Italia                            
23 Boris Shpilevsky (Rus) Fuji-Servetto                                               
24 Mauro Finetto (Ita) CSF Group - Navigare                                           
25 Piergiorgio Camussa (Ita) Team Piemonte                                            
26 Valerio Agnoli (Ita) Liquigas                                                      
27 Massimo Giunti (Ita) Miche - Silver Cross - Selle Italia                           
28 Ramunas Navardauskas (Ltu) Team Piemonte                                           
29 Marcello Pavarin (Ita) CSF Group - Navigare                                        
30 Volodymyr Starchyk (Ukr) Amore & Vita - McDonald's                                 
31 Mikhaylo Khalilov (Ukr) Ceramica Flaminia - Bossini Docce                          
32 Dario David Cioni (Ita) ISD                                                        
33 Iker Camano (Spa) Fuji-Servetto                                                    
34 Daniele Pietropolli (Ita) LPR Brakes  - Farnese Vini                               
35 Michele Scarponi (Ita) Serramenti PVC Diquigiovanni-Androni Giocattoli             
36 Reto Hollenstein (Swi) Vorarlberg - Corratec                                       
37 Francesco Failli (Ita) Acqua & Sapone - Caffe Mokambo                              
38 Sergiy Grechyn (Ukr) Amore & Vita - McDonald's                                     
39 Enrico Zen (Ita) CSF Group - Navigare                                              
40 Przemyslaw Niemiec (Pol) Miche - Silver Cross - Selle Italia                       
41 Maurizio Biondo (Ita) Ceramica Flaminia - Bossini Docce                            
42 Francesco Masciarelli (Ita) Acqua & Sapone - Caffe Mokambo                         
43 Alessandro Proni (Ita) ISD                                                         
44 Alessandro Fantini (Ita) Acqua & Sapone - Caffe Mokambo                            
45 Luca Pierfelici (Ita) Acqua & Sapone - Caffe Mokambo                               
46 Andrea Masciarelli (Ita) Acqua & Sapone - Caffe Mokambo                            
47 Manuel Belletti (Ita) Serramenti PVC Diquigiovanni-Androni Giocattoli              
48 Tomasz Marczynski (Pol) Miche - Silver Cross - Selle Italia                        
49 Richard England (Aus) Amore & Vita - McDonald's                                    
50 Francesco Di Paolo (Ita) Acqua & Sapone - Caffe Mokambo                            
51 Christoph Sokoll (Aut) Vorarlberg - Corratec                                       
52 Jose Alberto Benitez (Spa) Fuji-Servetto                                           
53 Volodymyr Zagorodny (Ukr) Lampre - N.G.C.                                          
54 Adriano Angeloni (Ita) Ceramica Flaminia - Bossini Docce                           
55 Igor Astarloa (Spa) Amica Chips - Knauf                                            
56 Giampaolo Caruso (Ita) Ceramica Flaminia - Bossini Docce                           
57 Algirdas Mockus (Ltu) Team Piemonte                                                
58 Josep Jufre (Spa) Fuji-Servetto                                                    
59 Alberto Ongarato (Ita) LPR Brakes  - Farnese Vini                                  
60 Cristiano Salerno (Ita) LPR Brakes  - Farnese Vini                                 
61 Enrico Gasparotto (Ita) Lampre - N.G.C.                                            
62 Andrea Moletta (Ita) Miche - Silver Cross - Selle Italia                           
63 Paolo Tiralongo (Ita) Lampre - N.G.C.                                              
64 Mauro Da Dalto (Ita) Lampre - N.G.C.                                               
65 Andrei Kunitski (Blr) Amica Chips - Knauf                                          
66 Filippo Simeoni (Ita) Ceramica Flaminia - Bossini Docce                            
67 Alessandro Bisolti (Ita) CSF Group - Navigare                                      
68 Santo Anza (Ita) Amica Chips - Knauf                                               
69 Tiziano Dall'antonia (Ita) CSF Group - Navigare                                0.18
70 Simone Cadamuro (Ita) Amica Chips - Knauf                                      0.28
71 Leonardo Giordani (Ita) Ceramica Flaminia - Bossini Docce                      0.30
72 Leonardo Scarselli (Ita) ISD                                                   0.33
73 Fabio Sabatini (Ita) Liquigas                                                  0.37
74 Javier Megias (Spa) Fuji-Servetto                                              0.40
75 Danilo Di Luca (Ita) LPR Brakes  - Farnese Vini                                0.43
76 Alessandro Bertolini (Ita) Serramenti PVC Diquigiovanni-Androni Giocattoli         
77 Mauro Abel Richeze (Arg) CSF Group - Navigare                                  0.49
78 Ricardo Serrano (Spa) Fuji-Servetto                                            1.00
79 Roman Kreuziger (Cze) Liquigas                                                 1.44
80 Gabriele Bosisio (Ita) LPR Brakes  - Farnese Vini                                  
81 Claudio Corioni (Ita) Liquigas                                                     
82 Gianni Da Ros (Ita) Liquigas                                                   1.48
83 Matteo Montaguti (Ita) LPR Brakes  - Farnese Vini                              2.15
84 Elia Rigotto (Ita) Serramenti PVC Diquigiovanni-Androni Giocattoli             4.24
85 Maxim Belkov (Rus) ISD                                                         5.19
86 Andriy Grivko (Ukr) ISD                                                            
87 Marco Bandiera (Ita) Lampre - N.G.C.                                               
88 Matteo Bono (Ita) Lampre - N.G.C.                                                  
89 Josef Benetseder (Aut) Vorarlberg - Corratec                                       
90 Chad Gerlach (USA) Amore & Vita - McDonald's                                   7.12
91 Branislau Samoilau (Blr) Amica Chips - Knauf                                       
92 Fabio Taborre (Ita) Serramenti PVC Diquigiovanni-Androni Giocattoli                
93 Simone Bruson (Ita) Team Piemonte                                                  
94 Jaroslaw Dabrowski (Pol) Amore & Vita - McDonald's                                 
95 Gediminas Bagdonas (Ltu) Team Piemonte                                             
96 Gediminas Kaupas (Ltu) Team Piemonte                                               
97 Alessandro Maserati (Ita) Ceramica Flaminia - Bossini Docce                        
98 Alexander Gufler (Ita) Vorarlberg - Corratec                                       
99 Edwin Carvajal Jaramillo (Col) Miche - Silver Cross - Selle Italia                 
100 Ivan Santaromita (Ita) Liquigas                                                   
101 Matic Strgar (Slo) Vorarlberg - Corratec                                          
 
Points
 
1 Daniele Bennati (Ita) Liquigas                                                    10 pts
2 Mirco Lorenzetto (Ita) Lampre - N.G.C.                                             8
3 Yury Metlushenko (Ukr) Amore & Vita - McDonald's                                   6
4 Mattia Gavazzi (Ita) Serramenti PVC Diquigiovanni-Androni Giocattoli               5
5 Alessandro Ballan (Ita) Lampre - N.G.C.                                            4
6 Bernardo Riccio (Ita) Ceramica Flaminia - Bossini Docce                            3
7 Alessandro Petacchi (Ita) LPR Brakes  - Farnese Vini                               2
8 Daniel Musiol (Ger) Vorarlberg - Corratec                                           
 
Mountains
 
1 Mauro Abel Richeze (Arg) CSF Group - Navigare                                       
2 Sergiy Grechyn (Ukr) Amore & Vita - McDonald's                                      
3 Alessandro Maserati (Ita) Ceramica Flaminia - Bossini Docce                         
 
General classification after stage 4
 
1 Daniele Bennati (Ita) Liquigas                                              16.41.23
2 Oscar Gatto (Ita) ISD                                                           0.06
3 Alessandro Ballan (Ita) Lampre - N.G.C.                                         0.10
4 Jesus Del Nero (Spa) Fuji-Servetto                                              0.12
5 Giovanni Visconti (Ita) ISD                                                         
6 Grega Bole (Slo) Amica Chips - Knauf                                            0.16
7 Michal Golas (Pol) Amica Chips - Knauf                                              
8 Lorenzo Bernucci (Ita) LPR Brakes  - Farnese Vini                               0.21
9 Rodrigo Garcia Rena (Spa) Miche - Silver Cross - Selle Italia                   0.22
10 Pasquale Muto (Ita) Miche - Silver Cross - Selle Italia                            
11 Daniele Pietropolli (Ita) LPR Brakes  - Farnese Vini                               
12 Piergiorgio Camussa (Ita) Team Piemonte                                            
13 Massimo Giunti (Ita) Miche - Silver Cross - Selle Italia                           
14 Mauro Finetto (Ita) CSF Group - Navigare                                           
15 Michele Scarponi (Ita) Serramenti PVC Diquigiovanni-Androni Giocattoli             
16 Przemyslaw Niemiec (Pol) Miche - Silver Cross - Selle Italia                       
17 Francesco Masciarelli (Ita) Acqua & Sapone - Caffe Mokambo                         
18 Dario David Cioni (Ita) ISD                                                        
19 Valerio Agnoli (Ita) Liquigas                                                  0.32
20 Mirco Lorenzetto (Ita) Lampre - N.G.C.                                         1.51
21 Enrico Gasparotto (Ita) Lampre - N.G.C.                                        2.11
22 Marco Frapporti (Ita) CSF Group - Navigare                                     2.17
23 Dmytro Grabovskyy (Ukr) ISD                                                        
24 Enrico Zen (Ita) CSF Group - Navigare                                          2.23
25 Francesco Failli (Ita) Acqua & Sapone - Caffe Mokambo                              
26 Paolo Tiralongo (Ita) Lampre - N.G.C.                                              
27 Tiziano Dall'antonia (Ita) CSF Group - Navigare                                2.37
28 Maurizio Biondo (Ita) Ceramica Flaminia - Bossini Docce                        2.43
29 Roman Kreuziger (Cze) Liquigas                                                 2.57
30 Gabriele Bosisio (Ita) LPR Brakes  - Farnese Vini                              4.17
31 Manuel Belletti (Ita) Serramenti PVC Diquigiovanni-Androni Giocattoli          4.44
32 Giampaolo Caruso (Ita) Ceramica Flaminia - Bossini Docce                       4.56
33 Javier Megias (Spa) Fuji-Servetto                                              5.24
34 Andrea Moletta (Ita) Miche - Silver Cross - Selle Italia                       5.49
35 Alessandro Petacchi (Ita) LPR Brakes  - Farnese Vini                           9.46
36 Iker Camano (Spa) Fuji-Servetto                                                9.56
37 Volodymyr Starchyk (Ukr) Amore & Vita - McDonald's                            10.13
38 Matteo Montaguti (Ita) LPR Brakes  - Farnese Vini                             12.11
39 Volodymyr Zagorodny (Ukr) Lampre - N.G.C.                                     12.12
40 Jose Alberto Benitez (Spa) Fuji-Servetto                                      12.17
41 Alessandro Bisolti (Ita) CSF Group - Navigare                                      
42 Fabio Sabatini (Ita) Liquigas                                                 12.54
43 Ricardo Serrano (Spa) Fuji-Servetto                                           13.17
44 Leonardo Giordani (Ita) Ceramica Flaminia - Bossini Docce                     14.28
45 Josep Jufre (Spa) Fuji-Servetto                                               14.33
46 Santo Anza (Ita) Amica Chips - Knauf                                               
47 Josef Benetseder (Aut) Vorarlberg - Corratec                                  15.15
48 Danilo Di Luca (Ita) LPR Brakes  - Farnese Vini                               15.36
49 Luca Pierfelici (Ita) Acqua & Sapone - Caffe Mokambo                          16.03
50 Alberto Ongarato (Ita) LPR Brakes  - Farnese Vini                             16.09
51 Igor Astarloa (Spa) Amica Chips - Knauf                                       19.05
52 Marco Bandiera (Ita) Lampre - N.G.C.                                          19.07
53 Reto Hollenstein (Swi) Vorarlberg - Corratec                                  19.14
54 Francesco Di Paolo (Ita) Acqua & Sapone - Caffe Mokambo                       20.08
55 Cristiano Salerno (Ita) LPR Brakes  - Farnese Vini                            20.21
56 Ramunas Navardauskas (Ltu) Team Piemonte                                      21.18
57 Elia Rigotto (Ita) Serramenti PVC Diquigiovanni-Androni Giocattoli            21.58
58 Egidijus Juodvalkis (Ltu) Team Piemonte                                       22.08
59 Daniel Musiol (Ger) Vorarlberg - Corratec                                          
60 Andriy Grivko (Ukr) ISD                                                       22.12
61 Andrea Masciarelli (Ita) Acqua & Sapone - Caffe Mokambo                       22.29
62 Marcello Pavarin (Ita) CSF Group - Navigare                                        
63 Krzysztof Szczawinski (Pol) Miche - Silver Cross - Selle Italia               23.03
64 Claudio Corioni (Ita) Liquigas                                                23.10
65 Simone Bruson (Ita) Team Piemonte                                             24.17
66 Mauro Da Dalto (Ita) Lampre - N.G.C.                                          24.44
67 Tomasz Marczynski (Pol) Miche - Silver Cross - Selle Italia                        
68 Leonardo Scarselli (Ita) ISD                                                  25.17
69 Filippo Simeoni (Ita) Ceramica Flaminia - Bossini Docce                       25.24
70 Mikhaylo Khalilov (Ukr) Ceramica Flaminia - Bossini Docce                     25.34
71 Matteo Bono (Ita) Lampre - N.G.C.                                             26.11
72 Adriano Angeloni (Ita) Ceramica Flaminia - Bossini Docce                      27.05
73 Richard England (Aus) Amore & Vita - McDonald's                                    
74 Mattia Gavazzi (Ita) Serramenti PVC Diquigiovanni-Androni Giocattoli          27.10
75 Alessandro Bertolini (Ita) Serramenti PVC Diquigiovanni-Androni Giocattoli    28.29
76 Jaroslaw Dabrowski (Pol) Amore & Vita - McDonald's                            28.48
77 Algirdas Mockus (Ltu) Team Piemonte                                           29.20
78 Branislau Samoilau (Blr) Amica Chips - Knauf                                  30.22
79 Alessandro Fantini (Ita) Acqua & Sapone - Caffe Mokambo                       30.25
80 Ruggero Marzoli (Ita) Acqua & Sapone - Caffe Mokambo                          30.27
81 Boris Shpilevsky (Rus) Fuji-Servetto                                          30.58
82 Maxim Belkov (Rus) ISD                                                        32.24
83 Edwin Carvajal Jaramillo (Col) Miche - Silver Cross - Selle Italia            32.36
84 Simone Cadamuro (Ita) Amica Chips - Knauf                                     33.07
85 Christoph Sokoll (Aut) Vorarlberg - Corratec                                  33.13
86 Mauro Abel Richeze (Arg) CSF Group - Navigare                                 33.28
87 Gianni Da Ros (Ita) Liquigas                                                  34.06
88 Yury Metlushenko (Ukr) Amore & Vita - McDonald's                              34.50
89 Alessandro Maserati (Ita) Ceramica Flaminia - Bossini Docce                   34.51
90 Sergiy Grechyn (Ukr) Amore & Vita - McDonald's                                34.54
91 Marius Kukta (Ltu) Team Piemonte                                              34.58
92 Alexander Gufler (Ita) Vorarlberg - Corratec                                       
93 Alessandro Proni (Ita) ISD                                                    35.01
94 Andrei Kunitski (Blr) Amica Chips - Knauf                                          
95 Gediminas Bagdonas (Ltu) Team Piemonte                                        36.32
96 Ivan Santaromita (Ita) Liquigas                                               36.40
97 Bernardo Riccio (Ita) Ceramica Flaminia - Bossini Docce                       36.53
98 Gediminas Kaupas (Ltu) Team Piemonte                                          42.06
99 Chad Gerlach (USA) Amore & Vita - McDonald's                                       
100 Fabio Taborre (Ita) Serramenti PVC Diquigiovanni-Androni Giocattoli          42.15
101 Matic Strgar (Slo) Vorarlberg - Corratec                                     46.45
 
Mountains classification
 
1 Przemyslaw Niemiec (Pol) Miche - Silver Cross - Selle Italia                      17 pts
2 Josef Benetseder (Aut) Vorarlberg - Corratec                                      11
3 Leonardo Giordani (Ita) Ceramica Flaminia - Bossini Docce                         10
4 Philipp Mamos (Ger) Amore & Vita - McDonald's                                      9
5 Mauro Finetto (Ita) CSF Group - Navigare                                           7
6 Daniele Pietropolli (Ita) LPR Brakes  - Farnese Vini                               7
7 Paolo Tiralongo (Ita) Lampre - N.G.C.                                              4
8 Grega Bole (Slo) Amica Chips - Knauf                                               4
9 Mauro Abel Richeze (Arg) CSF Group - Navigare                                      3
10 Maxim Belkov (Rus) ISD                                                            2
11 Sergiy Grechyn (Ukr) Amore & Vita - McDonald's                                    2
12 Andriy Grivko (Ukr) ISD                                                           2
13 Giovanni Visconti (Ita) ISD                                                       1
14 Alessandro Maserati (Ita) Ceramica Flaminia - Bossini Docce                       1