Goulburn to Citi Cycle Classic - NE
New South Wales, Australia, September 13, 2008
2007 Results Results Past winners
Clarke delivers for Praties
By Brad Hooker, www.cyclingimagesonline.com
William Clarke knows he got it.
Photo ©: Brad Hooker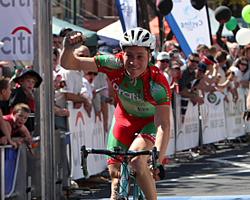 William Clarke delivered his Praties team the biggest win of the season, outsprinting the reminisce of an early break, which formed after just ten kilometers of racing to take the Goulburn to Citi. Michael England took second ahead of Chris Jory who animated the race in its dying stages with a number of attacks which earned him the king of the mountains prize.
Clarke was part of the early break which included his Praties Cycling teammate, Ben Mather, Jory (Panasonic - NSWIS), England (Budget forklifts), Ben King (South Australia.com - AIS) and Jonathan Lovelock (Jayco/VIS). The group built up a seven minute lead at one point and was never threatened by the main field, which finished over five minutes down on the leaders.
As the break came to the main climb of the day, which comes with just 20 kilometers remaining, Jory attacked the lead group and held a small margin as he crested the KOM climb. The attack caused the lead group to splinter as they did all they could to pull him back.
Storming down the fast descent as they headed into Camden, Jory was caught by Lovelock, England and Clarke who were keen to keep the pace high. Mather showed his extraordinary descending skills as he bridged to the three leaders, moving directly to the front to keep the pace high for his team-mate, Clarke.
The tactic paid off. As the quintet came into the final kilometer, Mather increased the pace with Clarke on his wheel. Then with 200 meters remaining Clarke began his sprint with England following closely. As the pair threw for the line, Clarke was just able to edge out England for the win. Jory crossed in third unable to match the speed of the sprint after his numerous break-away attempts.
Photography
For a thumbnail gallery of these images, click here
Images by Brad Hooker/www.cyclingimagesonline.com
Results - 168 km

1 William Clarke (Aus) Praties Cycling Team             4.06.26 (41.38km/h)
2 Michael England (Aus) Team Budget Forklifts                  
3 Chris Jory (Aus) FRF - Panasonic                             
4 Jonathan Lovelock (Aus) JAYCO - VIS                      0.02
5 Ben Mather (Aus) Praties Cycling Team                    0.04
6 Nathan Page (Aus) KOM Cyclery/ Northern Sydney CC        0.14
7 Benjamin King (Aus) South Australia.com-AIS              2.19
8 Luis Trueba (Aus) Hillbrick/Macarthur Collegians CC          
9 William Ford (Aus) South Australia.com-AIS               5.51
10 Cameron Peterson (Aus)                                  6.14
11 Nathan Clarke (Aus) Praties Cycling Team                7.01
12 Brendan Jones (Aus) MACE/Rock & Dirt Team                   
13 Joshua Chugg (Aus) Praties Cycling Team 2                   
14 Andrew Crawley (Aus) KOM Cyclery/ Northern Sydney CC    7.06
15 Darren Cash (Aus) Ben Mikic Foundation                      
16 Cameron Hughes (Aus) Team Budget Forklifts              7.15
17 Nicholas Walker (Aus) JAYCO - VIS                           
18 Anthony Challinor (Aus) Citi- Velofix                       
19 Shaun Lewis (Aus) Praties Cycling Team 2                    
20 Andrew East (Aus) KOM Cyclery/ Northern Sydney CC           
21 Craig McCartney (Aus)                                       
22 Tim Guy (Aus) FRF - Panasonic                               
23 Peter Milostic (Aus) Team Budget Forklifts              7.22
24 Bradley Mills (Aus) Citi- Velofix                       7.25
25 Glenn Stojanow (Aus) MACE/Rock & Dirt Team              7.35
26 Richard Lang (Aus) NSWIS                                7.37
27 Hayden Brooks (Aus) Virgin Blue Cycling                     
28 Phillip Chapman (Aus) MACE/Rock & Dirt Team                 
29 Deon Locke (Aus) FRF - Panasonic                            
30 David Evans (Aus) KOM Cyclery/ Northern Sydney CC           
31 Jason Rigg (Aus) Praties Cycling Team                       
32 Jeremy Ross (Aus)                                           
33 Blair Windsor (Aus)                                         
34 Matt King (Aus) South Australia.com-AIS                 7.52
35 Ben Grieve-Johnson (Aus) Praties Cycling Team           7.59
36 Dale Scarfe (Aus) NSWIS                                 8.22
37 Adam Socha (Aus)                                       10.16
38 Graeme Allbon (Aus) Goulburn CC                             
39 Samuel Layzell (Aus) Two Wheel Industries                   
40 Richard Vollebregt (Aus) Ben Mikic Foundation               
41 James Ibrahim (Aus)                                         
42 Jason Chalker (Aus)                                         
43 Oenone Wood (Aus)                                           
44 James Langedyk (Aus) JAYCO - VIS                       10.27
45 Anthony Bennett (Aus) NSWIS                                 
46 Jack Anderson (Aus) Team Budget Forklifts                   
47 Bernard Sulzberger (Aus) Virgin Blue Cycling                
48 Brock Roberts (Aus) MACE/Rock & Dirt Team                   
49 Joel Pearson (Aus)                                          
50 Darren Rolfe (Aus) Virgin Blue Cycling                      
51 Mark Ledgerwood (Aus) Virgin Blue Cycling                   
52 Michael Orr (Aus)                                      11.57
53 Hayden Kegg (Aus) KOM Cyclery/ Northern Sydney CC           
54 Jared Mills (Aus)                                      12.23
55 Antony Dimitrovski (Aus)                               12.47
56 Gijs Vonk (Aus)                                        13.54
57 Jules Galli (Aus) Randwick Botany CC                   14.52
58 Gerard Walsh (Aus) Goulburn CC                              
59 Robert Hurley (Aus)                                         
60 Aiden Lyons (Aus)                                           
61 Kris Johnston (Aus)                                         
62 Daniel Hennessy (Aus)                                  14.59
63 Brent Skippen (Aus) Citi- Velofix                      15.01
64 Jeremy Gilchrist (Aus) Goulburn CC                     17.00
65 Craig Paull (Aus)                                      17.20
66 Ben Blakesbrough (Aus)                                 17.22
67 Matthew Carter (Aus)                                   19.40
68 Robert Hodgson (Aus)                                        
69 Andrew Arundel (Aus)                                        
70 Daniel Abotomey (Aus) Ben Mikic Foundation                  
71 Alistair Davis (Aus)                                        
72 Scott Cronly-Dillon (Aus)                              19.49
73 Peter Ladd (Aus) Team Budget Forklifts                      
74 Jay Bourke (Aus)                                            
75 Mark Thompson (Aus)                                    26.09
DNF Andrew Herrmann (Aus)                                      
DNF William Alexander (Aus) Virgin Blue Cycling                
DNF Sean Finning (Aus) JAYCO - VIS                             
DNF Glenn O'shea (Aus) JAYCO - VIS                             
DNF Joseph Lewis (Aus) FRF - Panasonic                         
DNF Luke Cridland (Aus) NSWIS                                  
DNF Brendan Brooks (Aus) Citi- Velofix                         
DNF Ben Isaksen (Aus) Citi- Velofix                            
DNF Jeremy Hills (Aus) Praties Cycling Team 2                  
DNF Sam Moorhouse (Aus) MACE/Rock & Dirt Team                  
DNF Jason Caldwell (Aus)                                       
DNF Scott Kilmartin (Aus) Citi- Velofix                        
DNF Con Toparis (Aus) Goulburn CC                              
DNF Barry Bance (Aus) Hillbrick/Macarthur Collegians CC        
DNF Colin Grimes (Aus) Hillbrick/Macarthur Collegians CC       
DNF Matthew Howell (Aus) Hillbrick/Macarthur Collegians CC     
DNF Samuel Gilbert (Aus) Randwick Botany CC                    
DNF Julian Townsend (Aus) Randwick Botany CC                   
DNF Cameron Wood (Aus) Randwick Botany CC                      
DNF Matthew Yaxley (Aus) Randwick Botany CC                    
DNF Matthew Johns (Aus) Two Wheel Industries                   
DNF Bradley Scarfe (Aus) Two Wheel Industries                  
DNF Jarrett Wood (Aus) Two Wheel Industries                    
DNF Robby Dalitz (Aus)                                         
DNF Wayne Duncan (Aus)                                         
DNF Matthew Garnon (Aus)                                       
DNF Norbert Gerold (Aus)                                       
DNF Alan Hainsworth (Aus)                                      
DNF David Hampton (Aus)                                        
DNF Michael Hoynes (Aus)                                       
DNF Erik Jimenez (Aus)                                         
DNF Barry Kenyon (Aus)                                         
DNF Andrew Lang (Aus)                                          
DNF Owen Macphillamy (Aus)                                     
DNF Richard Makin (Aus)                                        
DNF Hamish Nicol (Aus)                                         
DNF Roger Ocvirk (Aus)                                         
DNF Joshua Quilliam (Aus)                                      
DNF Andrew Riordan (Aus)                                       
DNF Craig Roach (Aus)                                          
DNF James Sampson (Aus)                                        
DNF Kornelis Sietsma (Aus)                                     
DNF Michael Troy (Aus)                                         
DNF Mark Wall (Aus)                                            
DNF William Waugh (Aus)                                        
DNF Mitchell Wheatley (Aus)                                    
DNF Christopher Williams (Aus)                                 
DNF Geoffrey Wilson (Aus)                                      
DNF Nicholas Brown (Aus)                                       


Past winners
2007 Robert Williams (Drapac Porsche)
2006 Chris Jongewaard (Savings and Loans)
2005 David McKenzie (VIS)