Giro della Toscana Int. Femminile - Memorial Michela Fanini - 2.1 (WE)
Italy, September 16-21, 2008
Main Page Results Overall standings Next Stage
Stage 1 - September 16: Viareggio - Viareggio, TTT, 5.45 km
Columbia takes four leaders' jerseys after opening stage
Linda Villumsen brings home
Photo ©: WomensCycling.net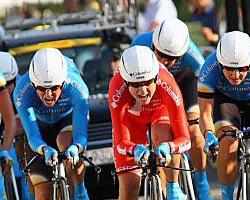 A strong collective effort by the women of Team Columbia saw them roar to victory in the opening team time trial of the Giro della Toscana - Memorial Michela Fanini in Italy - and pick up four different leaders' jerseys as a result. The Dutch National Team and Equipe Nurnberger finished second and third.
"Linda [Villumsen] was the first rider across the line and so will start Wednesday's stage with the leader's jersey, Ina [Teutenberg] will start with the sprints jersey, Emilia [Fahlin] has the U23 leader's jersey and Chantal [Beltman] has the jersey for the Best Foreign Rider," said manager Petra Rossner.
The teams raced a very short 5.4km with all eight riders. "We had five riders that are the best at this kind of effort do most of the work, and three riders were sitting on," said Rossner of the team's strategy.
"We only lost one rider on the circuit, Mara Abbott - time trialling like this is just not her kind of thing. But to be able to finish with so many riders, seven of the eight, and to win on top of that is a sign we worked it all out well. Other than that, there was no real strategy possible on such a short course, it was just a question of going all out from the gun."
Villumsen was the first rider across the line and so wears the leader's jersey, but Rossner said it was not pre-planned at all. "We didn't work out beforehand that she should be first, instead we wanted everybody to have their chance. Everybody put in a 100 percent effort and nobody is above the rest in this team."
Looking ahead to stage two, Rossner joked, "We're going to try and get in as many breaks as possible on Wednesday stage because with so many different jerseys I don't think the peloton is going to recognise half the team, and they could get away!"
Photography
For a thumbnail gallery of these images, click here
Images by www.WomensCycling.net
Results

1 Linda Villumsen (Den) Team Columbia Women                          6.32.88 (49.93km/h)
2 Ina Teutenberg (Ger) Team Columbia Women                                  
3 Chantal Beltman (Ned) Team Columbia Women                                 
4 Anke Wichmann (Ger) Team Columbia Women                                   
5 Judith Arndt (Ger) Team Columbia Women                                    
6 Emilia Fahlin (Swe) Team Columbia Women                                   
7 Luise Keller (Ger) Team Columbia Women                                    
8 Kirsten Wild (Ned) Dutch National Team                             0.03.40
9 Ellen Vad Diik (Ned) Dutch National Team                                  
10 Irene Van Den Broek (Ned) Dutch National Team                            
11 Regina Bruins (Ned) Dutch National Team                                  
12 Loos Gunnewiik (Ned) Dutch National Team                                 
13 Iris Slappendel (Ned) Dutch National Team                                
14 Trixi Worrack (Ger) Equipe Nürnberger Versicherung                0.07.95
15 Charlotte Becker (Ger) Equipe Nürnberger Versicherung                    
16 Modosta Vzesniauskaite (Ltu) Equipe Nürnberger Versicherung              
17 Edits Pucinskaite (Ltu) Equipe Nürnberger Versicherung                   
18 Eva Lutz (Ger) Equipe Nürnberger Versicherung                            
19 Suzanne De Goede (Ned) Equipe Nürnberger Versicherung                    
20 Claudia Hausler (Ger) Equipe Nürnberger Versicherung                     
21 Noemi Cantele (Ita) Bigla Cycling Team                            0.09.29
22 Sereina Trachsel (Swi) Bigla Cycling Team                                
23 Bettina Kuhn (Swi) Bigla Cycling Team                                    
24 Jennifer Hohl (Swi) Bigla Cycling Team                                   
25 Nicole Brandli (Swi) Bigla Cycling Team                                  
26 Andrea Thurig (Swi) Bigla Cycling Team                                   
27 Monica Holler (Swe) Bigla Cycling Team                                   
28 Kristin Armstrong (USA) USA National Team                         0.16.38
29 Katheryn Curt (USA) USA National Team                                    
30 Amber Rais (USA) USA National Team                                       
31 Kristin Mc Grath (USA) USA National Team                                 
32 Marianne Vos (Ned) Team DSB Bank                                  0.17.16
33 Andrea Bosman (Ned) Team DSB Bank                                        
34 Angela Hennig (Ger) Team DSB Bank                                        
35 Tina Liebig (Ger) Team DSB Bank                                          
36 Martins Corazza (Ita) Gauss RDZ Ormu                              0.22.26
37 Eva Lechner (Ita) Gauss RDZ Ormu                                         
38 Tatlana Guderzo (Ita) Gauss RDZ Ormu                                     
39 Tanis Belvederesi (Ita) Gauss RDZ Ormu                                   
40 Julia Martisova (Rus) Gauss RDZ Ormu                                     
41 Veronica Leal Balderas (Mex) Gauss RDZ Ormu                              
42 Grote Treier (Est) Gauss RDZ Ormu                                        
43 Monia Baccaille (Ita) Fenixs                                      0.25.05
44 Tatiana Antoshina (Rus) Fenixs                                           
45 Laura Morfin Macouzet (Mex) Fenixs                                       
46 Natalia Boyarskaya (Rus) Fenixs                                          
47 Elisabeth Bram (Ned) Dutch National Team                          0.25.85
48 Martine Bras (Ned) Dutch National Team                                   
49 Silvia Valsecchi (Ita) Menikini - Selle Italia - Masters Color    0.26.02
50 Kori Kelley Seehafer (USA) Menikini - Selle Italia - Masters Color       
51 Nathalie Bates (Aus) Menikini - Selle Italia - Masters Color             
52 Fabian Luperini (Ita) Menikini - Selle Italia - Masters Color            
53 Miho Oki (Jpn) Menikini - Selle Italia - Masters Color                   
54 Marina Romoli (Ita) Menikini - Selle Italia - Masters Color              
55 Oxana Kozonchuk (Rus) Menikini - Selle Italia - Masters Color            
56 Julia Blindyuk (Rus) S.C. Michela Fanini Record Rox               0.29.72
57 Jennifer Fiori (Ita) S.C. Michela Fanini Record Rox                      
58 Daiva Tuslaite (Ltu) S.C. Michela Fanini Record Rox                      
59 Rasa Leleivyte (Ltu) S.C. Michela Fanini Record Rox                      
60 Rosane Kirch (Bra) S.C. Michela Fanini Record Rox                        
61 Valentin Bastianelli (Ita) S.C. Michela Fanini Record Rox                
62 Giulia Lazzerini (Ita) S.C. Michela Fanini Record Rox                    
63 Brooke Miller (USA) USA National Team                             0.31.24
64 Erinne Willock (Can) Canadian National Team                       0.31.33
65 Alexandra Wrubleski (Can) Canadian National Team                         
66 Julie Beveridge (Can) Canadian National Team                             
67 Anne Samplonius (Can) Canadian National Team                             
68 Felicia Gomez (Can) Canadian National Team                               
69 Elena Berlato (Ita) Safi - Pasta Zara Manhattan                   0.32.15
70 Diana Ziliute (Ltu) Safi - Pasta Zara Manhattan                          
71 Luisa Tamanini (Ita) Safi - Pasta Zara Manhattan                         
72 Mazagas Iturriagaechevarria (Spa) Safi - Pasta Zara Manhattan            
73 Francesca Faustini (Ita) Safi - Pasta Zara Manhattan                     
74 Alessandra D'ettorre (Ita) Top Girls Fassa Bortolo Raxy Line      0.36.23
75 Laura Pisaneschi (Ita) Top Girls Fassa Bortolo Raxy Line                 
76 Anna Zugno (Ita) Top Girls Fassa Bortolo Raxy Line                       
77 Valentin Carretta (Ita) Top Girls Fassa Bortolo Raxy Line                
78 Francesca Tognali (Ita) Top Girls Fassa Bortolo Raxy Line                
79 Lisa Brennauer (Ger) German National Team                         0.37.94
80 Romy Kasper (Ger) German National Team                                   
81 Elko Gebhardt (Ger) German National Team                                 
82 Marlon Johrend (Ger) German National Team                                
83 Denise Zuckermandel (Ger) German National Team                           
84 Stephanie Pohl (Ger) German National Team                                
85 Agne Bagdanoviciute (Ltu) Team Fanini System Data                 0.40.84
86 Enka Vilunaite (Ltu) Team Fanini System Data                             
87 Daniola Cristine Lionco (Bra) Team Fanini System Data                    
88 Deborah Mascelli (Ita) Team Fanini System Data                           
89 Giuseppina Grassi (Mex) Team Fanini System Data                          
90 Uenia Fernandes Da Souza (Bra) USC Chirio Forno D'Asolo           0.41.16
91 Janildes Fernandez Silva (Bra) USC Chirio Forno D'Asolo                  
92 Edita Unguryte (Ltu) USC Chirio Forno D'Asolo                            
93 Alona Andruk (Ukr) USC Chirio Forno D'Asolo                              
94 Rasa Polikeviciute (Ltu) USC Chirio Forno D'Asolo                        
95 Clemilda Fernandes Silva (Bra) USC Chirio Forno D'Asolo                  
96 Jolanta Polikeviciute (Ltu) USC Chirio Forno D'Asolo                     
97 Evelyn Garcia (ESa) USC Chirio Forno D'Asolo                             
98 Mara Abbott (USA) Team Columbia Women                             0.41.22
99 Alessia Massaccesi (Ita) Team CMAX Dila                           0.41.69
100 Vera Carrara (Ita) Team CMAX Dila                                       
101 Silvia Parietti (Ita) Team CMAX Dila                                    
102 Arien Torsius (RSA) Team CMAX Dila                                      
103 Sara Mustonen (Swe) Team CMAX Dila                                      
104 Alice Donadoni (Ita) Team CMAX Dila                                     
105 Lisa Marie Degle (Ger) ELK Haus                                  0.45.11
106 Martina Ruzickova (Cze) ELK Haus                                        
107 Stefanie Degle (Ger) ELK Haus                                           
108 Manuela Grunzweil (Aut) ELK Haus                                        
109 Katarina Uhlarikova (Svk) ELK Haus                                      
110 Samantha Galassi (Ita) Fenixs                                    0.51.68
111 Svotlana Bubnenkova (Rus) Fenixs                                        
112 Marieke Van Wanroij (Ned) Team DSB Bank                          0.55.64
113 Veronica Andreasson (Swe) Bigla Cycling Team                     0.55.70
114 Silvia Eusebi (Ita) Team CMAX Dila                               0.57.15
115 Sigrid Corneo (Slo) Menikini - Selle Italia - Masters Color      0.58.72
116 Regina Schleicher (Ger) Equipe Nürnberger Versicherung           1.03.53
117 Anna Farina (Ita) Top Girls Fassa Bortolo Raxy Line              1.14.32
118 Marina Khodtchenkova (Rus) Team CMAX Dila                        1.19.90
119 Alice Marmorini (Ita) Fenixs                                     1.25.07
120 Carmen Mc Nellis (USA) USA National Team                         1.25.99
121 Laura Bozzolo (Ita) S.C. Michela Fanini Record Rox               1.37.77
122 Melissa Hernandez Arbelar (Ven) Team Fanini System Data          1.54.20
123 Samantha Perna (Ita) Team Fanini System Data                     2.21.19
124 Alessandra Lari (Ita) Team Fanini System Data                           
125 Nadejda Vlasova (Rus) Fenixs                                     2.25.05