75th Nationale Sluitingprijs - 1.1
Putte-Kapellen, Belgium, October 14, 2008
Dekkers surprises Boonen in rough sprint
By Julien Gillebert
The Nationale Sluitingprijs podium.
Photo ©: Julien Gillebert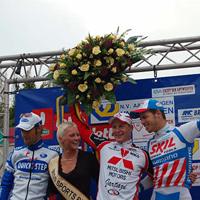 Hans Dekkers (Mitsubishi-Jartazi) of the Netherlands was the star of the party that goes along with the last race of the season in Belgium, the Nationale Sluitingprijs. Large crowds converged on Putte-Kapellen, a small village between Antwerpen and the Netherlands, to watch Dekkers win the sprint at the end of 12 laps of 14.77km each. Dekkers surprised Quick Step's Tom Boonen in the final sprint with 24 men.
"The win is good news for me," said Dekkers. "It was a very bad season for me. I had a knee injury, and I have only been in good form since last month. It's not a big victory but it's always good news, " especially since Dekkers' team is not sticking around for 2009.
"I hope my win today will help me to find a contract for 2009," he said optimistically.
After the race, Boonen was angry with Kristof Goddaert, a neo-pro from Top Sport Vlaanderen, who Boonen accused of changing lines during the mad dash to the line.
"He closed the door. So I nearly fell, and I had to stop my sprint," said Boonen. "I had to tell him because we don't do that in sprints. He's young, and he must learn."
Reflecting on his second place, Boonen said, "My team did a great work today and not winning is a disappointment."
How it unfolded
Tom Boonen (Quick Step)
Photo ©: Julien Gillebert

After only 20km, 29 riders escaped in a break away including Piet Rooijakkers, Albert Timmer and Tom Veelers (Skil-Shimano), Tom Boonen, Wilfried Cretskens, Andy Engels, Kevin Hulsmans and Stijn Devolder (Quick Step), Glenn D'Hollander and Bart Dockx (Silence-Lotto), Andy Cappelle (Landbouwkrediet), Kristof Vandewalle, Kristof Goddaert, Sven Renders and Pieter Vanspeybrouck (Top Sport Vlaanderen), Hans Dekkers, Geert Omloop and Jarno Van Mingeroet (Mitsubishi-Jartazi), Troels Vinther (Cycle Collstrop), Hakan Nilsson (Apiflo Vacances), Maint Berkenbosch and Gijs Brouwer (Cyclingteam Jo Piels), Ken Devaere (Davitamon Jong Vlaanderen), Wouter Mol (P3 Transfer), Ward Bogaert, Matt Breammeier and Jef Peeters (Profel Prorace), Van Ruitenbeek and Vreugdenhil (Van Vliet).
Dockx waited for the peloton with the plan of helping his Silence-Lotto teammates as they took care of the chase effort. Unfortunately, their efforts weren't enough. At one point the gap dropped as low as about a minute with 40km to go, but it was back up to 2'38" with 30km to go.
Timmer launched a solo effort with seven kilometres remaining, but Boonen's teammates, especially Wilfried Cretskens in his last race for Team Quick Step, was especially vigilant and chased him back.
Cappelle, Omloop and D'Hollanders then tried their luck at surprising Quick Step, but they were caught with two kilometres to go. In the final sprint among the break's members, Dekkers was fastest to the line. Tom Veelers (Skil-Shimano) finished third, one place behind Boonen.
Photography
For a thumbnail gallery of these images, click here
Images by Julien Gillebert
Results - 177.2km
1 Hans Dekkers (Ned) Mitsubishi-Jartazi                 3.38.11 (48.740 km/h)
2 Tom Boonen (Bel) Quick Step                                  
3 Tom Veelers (Ned) Skil-Shimano                               
4 Kristof Goddaert (Bel) Topsport Vlaanderen                   
5 Piet Rooijakkers (Ned) Skil- Shimano                         
6 Ward Bogaert (Bel) Profel                                    
7 Troels Ronning Vinther (Den) Cycle Collstrop                 
8 Wouter Mol (Ned) P3Transfer - Batavus                        
9 Jef Peeters (Bel) Profel Prorace                             
10 Sven Renders (Bel) Topsport Vlaanderen                      
11 Geert Omloop (Bel) Mitsubishi-Jartazi                       
12 Mamman van Ruitenbeek                                       
13 Matthew Brammeier (GBr) Profel Prorace Continental Team     
14 Albert Timmer (Ned) Skil-Shimano                            
15 Stijn Devolder (Bel) Quick Step                         0.03
16 Andy Cappelle (Bel) Landbouwkrediet - Tönissteiner          
17 Glenn D'Hollander (Bel) Silence-Lotto                       
18 Maint Berkenbosch (Ned) Cyclingteam Jo Piels                
19 Jarno Van Mingeroet (Bel) Mitsubishi-Jartazi            0.11
20 Kristof Vandewalle (Bel) Topsport Vlaanderen            0.17
21 Wilfried Cretskens (Bel) Quick Step                     0.22
22 Kevin Hulsmans (Bel) Quick Step                             
23 Addy Engels (Ned) Quick Step                                
24 Pieter Vanspeybrouck (Bel) Topsport Vlaanderen          0.37
25 Bert Roesems (Bel) Silence - Lotto                          
26 Stefan Van Dijk (Ned) Mitsubishi-Jartazi                4.49
27 Reto Hollenstein (Swi) Atlas - Romer's Hausbäckerei         
28 Gregory Joseph (Bel) Davitamon - Lotto - Jong Vlaanderen    
29 Benjamin Gourgue (Bel) Landbouwkrediet - Tönissteiner       
30 Jean-Paul Simon (Bel) Josan Mercedes Benz Aalst CT          
31 Frederick Nolf (Bel) Topsport Vlaanderen                    
32 Geert Van Der Sanden (Ned) Cyclingteam Jo Piels             
33 Bart Vanheule (Bel) Topsport Vlaanderen                     
34 Marco Brus (Ned) Cyclingteam Jo Piels                       
35 Dieter Capelle (Bel) Topsport Vlaanderen                    
36 Nico Schneider (Ger) Atlas - Romer's Hausbäckerei           
37 Bastiaan Giling (Ned) Cycle Collstrop                       
38 Björn Coomans (Bel) Rock Werchter-Chocolade Jacques         
39 Geert Verheyen (Bel) Mitsubishi-Jartazi                     
40 Rikke Dijkxhoorn (Ned) Van Vliet - EBH Elshof               
41 Dirk Bellemakers (Ned) Landbouwkrediet - Tönissteiner       
42 Kenny Robert Van Hummel (Ned) Skil-Shimano                  
43 Bert De Backer (Bel) Beveren 2000                           
44 Wouter Weylandt (Bel) Quick Step                            
45 Lucas Persson (Swe) Cycle Collstrop                         
46 Guillaume Bourgeois (Swi) Atlas - Romer's Hausbäckerei      
47 Jan Bluekens (Bel) Profel Prorace Continental Team          
48 Sven Wielandt (Bel) Profel Prorace Continental Team         
49 Stijn Joseph (Bel) Beveren 2000                             
50 James Vanlandschoot (Bel) Mitsubishi-Jartazi                
51 Filip Meirhaeghe (Bel) Landbouwkrediet - Tönissteiner       
52 Hakan Nilsson (Swe) Differdange - Apiflo Vacances           
53 Gregory Habeaux (Bel) Mitsubishi-Jartazi                    
54 Hans Bloks (Ned) Cyclingteam Jo Piels                       
55 Roy Curvers (Ned) Skil-Shimano                              
56 Lars Vierbergen (Ned) Van Vliet - EBH Elshof                
57 Joost Van Leijen (Ned) Van Vliet - EBH Elshof               
58 Steven De Neef (Bel) Davitamon - Lotto - Jong Vlaanderen    
59 Bert Scheirlinckx (Bel) Landbouwkrediet - Tönissteiner      
60 Matthé Pronk (Ned) Cycle Collstrop                          

Past winners
2007 Floris Goesinnen (Ned) Skil - Shimano                             177.2km in 3.56.00 (45.060 km/h)
2006 Gorik Gardeyn (Bel) Unibet.com
2005 Gert Steegmans (Bel) Davitamon - Lotto
2004 Max Van Heeswijk (Ned) US Postal Service p/b Berry Floor
2003 Nick Nuyens (Bel) Quick.Step-Davitamon
2002 Geert Omloop (Bel) Palmans-Collstrop
2001 Wesley Van Speybroeck (Bel) Lotto-Adecco
2000 Steven De Jongh (Ned) Rabobank
1999 Dave Bruylandts (Bel) Lotto-Mobistar
1998 Wilfried Peeters (Bel) Mapei
1997 John Talen (Ned)
1996 Peter Spaenhoven (Bel)
1995 Tom Steels (Bel)
1994 Maarten Den Bakker (Ned)
1993 Wim Omloop (Bel)
1992 Paul Hagedoorn (Bel)
1991 Herman Frison (Bel)
1990 Ludo Giesberts (Bel)
1989 Benj. Van Itter­Beeck (Bel)
1988 Jerry Cooman (Bel)
1987 Adrie van der Poel (Ned)
1986 Adrie van der Poel (Ned)
1985 Jean-Marie Wampers (Bel)
1984 Dirk Heirweg (Bel)
1983 Adri van der Poel (Ned)
1982 Luc Colyn (Bel)
1981 Jan Bogaert (Bel)
1980 Patrick Lerno (Bel)
1979 Frans Van Looy (Bel)
1978 Jos Jacobs (Bel)
1977 Frans Van Looy (Bel)
1976 Herm. Van Springel (Bel)
1975 Johan Van Katwijk (Ned)
1974 Frans Van Looy (Bel)
1973 G. Van Roosbroeck (Bel)
1972 G. Van Roosbroeck (Bel)
1971 Roger Swerts (Bel)
1970 Dan. Van Rijckeghem (Bel)
1969 René Pijnen (Ned)
1968 Frans Brands (Bel)
1967 Eddy Merckx (Bel)
1966 Henk Nijdam (Ned)
1965 Frans Brands (Bel)
1964 Gustave Desmet (Bel)
1963 Gustave Desmet (Bel)
1962 Ludo Janssens (Bel)
1961 Piet Rentmeester (Ned)
1960 Emile Daems (Bel)
1959 Joseph Planckaert (Bel)
1958 Karel De Baere (Bel)
1957 Roger Decock (Bel)
1956 Roger Verplaetse (Bel)
1955 Karel De Baere (Bel)
1954 Jean Bogaerts (Bel)
1953 Joseph Schils (Bel)
1952 René Janssens (Bel)
1951 René Janssens (Bel)
1950 Arthur Mommerency (Bel)
1949 André Declerck (Bel)
1948 Léon Dhaenekyndt (Bel)
1947 Albert Ramon (Bel)
1946 Victor Jacobs (Bel)
1945 Theo Middelkamp (Ned)
1943 Frans Hotag (Bel)
1938 Albert Geysen (Ned)
1937 Karel Kaers (Bel)
1936 Frans Dictus (Bel)
1935 Gust Reyns (Bel)
1934 Kemper Horemans (Bel)
1933 Leo De Rijck (Bel)
1932 Leo De Rijck (Bel)
1931 Fred De Vocht (Bel)
1930 Georges Ronsse (Bel)
1929 Zander Maes (Bel)

Past winners by Mario Stiehl, www.world-of-cycling.com