Münsterland Giro - 1.1
Germany, October 3, 2008
2007 Results Results Past winners
Greipel spoils Zabel's final German race
Germany's André Greipel (Columbia), 26, wins the Münsterland Giro over Erik Zabel (Team Milram) and Robert Förster (Gerolsteiner).
Photo ©: Roberto Bettini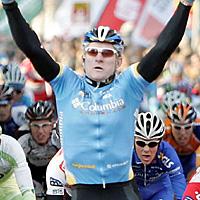 André Greipel of Team Columbia won the Sparkasse Münsterland Giro, spoiling Erik Zabel's farewell to German cycling fans. The 38-year-old Milram rider finished second in his final road race in Germany, ahead of Gerolsteiener's Robert Förster, who was also riding his last race in Germany for the German team which is ending this year.
It was Greipel's 14th win this season, making him the third-most successful rider of the year.
"I saw in the enthusiasm underway today that cycling in Germany is alive and well," said Zabel, who is retiring at the end of this season. "It was a thrilling finale. I steered myself onto Andre Greipel's rear wheel and tried to pull by him in the last meters. Andre has shown often enough in this season that he has a very high end speed. Unfortunately I couldn't catch him on the last meters. I want to thank everyone for the many wonderful years and leave as a friend of cycling."
A five-rider strong group formed early. Lars Wackernagel (Team Sparkasse), Stefan Ganser (Kuota-Senges), Christoph Schwerdt (Mapei Heizomat), Jacob Kodrub (Glud & Marstrand Horsens) and Marcel Beima (Rabobank Continental) had a lead of up to 7:30 minutes, before Milram led the charge to catch them. The peloton then stayed together for the four laps of the closing circuit in Münster, setting up the bunch sprint.
Photography
For a thumbnail gallery of these images, click here
Images by Roberto Bettini/www.bettiniphoto.net
Results - 204.2 km
1 André Greipel (Ger) Team Columbia                    4.55.40 (41.4 km/h)
2 Erik Zabel (Ger) Team Milram                                
3 Robert Förster (Ger) Gerolsteiner                           
4 Eric Baumann (Ger) Team Sparkasse                           
5 Michael Van Staeyen (Bel) Rabobank Continental              
6 Juan José Haedo (Arg) Team CSC - Saxo Bank                  
7 Daniel Musiol (Ger) Team Volksbank                          
8 Jonas Aaen Jørgensen (Den) Team GLS - Pakke Shop            
9 Matej Stare (Slo) Perutnina Ptuj                            
10 Christian Poos (Lux) Differdange - Apiflo Vacances         
11 Dennis Pohl (Ger) Team 3C Gruppe                           
12 Arnoud Van Groen (Ned) P3Transfer - Batavus                
13 Boy Van Poppel (Ned) Rabobank Continental                  
14 Sven Renders (Bel) Topsport Vlaanderen                     
15 Radoslav Rogina (Cro) Perutnina Ptuj                       
16 Robert Wagner (Ger) Skil-Shimano                           
17 Wim De Vocht (Bel) Silence - Lotto                         
18 Adriaan Helmantel (Ned) Cyclingteam Jo Piels               
19 Tim Klessa (Ger) Team Kuota - Senges                       
20 Coen Vermeltfoort (Ned) Rabobank Continental               
21 Kim Marius Nielsen (Den) Glud & Marstrand Horsens          
22 Heinrich Haussler (Ger) Gerolsteiner                       
23 Reinier Honig (Ned) P3Transfer - Batavus                   
24 Robert Sydlik (Ger) Team Vlassenroot                       
25 Christian Knees (Ger) Team Milram                          
26 Roy Hegreberg (Nor) Team GLS - Pakke Shop                  
27 Mads Rydicher (Den) Differdange Apiflo Vacances            
28 Markus Zberg (Swi) Gerolsteiner                            
29 Marco Brus (Ned) Cyclingteam Jo Piels                      
30 Thomas Fothen (Ger) Gerolsteiner                           
31 Jelle Hanseeuw (Bel) Landbouwkrediet - Tonissteiner        
32 Kristjan Fajt (Slo) Perutnina Ptuj                         
33 Matti Breschel (Den) Team CSC - Saxo Bank                  
34 Gregory Habeaux (Bel) Mitsubishi-Jartazi                   
35 Cyrille Heymans (Lux) Differdange - Apiflo Vacances        
36 Fabian Wegmann (Ger) Gerolsteiner                          
37 Domenik Klemme (Ger) Team 3C Gruppe                        
38 Alexander Schmitt (Ger) Team Vlassenroot                   
39 Thomas Berkhout (Ned) Rabobank Continental                 
40 Mitja Mahoric (Slo) Perutnina Ptuj                         
41 Kim Lachmann (Ger) Team Mapei Heizomath                    
42 Ralf Grabsch (Ger) Team Milram                             
43 Sven Krauss (Ger) Gerolsteiner                             
44 Mindaugas Striska (Ltu) Mitsubishi-Jartazi                 
45 Andreas Schillinger (Ger) Team Sparkasse                   
46 Marcel Beima (Ned) Rabobank Continental                    
47 Greg Van Avermaet (Bel) Silence - Lotto                    
48 Robin Chaigneau (Ned) Skil-Shimano                         
49 Linus Gerdemann (Ger) Team Columbia                        
50 Anders Lund (Den) Team CSC - Saxo Bank                     
51 Piet Rooijakkers (Ned) Skil-Shimano                        
52 Servais Knaven (Ned) Team Columbia                         
53 Mitja Schlüter (Ger) Continental Team Milram               
54 Aart Vierhouten (Ned) P3Transfer - Batavus                 
55 Dirk Müller (Ger) Team Sparkasse                           
56 Marcel Sieberg (Ger) Team Columbia                         
57 Gregor Gazvoda (Slo) Perutnina Ptuj                    0.09
58 Paul Voss (Ger) Team 3C Gruppe                         0.12
59 Domenik Klemme (Ger) Team 3C Gruppe                        
60 Andreas Klier (Ger) Team Columbia                      0.23
61 Jarno Van Mingeroet (Bel) Mitsubishi-Jartazi               
62 Reto Hollenstein (Swi) Atlas - Romer's Hausbäckerei        
63 Timothy Vangheel (Bel) P3Transfer - Batavus            0.25
64 Kevin Neirynck (Bel) Landbouwkrediet - Tönissteiner    0.26
65 Geert Van Der Sanden (Ned) Cyclingteam Jo Piels            
66 Micha Glowatzki (Ger) Team Vlassenroot                     
67 Kristof Vandewalle (Bel) Topsport Vlaanderen               
68 Olaf Pollack (Ger) Team Volksbank                          
69 Bert De Waele (Bel) Landbouwkrediet - Tönissteiner         
70 Sebastian Lang (Ger) Gerolsteiner                          
71 Luke Roberts (Aus) Team Kuota - Senges                     
72 Laurent Didier (Lux) Team Kuota - Senges                   
73 Bert Scheirlinckx (Bel) Landbouwkrediet - Tönissteiner     
74 Glenn d'Hollander (Bel) Silence - Lotto                    
75 Christopher Stevenson (Swe) Team GLS - Pakke Shop          
76 Philipp Mamos (Ger) Team Sparkasse                         
77 Nick Gates (Aus) Silence - Lotto                           
78 David Hesselbarth (Ger) Team Mapei Heizomath               
79 Karsten Volkmann (Ger) Isaac                               
80 Tom Stamsnijder (Ned) Gerolsteiner                         
81 Dieter Capelle (Bel) Landbouwkrediet - Tonissteiner        
82 Nicolaj Olesen (Den) Glud & Marstrand Horsens          0.34
83 Rob Ruygh (Ned) Team Sparkasse                             
84 Felix Schäfermeier (Ger) Team 3C Gruppe                    
85 Richard Faltus (Cze) Team Sparkasse                        
86 Fredrik Johansson (Swe) Differdange - Apiflo Vacances      
87 Florin Monreal (Ger) Differdange Apiflo Vacances           
88 Robert Retschke (Ger) Team Mapei Heizomath                 
89 Erik Magnusson (Swe) Differdange Apiflo Vacances           
90 Mathieu Deschenaux (Swi) Atlas - Romer's Hausbäckerei      
91 Guillaume Bourgeois (Swi) Atlas - Romer's Hausbäckerei     
92 Christian Leben (Ger) Team 3C Gruppe                       
93 Kristijan Durasek (Cro) Perutnina Ptuj                     
94 Bart Vanheule (Bel) Topsport Vlaanderen                    
95 Daniel Westmattelmann (Ger) Team Mapei Heizomath           
96 Albert Timmer (Ned) Skil-Shimano                           
97 Serge Pauwels (Bel) Topsport Vlaanderen                    
98 Tilo Schüler (Ger) Team Sparkasse                          
99 Mart Van Blanken (Ned) Cyclingteam Jo Piels                
100 Wim Van Huffel (Bel) Silence - Lotto                      
101 Hans Bloks (Ned) Cyclingteam Jo Piels                     
102 Björn Papstein (Ger) Team 3C Gruppe                       
103 Hans Koch (Ger) Isaac                                 0.42
104 Stefan Ganser (Ger) Team Kuota - Senges               0.51
105 Christian Kux (Ger) Team Milram                       0.53
106 Jens Mouris (Ned) Mitsubishi-Jartazi                  0.57
107 Arne Hassink (Ned) Team Milram                            
108 Tony Martin (Ger) Team Columbia                       1.05
109 Geert Omloop (Bel) Mitsubishi-Jartazi                 1.17
110 Kas Larsen Schjönem (Den) Glud & Marstrand Horsens    1.34
111 Jacob Nielsen (Den) Glud & Marstrand Horsens              
112 Tho Riber Sellebjer (Den) Team GLS - Pakke Shop           
113 Hannes Blank (Ger) Differdange - Apiflo Vacances          
114 Hakan Nilsson (Swe) Differdange - Apiflo Vacances         
115 Martijn Keizer (Ned) Rabobank Continental                 
116 Karsten Kroon (Ned) Team CSC - Saxo Bank                  
117 Lasse Bøchmann (Den) Team CSC - Saxo Bank                 
118 Michael Christensen (Den) Glud & Marstrand Horsens        
119 Moritz Mainzer (Ger) Team Kuota - Senges                  
120 Bernhard Eisel (Aut) Team Columbia                    1.37
121 Janick Wisler (Swi) Atlas - Romer's Hausbäckerei      2.22
122 Matej Marin (Slo) Perutnina Ptuj                      2.25
123 Pieter Ghyllebert (Bel) Topsport Vlaanderen               
124 André Korff (Ger) Team Volksbank                          
125 Luc Hagenaars (Ned) P3Transfer - Batavus              2.34
126 Wouter Mol (Ned) P3Transfer - Batavus                     
127 Jens Grewe (Ger) Team Mapei Heizomath                 3.19
128 Henrik Albinus (Ger) Team Vlassenroot                 3.35
129 Maurice De Bekker (Ned) Cyclingteam Jo Piels              
130 Tobias Sydlik (Ger) Team Vlassenroot                      
131 Nico Schneider (Ger) Atlas - Romer's Hausbäckerei         
132 Glenn Bak (Den) Team GLS - Pakke Shop                 3.38
133 Christoph Schwerdt (Ger) Team Mapei Heizomath         3.39
134 Sebastian Schwager (Ger) Team Milram                  3.40
135 Kenny De Ketele (Bel) Topsport Vlaanderen                 
136 Christophe Brandt (Bel) Silence - Lotto                   
137 Jacob Kodrup (Den) Glud & Marstrand Horsens               
138 Lars Wackernagel (Ger) Team Sparkasse                     
139 Michel Kreder (Ned) Rabobank Continental                  
140 Marco Kiritschenko (Ger) Isaac                            
DNF Wim Vansevenant (Bel) Silence - Lotto                     
DNF Gerald Ciolek (Ger) Team Columbia                         
DNF Dennis Haueisen (Ger) Team Milram                         
DNF Steven Kleynen (Bel) Landbouwkrediet - Tönissteiner       
DNF Yohan Cauquil (Fra) Mitsubishi-Jartazi                    
DNF Frank Dressler (Ger) Mitsubishi-Jartazi                   
DNF Kalle Kriit (Est) Mitsubishi-Jartazi                      
DNF Fabien Bacquet (Fra) Skil-Shimano                         
DNF Thierry Hupond (Fra) Skil-Shimano                         
DNF Koen Barbé (Bel) Topsport Vlaanderen                      
DNF Iljo Keisse (Bel) Topsport Vlaanderen                     
DNF Alexander Egger (Aut) Team Volksbank                      
DNF Gerrit Glomser (Aut) Team Volksbank                       
DNF Philipp Luderscher (Aut) Team Volksbank                   
DNF Fabien Wolf (Swi) Atlas-Romer's Hausbäckerei              
DNF Marcel Wyss (Swi) Scott - American Beef                   
DNF Maint Berkenbosch (Ned) Cyclingteam Jo Piels              
DNF Ruud Fransen (Ned) Cyclingteam Jo Piels                   
DNF Michael Berling (Den) Glud & Marstrand Horsens            
DNF Wim Botman (Ned) P3Transfer - Batavus                     
DNF Jure Kocjan (Slo) Perutnina Ptuj                          
DNF Dennis Van Winden (Ned) Rabobank Continental              
DNF Sergej Fuchs (Ger) Team 3C Gruppe                         
DNF Tobias Dörrer (Ger) Isaac                                 
DNF Karsten Rieger (Ger) Isaac                                
DNF Patrick Schubert (Ger) Isaac                              
DNF Michael Kurth (Ger) Team Kuota - Senges                   
DNF Joachim Tolles (Ger) Team Kuota - Senges                  
DNF Florian Völk (Ger) Team Mapei Heizomath                   
DNF Jonas Schmeiser (Ger) Team Mapei Heizomath                
DNF Patrick Bercz (Ger) Team Vlassenroot                                        
Past winners
2007 Jos Van Emden (Ned) Rabobank (Continental)
2006 Paul Martens (Ger) Skil-Shimano