74th Giro del Lazio - 1.HC
Italy, October 5, 2008
2007 Results Results Past winners
Masciarelli sneaks away to victory
New world champ Ballan debuts in rainbow bands
Francesco Masciarelli (Acqua & Sapone - Caffe Mokambo)
Photo ©: Roberto Bettini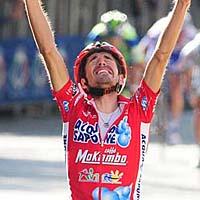 Alessandro Ballan got his first taste of the "curse of the rainbow bands" as he could not translate his world championship winning form into victory at the Giro del Lazio, despite hard work by his Lampre team. Instead, Francesco Masciarelli of Acqua & Sapone countered a move from Michele Scarponi (Serramenti) with three kilometres to go, escaping the clutches of a chasing group led by Quick Step's Giovanni Visconti to take his first win of the season. Filippo Pozzato (Liquigas) led the chasing group home ahead of Danilo Di Luca (LPR Brakes) in third.
The race opened with a two-man breakaway going clear just 17km in. Nazareno Rossi (Serramenti PVC Diquigiovanni-Androni Giocattoli) and Roberto Ferrari (LPR Brakes) gained nearly eight minutes before the CSF-Navigare team halved the gap. Lampre and Milram then took over, and on the long climb to Tuscolo the pair were caught.
On the second mountain prime, Masciarelli attacked, and was followed by Domenico Pozzovivo (CSF Navigare) and Valerio Agnoli (Liquigas). They were caught on the descent by a group with Ballan, which had split from the peloton on the climb. However, the LPR Brakes team brought the race back together with 18km to go. Scarponi launched his attack with 6km to go, but could not hold off the charge and was caught and countered by Masciarelli with 3km to go.
Photography
For a thumbnail gallery of these images, click here
Images by Roberto Bettini/www.bettiniphoto.net
Results - 196.0 km
1 Francesco Masciarelli (Ita) Acqua & Sapone - Caffe Mokambo              5.12.08 (38.06 km/h)
2 Filippo Pozzato (Ita) Liquigas                                             0.04
3 Danilo Di Luca (Ita) LPR Brakes-Ballan
4 Matteo Tosatto (Ita) Quick Step
5 Christian Pfannberger (Aut) Barloworld
6 Damiano Cunego (Ita) Lampre
7 Roger Beuchat (Swi) Serramenti PVC Diquigiovanni-Androni Giocattoli
8 Mauro Finetto (Ita) CSF Group Navigare
9 Francesco Failli (Ita) Acqua & Sapone - Caffe Mokambo
10 Stefano Garzelli (Ita) Acqua & Sapone - Caffe Mokambo
11 Serguei Klimov (Rus) Tinkoff Credit Systems
12 Luigi Sestili (Ita) Ceramica Flaminia Bossini Doce
13 Domenico Pozzovivo (Ita) CSF Group Navigare
14 Giovanni Visconti (Ita) Quick Step
15 Giampaolo Caruso (Ita) Ceramica Flaminia Bossini Docce                    0.15
16 Andry Grivko (Ukr) Team Milram
17 Pavel Brutt (Rus) Tinkoff Credit Systems
18 Luca Solari (Ita) Serramenti PVC Diquigiovanni-Androni Giocattoli
19 Juan Mauricio Soler (Col) Barloworld
20 Matej Jurco (Svk) Team Milram
21 Andrea Tonti (Ita) Quick Step
22 Danilo Hondo (Ger) Serramenti PVC Diquigiovanni-Androni Giocattoli
23 Gorazd Stangelj (Slo) Lampre
24 Valerio Agnoli (Ita) Liquigas                                             0.25
25 Marco Frapporti (Ita) CSF Group Navigare                                  0.26
26 Andrea Noè (Ita) Liquigas                                                 0.30
27 Michele Scarponi (Ita) Serramenti PVC Diquigiovanni-Androni Giocattoli    0.58
28 Leonardo Giordani (Ita) Ceramica Flaminia Bossini Doce
29 Andrea Masciarelli (Ita) Acqua & Sapone - Caffe Mokambo
30 Alessandro Ballan (Ita) Lampre
31 Sylvester Szmyd (Pol) Lampre
32 Federico Canuti (Ita) CSF Group Navigare
33 Massimo Codol (Ita) Acqua & Sapone - Caffe Mokambo
34 Julian Dario Atehortua Bedoya (Col) Ceramica Flaminia Bossini Doce
35 Filippo Simeoni (Ita) Ceramica Flaminia Bossini Doce                      1.18
36 Niklas Axelsson (Swe) Serramenti PVC Diquigiovanni-Androni Giocattoli
37 Vladimir Miholjevic (Cro) Liquigas
38 Fabio Taborre (Ita) Serramenti PVC Diquigiovanni-Androni Giocattoli
39 Kjell Carlström (Fin) Liquigas
40 Paolo Tiralongo (Ita) Lampre                                              1.47
41 Aleksandr Kuschynski (Blr) Liquigas
42 Tomasz Marczynski (Pol) Ceramica Flaminia Bossini Doce
43 Evgeny Petrov (Rus) Tinkoff Credit Systems                                2.07
44 Vincenzo Nibali (Ita) Liquigas
45 Charles Wegelius (GBr) Liquigas
46 Fabio Sabatini (Ita) Team Milram
47 Riccardo Chiarini (Ita) LPR Brakes-Ballan
48 Dainius Kairelis (Ltu) Ceramica Flaminia Bossini Doce
49 Paolo Bailetti (Ita) LPR Brakes-Ballan
50 Marco Marzano (Ita) Lampre
51 Giairo Ermeti (Ita) LPR Brakes-Ballan
52 Simone Masciarelli (Ita) Acqua & Sapone - Caffe Mokambo                   7.21
53 Luca Paolini (Ita) Acqua & Sapone - Caffe Mokambo
54 Enrico Gasparotto (Ita) Barloworld
55 Marco Corti (Ita) Barloworld                                              8.38
56 Daniele Pietropolli (Ita) LPR Brakes-Ballan                               8.47
57 Gabriele Bosisio (Ita) LPR Brakes-Ballan                                 10.12
58 Santo Anzà (Ita) Serramenti PVC Diquigiovanni-Androni Giocattoli
59 Alessandro Spezialetti (Ita) LPR Brakes-Ballan
60 Matej Mugerli (Slo) Liquigas
61 Mauro Santambrogio (Ita) Lampre
62 Marco Velo (Ita) Team Milram
63 Sergio Lagana' (Ita) LPR Brakes-Ballan
64 Sergio Ghisalberti (Ita) Team Milram
65 Alexander Efimkin (Rus) Quick Step
DNF Walter Proch (Ita) LPR Brakes-Ballan
DNF Roberto Ferrari (Ita) LPR Brakes-Ballan
DNF Massimiliano Gentili (Ita) Acqua & Sapone - Caffe Mokambo
DNF Luca Pierfelici (Ita) Acqua & Sapone - Caffe Mokambo
DNF John-Lee Augustyn (RSA) Barloworld
DNF Francesco Bellotti (Ita) Barloworld
DNF Gianpaolo Cheula (Ita) Barloworld
DNF Christopher Froome (Ken) Barloworld
DNF Adriano Angeloni (Ita) Ceramica Flaminia Bossini Doce
DNF Antonio d'Aniello (Ita) Ceramica Flaminia Bossini Doce
DNF Umberto Nardecchia (Ita) Ceramica Flaminia Bossini Doce
DNF Fortunato Baliani (Ita) CSF Group Navigare
DNF Francesco Tomei (Ita) CSF Group Navigare
DNF Ariel Maximiliano Richeze (Arg) CSF Group Navigare
DNF Jaroslaw Dabrowski (Pol) Lampre
DNF Daniele Righi (Ita) Lampre
DNF Emanuele Bindi (Ita) Lampre
DNF Mauro Facci (Ita) Quick Step
DNF Leonardo Scarselli (Ita) Quick Step
DNF Alessandro Proni (Ita) Quick Step
DNF Kevin Seeldraeyers (Bel) Quick Step
DNF Francesco Ginanni (Ita) Serramenti PVC Diquigiovanni-Androni Giocattoli
DNF Leonardo Moser (Ita) Serramenti PVC Diquigiovanni-Androni Giocattoli
DNF Nazareno Rossi (Swi) Serramenti PVC Diquigiovanni-Androni Giocattoli
DNF Luca Barla (Ita) Team Milram
DNF Martin Velits (Svk) Team Milram
DNF Brett Lancaster (Aus) Team Milram
DNF Ilya Chernetskiy (Rus) Tinkoff Credit Systems
DNF Alexander Serov (Rus) Tinkoff Credit Systems
DNF Mikhail Ignatiev (Rus) Tinkoff Credit Systems
DNF Alexander Khatuntsev (Rus) Tinkoff Credit Systems
DNF Ivan Rovny (Rus) Tinkoff Credit Systems
DNF Bernardo Riccio (Ita) Tinkoff Credit Systems

Past Winners
2007 Gabriele Bosisio (Ita) Tenax-Menikini           196.0km in 5.08.33
2006 Giuliano Figueras (Ita) Lampre - Fondital       196.0km in 5.12.14
2005 Filippo Pozzato (Ita) Quick Step                210km in 5.04.59
2004 Juan Antonio Flecha Giannoni (Spa) Fassa Bortolo
2003 Michele Bartoli (Ita) Fassa Bortolo
2002 Paolo Bettini (Ita) Mapei-Quick Step
2001 Massimo Donati (Ita) Tacconi Sport - Vini Caldirola
2000 Max Sciandri (Gbr)
1999 Sergio Barbero (Ita)
1998 Andrea Tafi (Ita)
1997 Alessandro Baronti (Ita)
1996 Andrea Tafi (Ita)
1995 Pascal Richard (Swi)
1994 Maurizio Fondriest (Ita)
1993 Pascal Richard (Swi)
1992 Gianni Bugno (Ita)
1991 Andrea Tafi (Ita)
1990 Maurizio Fondriest (Ita)
1989 Charly Mottet (Fra)
1988 Charly Mottet (Fra)
1987 Roberto Pagnin (Ita)
1986 Urs Zimmermann (Swi)
1985 Bruno Leali (Ita)
1984 Francesco Moser (Ita)
1983 Silvano Contini (Ita)
1982 Dag-Erik Pedersen (Nor)
1981 Gianbattista Baronchelli (Ita)
1980 Bernt Johansson (Swe)
1979 Silvano Contini (Ita)
1978 Francesco Moser (Ita)
1977 Francesco Moser (Ita)
1976 Roger De Vlaeminck (Bel)
1975 Roger De Vlaeminck (Bel)
1974 Roberto Poggiali (Ita)
1973 Giovanni Battaglin (Ita)
1972 Martin Van den Bossche (Bel)
1971 Franco Mori (Ita)
1970 Michele Dancelli (Ita)
1969 Falviano Vicentini (Ita)
1968 Giancarlo Polidori (Ita)
1967 Felice Gimondi (Ita)
1966 Michele Dancelli (Ita)
1965 Franco Bitossi (Ita)
1964 Bruno Mealli (Ita)
1963 Adriano Durante (Ita)
1962 Nino Defilippis (Ita)
1961 Bruno Mealli (Ita)
1960 Giuseppe Fallarini (Ita)
1959 Diego Ronchini (Ita)
1958 Nino Defilippis (Ita)
1957 Ercole Baldini (Ita)
1956 Fiorenzo Magni (Ita)
1955 Loretto Petrucci (Ita)
1954 Angelo Conterno (Ita)
1953 Giorgio Albani (Ita)
1952 Dante Rivola (Ita)
1951 Fiorenzo Magni (Ita)
1950 Annibal Brasola (Ita)
1949 Virgilio Salimbeni (Ita)
1948 Pitro Giudici (Ita) and Ugo Tognarelli (Ita)
1947 Michele Motta (Ita)
1946 Zoarino Guidi (Ita)
1945 Gino Bartali (Ita)
1943 Quirino Tocaccelli (Ita)
1942 Osvaldo Bailo (Ita)
1941 Adolfo Leoni (Ita)
1940 Gino Bartali (Ita)
1939 Mario Vicini (Ita)
1938 Cesare Del Cancia (Ita)
1937 Gino Bartali (Ita)
1936 Rinaldi Gerini (Ita)
1935 Giuseppe Martano (Ita)
1934 Renato Scorticati (Ita)
1933 Giovanni Valetti (Ita)
 
Past winners by Mario Stiehl, www.world-of-cycling.com