Tour of Hainan - 2.1 - 2.1
China, November 11-19, 2008
Main Page Results Overall standings Previous Stage Next Stage
Stage 5 - November 16: Chengmai - Danzhou, 171.2 km
Huff does the double
By Steve Thomas in Danzhou
USA's Bradley Huff (Jelly Belly) wins Tour of Hainan stage five
Photo ©: Guoqiang Song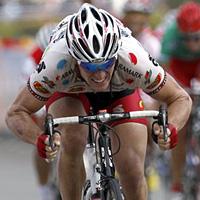 USA's Brad Huff of Team Jelly Belly took stage five honours in today's 171-kilometre stage of the Tour of Hainan. The 29-year-old Colorado-resident sprinted home in Danzhou to take his second stage victory of the race in yet another bunch sprint.
Just behind Huff was Japanese Olympic road race selection Takashi Miyazawa (Meitan Hompo), who is gradually finding his form in the race, and Giant Asia's Stefan Loffler, who has been consistently placing in the top six so far during this race.
The race was run off at a blistering 43.64kph, which pretty well assured that no attack was going to stay away on this, the last of the flat stages of the race. Notable by his absence was race leader Boris Shpilevskiy of Russia, who finished 29th, safely in the main pack behind race sprint archrival Huff. This is the first time that the speedy Russian finished outside of the first two spots on a stage, and it seemed he is gave himself and his Russian team train a 'rest day' – although they did a good job of controlling the race. The race hits the hills for the first time tomorrow and Shpilevskiy maybe thinking of saving powder.
Stage six runs over 135 kilometres between Danzhou and Changjiang and it is the first of the "hilly" stages of the tour. There are three climbs along the way; a second and third category climb early in the stage and then another 433-metre high second category climb at 63 kilometres. The final kilometre is also slightly uphill. Although these climbs are not major they could well be enough to shake up the general classification and, with a number of climbers and breakaway specialist lying within a minute of the lead, it's enough to make the so-far dominant Russians nervous enough to save their energy.
Photography
For a thumbnail gallery of these images, click here
Images by Guoqiang Song/Tour of Hainan
Images by Charlie Issendorf
Results
1 Bradley Huff (USA) Jelly Belly                                3.55.22 (43.643 km/h)
2 Takashi Miyazawa (Jpn) Meitan Hompo GDR                              
3 Stefan Löffler (Ger) Giant Asia Racing Team                          
4 Dale Scarfe (Aus) Panasonic                                          
5 Petr Lechner (Cze) Arbö KTM Junkers                                  
6 Ahmad Haidar Anuawar (Mas) Malaysia                                  
7 Valentin Iglinskiy (Kaz) Kazakhstani National Team                   
8 Xitao Ji (Chn) Chinese National Team                                 
9 Philipp Mamos (Ger) Team Sparkasse                                   
10 Anatoliy Pakhutsov (Ukr) Ukrainian National Team                    
11 Ruslan Tleubayev (Kaz) Kazakhstani National Team                    
12 Philip Nielsen (Den) Danish National Team                           
13 Andreas Schillinger (Ger) Team Sparkasse                            
14 Dmitriy Gruzdev (Kaz) Kazakhstani National Team                     
15 Blazej Janiaczyk (Pol) Polish National Team                         
16 Hassan Suhardi (Mas) Malaysia                                       
17 Daniel Kreutzfeldt (Den) Danish National Team                       
18 Miyataka Shimizu (Jpn) Meitan Hompo GDR                             
19 Yuri Metlushenko (Ukr) Ukrainian National Team                      
20 Zainal Mohammed Nor Rizuaht (Mas) Malaysia                          
21 Chun Hing Chan (HKg) Hongta Hong Kong                               
22 Chi Shek Chui (HKg) Hongta Hong Kong                                
23 Lars Pria (Rom) Cosmote Kastro                                      
24 Martin Lollesgaard (Den) Danish National Team                       
25 Christoph Springer (Ger) Cosmote Kastro                             
26 Erik Hoffmann (Ger) Giant Asia Racing Team                          
27 Serguei Koudentsov (Rus) Trek Marco Polo                            
28 Henrik Wolter (Ger) Cosmote Kastro                                  
29 Boris Shpilevsky (Rus) Russian National Team                        
30 Kuei Shiang Peng (Tpe) Giant Asia Racing Team                       
31 Jai Crawford (Aus) Trek Marco Polo                                  
32 Loic Muhlemann (Swi) Swiss National Team                            
33 Shaun Morris (Aus) Panasonic                                        
34 Yevgeniy Sladkov (Kaz) Kazakhstani National Team                    
35 Artem Timofeev (Rus) Polygon Sweet Nice                             
36 Hannes Grundlinger (Aut) Arbö KTM Junkers                           
37 Mohammed Zamri Saleh (Mas) Malaysia                                 
38 David McCann (Irl) Giant Asia Racing Team                           
39 Jin Long (Chn) Chinese National Team                                
40 Kin San Wu (HKg) Hongta Hong Kong                                   
41 Steve Zampieri (Swi) Swiss National Team                            
42 Michael Christensen (Den) Danish National Team                      
43 Siu Wai Ko (HKg) Hongta Hong Kong                                   
44 Bernard Van Ulden (USA) Jelly Belly                             0.07
45 Sergey Firsanov (Rus) Russian National Team                         
46 Herwin Jaya (Ina) Polygon Sweet Nice                                
47 Jacob Nielsen (Den) Danish National Team                            
48 Igor Boev (Rus) Russian National Team                               
49 Mariusz Witecki (Pol) Polish National Team                          
50 Kiel Reijnen (USA) Jelly Belly                                      
51 Jacek Morajko (Pol) Polish National Team                            
52 Peter John Herzig (Aus) Panasonic                                   
53 Amir Zargari (IRI) Tabriz Petrochemical Team                        
54 Vahid Ghaffari (IRI) Tabriz Petrochemical Team                      
55 Volodymyr Starchyk (Ukr) Ukrainian National Team                    
56 Nariyuki Masuda (Jpn) Meitan Hompo GDR                              
57 Pawel Cieslik (Pol) Polish National Team                            
58 Wojciech Dybel (Pol) Polish National Team                           
59 Mehdi Faridi (IRI) Tabriz Petrochemical Team                        
60 Sergiy Matveev (Ukr) Ukrainian National Team                        
61 Dirk Müller (Ger) Team Sparkasse                                    
62 Nicholas Reistad (USA) Jelly Belly                                  
63 Hossein Jahanbanian (IRI) Tabriz Petrochemical Team                 
64 Poiotr Osinski (Pol) Polish National Team                           
65 Stefan Poll (Aut) Arbö KTM Junkers                                  
66 Benjamin Baumgartner (Swi) Swiss National Team                      
67 Yan Dong Xing (Chn) Trek Marco Polo                                 
68 Chun Kai Feng (Tpe) Chinese Taipei                                  
69 Fuyu Li (Chn) Trek Marco Polo                                       
70 Jianhua Ji (Chn) Chinese National Team                              
71 Masaaki Kikuchi (Jpn) Meitan Hompo GDR                              
72 Alexsandr Dyachenko (Kaz) Kazakhstani National Team                 
73 Sergey Renev (Kaz) Kazakhstani National Team                        
74 Rongxi Zou (Chn) Chinese National Team                              
75 Oleksandr Polyvoda (Ukr) Ukrainian National Team                    
76 Kris Koke (Aus) Panasonic                                           
77 Hossein Askari (IRI) Tabriz Petrochemical Team                      
78 Oleksandr Nykolenko (Ukr) Ukrainian National Team                   
79 Jan Barta (Cze) Arbö KTM Junkers                                    
80 Ghader Mizbani Iranagh (IRI) Tabriz Petrochemical Team              
81 Alex Coutts (GBr) Giant Asia Racing Team                            
82 Kuan Hua Lai (Tpe) Chinese Taipei                                   
83 Lars Wackernagel (Ger) Team Sparkasse                               
84 Anton Afonin (Rus) Russian National Team                            
85 Cheng Ji (Chn) Chinese National Team                                
86 Mateusz Taciak (Pol) Polish National Team                           
87 Feng Han (Chn) Trek Marco Polo                                      
88 Ronald Yin Hon Yeung (HKg) Hongta Hong Kong                     0.17
89 Chris Jory (Aus) Panasonic                                          
90 Evgeny Bakhin (Rus) Russian National Team                           
91 Baoqing Song (Chn) Chinese National Team                            
92 Shinichi Fukushima (Jpn) Meitan Hompo GDR                           
93 Yilin Liu (Chn) Trek Marco Polo                                     
94 Peter Andres (Swi) Swiss National Team                              
95 Sea Keong Loh (Mas) Trek Marco Polo                             0.20
96 Richard Faltus (Cze) Team Sparkasse                                 
97 Valeriy Dmitriyev (Kaz) Kazakhstani National Team                   
98 Jiri Skrobanek (Cze) Cosmote Kastro                             0.25
99 Timothy Guy (Aus) Panasonic                                         
100 Hari Fitrianto (Ina) Polygon Sweet Nice                        0.32
101 Vadim Maslennikov (Rus) Russian National Team                  0.37
102 Wei Chieh Liu (Tpe) Chinese Taipei                             0.39
103 Shuai Chun Chiang (Tpe) Chinese Taipei                             
104 Luke Cridland (Aus) Panasonic                                  0.54
105 Matt Rice (Aus) Jelly Belly                                    0.57
106 Guo Hui (Chn) Chinese National Team                            0.07
107 Fan Hsin Chu (Tpe) Chinese Taipei                              1.16
108 Mykhailo Kononenko (Ukr) Ukrainian National Team               1.29
109 Oleg Usanin (Rus) Russian National Team                        1.48
110 Charles Xavier (Swi) Swiss National Team                           
111 Hsin Hua Huang (Tpe) Chinese Taipei                           24.40
DNS Kwok Ho Ting (HKg) Hongta Hong Kong                                
DNF Thomas Rodios (Gre) Cosmote Kastro                                 
DNF Lukas Winter (Aut) Arbö KTM Junkers                                
 
Points
 
Sprint 1
1 Ronald Yin Hon Yeung (HKg) Hongta Hong Kong                         5 pts
2 Poiotr Osinski (Pol) Polish National Team                           3
3 Kris Koke (Aus) Panasonic                                           1
 
Sprint 2
1 Peter John Herzig (Aus) Panasonic                                   5 pts
2 Jacek Morajko (Pol) Polish National Team                            3
3 Stefan Löffler (Ger) Giant Asia Racing Team                         1
 
Sprint 3
1 Timothy Guy (Aus) Panasonic                                         5 pts
2 Jacek Morajko (Pol) Polish National Team                            3
3 Andreas Schillinger (Ger) Team Sparkasse                            1
 
Finish
1 Bradley Huff (USA) Jelly Belly                                     14 pts
2 Takashi Miyazawa (Jpn) Meitan Hompo GDR                            12
3 Stefan Löffler (Ger) Giant Asia Racing Team                        10
4 Dale Scarfe (Aus) Panasonic                                         8
5 Petr Lechner (Cze) Arbö KTM Junkers                                 6
6 Ahmad Haidar Anuawar (Mas) Malaysia                                 5
7 Valentin Iglinskiy (Kaz) Kazakhstani National Team                  4
8 Xitao Ji (Chn) Chinese National Team                                3
9 Philipp Mamos (Ger) Team Sparkasse                                  2
10 Anatoliy Pakhutsov (Ukr) Ukrainian National Team                   1
 
Mountains
 
KOM 1 (Cat.3)
1 Valeriy Dmitriyev (Kaz) Kazakhstani National Team                   3 pts
2 Jacek Morajko (Pol) Polish National Team                            2
3 Erik Hoffmann (Ger) Giant Asia Racing Team                          1
 
Teams
 
1 Kazakhstan National Team                                     11.46.06
2 Malaysian National Team                                              
3 Danish National Team                                                 
4 Giant Asia Racing                                                    
5 Cosmote Kastro                                                       
6 Hongta Hong Kong                                                     
7 Meitan Hompo GDR                                                 0.07
8 Team Sparkasse                                                       
9 Ukrainian National Team                                              
10 Panasonic                                                           
11 Arbö KTM Junkers                                                    
12 Chinese National Team                                               
13 Trek Marco Polo                                                     
14 Swiss National Team                                                 
15 Jelly Belly                                                     0.14
16 Polish National Team                                                
17 Russian National Team                                               
18 Tabriz Petrochemical                                            0.21
19 Polygon Sweet Nice                                              0.39
20 Chinese Taipei                                                  0.53
 
Asian team
 
1 Kazakhstan National Team                                     11.46.06
2 Malaysian National Team                                              
3 Hongta Hong Kong                                                     
4 Meitan Hompo GDR                                                 0.07
5 Chinese National Team                                                
6 Tabriz Petrochemical                                             0.21
7 Trek Marco Polo                                                      
8 Chinese Taipei                                                   0.53
 
General classification after stage 5    
 
1 Boris Shpilevsky (Rus) Russian National Team                 19.23.10
2 Andreas Schillinger (Ger) Team Sparkasse                         0.38
3 Dmitriy Gruzdev (Kaz) Kazakhstani National Team                  0.42
4 David McCann (Irl) Giant Asia Racing Team                        0.43
5 Michael Christensen (Den) Danish National Team                   0.46
6 Bradley Huff (USA) Jelly Belly                                   0.51
7 Blazej Janiaczyk (Pol) Polish National Team                      0.53
8 Kiel Reijnen (USA) Jelly Belly                                   0.59
9 Mariusz Witecki (Pol) Polish National Team                       1.02
10 Jacek Morajko (Pol) Polish National Team                        1.04
11 Amir Zargari (IRI) Tabriz Petrochemical Team                    1.10
12 Philipp Mamos (Ger) Team Sparkasse                              1.25
13 Yevgeniy Sladkov (Kaz) Kazakhstani National Team                    
14 Takashi Miyazawa (Jpn) Meitan Hompo GDR                         1.29
15 Anatoliy Pakhutsov (Ukr) Ukrainian National Team                1.36
16 Alexsandr Dyachenko (Kaz) Kazakhstani National Team             1.39
17 Jacob Nielsen (Den) Danish National Team                        1.41
18 Wojciech Dybel (Pol) Polish National Team                       1.42
19 Martin Lollesgaard (Den) Danish National Team                   1.48
20 Peter Andres (Swi) Swiss National Team                          1.53
21 Bernard Van Ulden (USA) Jelly Belly                             2.01
22 Alex Coutts (GBr) Giant Asia Racing Team                        2.13
23 Lars Wackernagel (Ger) Team Sparkasse                           2.14
24 Mateusz Taciak (Pol) Polish National Team                       2.19
25 Philip Nielsen (Den) Danish National Team                       2.23
26 Valentin Iglinskiy (Kaz) Kazakhstani National Team              3.13
27 Jan Barta (Cze) Arbö KTM Junkers                                    
28 Erik Hoffmann (Ger) Giant Asia Racing Team                      3.14
29 Petr Lechner (Cze) Arbö KTM Junkers                             3.15
30 Yuri Metlushenko (Ukr) Ukrainian National Team                  3.17
31 Jai Crawford (Aus) Trek Marco Polo                              3.20
32 Poiotr Osinski (Pol) Polish National Team                           
33 Oleksandr Polyvoda (Ukr) Ukrainian National Team                3.21
34 Peter John Herzig (Aus) Panasonic                               3.22
35 Nicholas Reistad (USA) Jelly Belly                              3.25
36 Nariyuki Masuda (Jpn) Meitan Hompo GDR                          3.28
37 Volodymyr Starchyk (Ukr) Ukrainian National Team                3.29
38 Masaaki Kikuchi (Jpn) Meitan Hompo GDR                          3.31
39 Ghader Mizbani Iranagh (IRI) Tabriz Petrochemical Team          3.32
40 Chun Hing Chan (HKg) Hongta Hong Kong                               
41 Oleksandr Nykolenko (Ukr) Ukrainian National Team               3.33
42 Stefan Poll (Aut) Arbö KTM Junkers                                  
43 Hossein Jahanbanian (IRI) Tabriz Petrochemical Team                 
44 Baoqing Song (Chn) Chinese National Team                        3.34
45 Hossein Askari (IRI) Tabriz Petrochemical Team                      
46 Rongxi Zou (Chn) Chinese National Team                              
47 Chris Jory (Aus) Panasonic                                      3.35
48 Guo Hui (Chn) Chinese National Team                             3.37
49 Anton Afonin (Rus) Russian National Team                        3.39
50 Igor Boev (Rus) Russian National Team                           3.40
51 Mehdi Faridi (IRI) Tabriz Petrochemical Team                    3.41
52 Sea Keong Loh (Mas) Trek Marco Polo                             3.52
53 Sergiy Matveev (Ukr) Ukrainian National Team                    5.02
54 Miyataka Shimizu (Jpn) Meitan Hompo GDR                         5.44
55 Daniel Kreutzfeldt (Den) Danish National Team                   8.41
56 Xitao Ji (Chn) Chinese National Team                           16.52
57 Shaun Morris (Aus) Panasonic                                   19.18
58 Zainal Mohammed Nor Rizuaht (Mas) Malaysia                     19.20
59 Kris Koke (Aus) Panasonic                                      19.23
60 Jianhua Ji (Chn) Chinese National Team                         19.29
61 Stefan Löffler (Ger) Giant Asia Racing Team                    19.30
62 Yan Dong Xing (Chn) Trek Marco Polo                            19.32
63 Chun Kai Feng (Tpe) Chinese Taipei                             19.34
64 Fuyu Li (Chn) Trek Marco Polo                                  19.36
65 Steve Zampieri (Swi) Swiss National Team                            
66 Dirk Müller (Ger) Team Sparkasse                                    
67 Feng Han (Chn) Trek Marco Polo                                 19.37
68 Loic Muhlemann (Swi) Swiss National Team                       19.41
69 Sergey Renev (Kaz) Kazakhstani National Team                   19.43
70 Herwin Jaya (Ina) Polygon Sweet Nice                           19.45
71 Timothy Guy (Aus) Panasonic                                    19.46
72 Lars Pria (Rom) Cosmote Kastro                                 19.47
73 Mohammed Zamri Saleh (Mas) Malaysia                            19.48
74 Ronald Yin Hon Yeung (HKg) Hongta Hong Kong                         
75 Kin San Wu (HKg) Hongta Hong Kong                              19.49
76 Siu Wai Ko (HKg) Hongta Hong Kong                              19.50
77 Hassan Suhardi (Mas) Malaysia                                  19.51
78 Pawel Cieslik (Pol) Polish National Team                            
79 Vadim Maslennikov (Rus) Russian National Team                  19.55
80 Jin Long (Chn) Chinese National Team                                
81 Shinichi Fukushima (Jpn) Meitan Hompo GDR                      19.56
82 Henrik Wolter (Ger) Cosmote Kastro                             19.58
83 Benjamin Baumgartner (Swi) Swiss National Team                      
84 Richard Faltus (Cze) Team Sparkasse                            20.01
85 Cheng Ji (Chn) Chinese National Team                           20.03
86 Ahmad Haidar Anuawar (Mas) Malaysia                            20.05
87 Yilin Liu (Chn) Trek Marco Polo                                20.21
88 Hari Fitrianto (Ina) Polygon Sweet Nice                        20.23
89 Luke Cridland (Aus) Panasonic                                  20.34
90 Matt Rice (Aus) Jelly Belly                                    20.40
91 Mykhailo Kononenko (Ukr) Ukrainian National Team               21.06
92 Valeriy Dmitriyev (Kaz) Kazakhstani National Team              21.16
93 Christoph Springer (Ger) Cosmote Kastro                        21.42
94 Charles Xavier (Swi) Swiss National Team                       22.57
95 Ruslan Tleubayev (Kaz) Kazakhstani National Team               24.14
96 Serguei Koudentsov (Rus) Trek Marco Polo                       24.19
97 Artem Timofeev (Rus) Polygon Sweet Nice                        24.24
98 Hannes Grundlinger (Aut) Arbö KTM Junkers                      24.27
99 Sergey Firsanov (Rus) Russian National Team                    24.28
100 Evgeny Bakhin (Rus) Russian National Team                     24.30
101 Kuei Shiang Peng (Tpe) Giant Asia Racing Team                 24.33
102 Kuan Hua Lai (Tpe) Chinese Taipei                             24.36
103 Vahid Ghaffari (IRI) Tabriz Petrochemical Team                24.43
104 Chi Shek Chui (HKg) Hongta Hong Kong                          24.48
105 Wei Chieh Liu (Tpe) Chinese Taipei                            25.05
106 Shuai Chun Chiang (Tpe) Chinese Taipei                        25.08
107 Jiri Skrobanek (Cze) Cosmote Kastro                           25.13
108 Dale Scarfe (Aus) Panasonic                                   25.29
109 Fan Hsin Chu (Tpe) Chinese Taipei                             25.50
110 Oleg Usanin (Rus) Russian National Team                       27.11
111 Hsin Hua Huang (Tpe) Chinese Taipei                           49.12
 
Points classification
 
1 Boris Shpilevsky (Rus) Russian National Team                       69 pts
2 Bradley Huff (USA) Jelly Belly                                     38
3 Stefan Löffler (Ger) Giant Asia Racing Team                        37
4 Andreas Schillinger (Ger) Team Sparkasse                           36
5 Takashi Miyazawa (Jpn) Meitan Hompo GDR                            23
6 Yuri Metlushenko (Ukr) Ukrainian National Team                     20
7 Dale Scarfe (Aus) Panasonic                                        19
8 Jacek Morajko (Pol) Polish National Team                           18
9 Petr Lechner (Cze) Arbö KTM Junkers                                18
10 David McCann (Irl) Giant Asia Racing Team                         16
11 Fuyu Li (Chn) Trek Marco Polo                                     11
12 Ahmad Haidar Anuawar (Mas) Malaysia                               11
13 Blazej Janiaczyk (Pol) Polish National Team                       10
14 Valentin Iglinskiy (Kaz) Kazakhstani National Team                 9
15 Serguei Koudentsov (Rus) Trek Marco Polo                           9
16 Yan Dong Xing (Chn) Trek Marco Polo                                8
17 Shinichi Fukushima (Jpn) Meitan Hompo GDR                          8
18 Amir Zargari (IRI) Tabriz Petrochemical Team                       8
19 Philipp Mamos (Ger) Team Sparkasse                                 8
20 Dmitriy Gruzdev (Kaz) Kazakhstani National Team                    7
21 Kiel Reijnen (USA) Jelly Belly                                     6
22 Oleksandr Polyvoda (Ukr) Ukrainian National Team                   5
23 Peter John Herzig (Aus) Panasonic                                  5
24 Timothy Guy (Aus) Panasonic                                        5
25 Ronald Yin Hon Yeung (HKg) Hongta Hong Kong                        5
26 Philip Nielsen (Den) Danish National Team                          5
27 Sergiy Matveev (Ukr) Ukrainian National Team                       5
28 Miyataka Shimizu (Jpn) Meitan Hompo GDR                            4
29 Xitao Ji (Chn) Chinese National Team                               4
30 Shaun Morris (Aus) Panasonic                                       4
31 Poiotr Osinski (Pol) Polish National Team                          3
32 Michael Christensen (Den) Danish National Team                     2
33 Mariusz Witecki (Pol) Polish National Team                         2
34 Kris Koke (Aus) Panasonic                                          2
35 Mohammed Zamri Saleh (Mas) Malaysia                                2
36 Anatoliy Pakhutsov (Ukr) Ukrainian National Team                   1
37 Lars Pria (Rom) Cosmote Kastro                                     1
 Igor Boev (Rus) Russian National Team                                 
 
Mountains classification
 
1 Valeriy Dmitriyev (Kaz) Kazakhstani National Team                   3 pts
2 Jacek Morajko (Pol) Polish National Team                            2
3 Erik Hoffmann (Ger) Giant Asia Racing Team                          1
 
Asian general classification
 
1 Dmitriy Gruzdev (Kaz) Kazakhstani National Team              19.23.52
2 Amir Zargari (IRI) Tabriz Petrochemical Team                     0.28
3 Yevgeniy Sladkov (Kaz) Kazakhstani National Team                 0.43
4 Takashi Miyazawa (Jpn) Meitan Hompo GDR                          0.47
5 Alexsandr Dyachenko (Kaz) Kazakhstani National Team              0.57
6 Valentin Iglinskiy (Kaz) Kazakhstani National Team               2.31
7 Nariyuki Masuda (Jpn) Meitan Hompo GDR                           2.46
8 Masaaki Kikuchi (Jpn) Meitan Hompo GDR                           2.49
9 Ghader Mizbani Iranagh (IRI) Tabriz Petrochemical Team           2.50
10 Chun Hing Chan (HKg) Hongta Hong Kong                               
11 Hossein Jahanbanian (IRI) Tabriz Petrochemical Team             2.51
12 Baoqing Song (Chn) Chinese National Team                        2.52
13 Hossein Askari (IRI) Tabriz Petrochemical Team                      
14 Rongxi Zou (Chn) Chinese National Team                              
15 Guo Hui (Chn) Chinese National Team                             2.55
16 Mehdi Faridi (IRI) Tabriz Petrochemical Team                    2.59
17 Sea Keong Loh (Mas) Trek Marco Polo                             3.10
18 Miyataka Shimizu (Jpn) Meitan Hompo GDR                         5.02
19 Xitao Ji (Chn) Chinese National Team                           16.10
20 Zainal Mohammed Nor Rizuaht (Mas) Malaysia                     18.38
21 Jianhua Ji (Chn) Chinese National Team                         18.47
22 Yan Dong Xing (Chn) Trek Marco Polo                            18.50
23 Chun Kai Feng (Tpe) Chinese Taipei                             18.52
24 Fuyu Li (Chn) Trek Marco Polo                                  18.54
25 Feng Han (Chn) Trek Marco Polo                                 18.55
26 Sergey Renev (Kaz) Kazakhstani National Team                   19.01
27 Herwin Jaya (Ina) Polygon Sweet Nice                           19.03
28 Mohammed Zamri Saleh (Mas) Malaysia                            19.06
29 Ronald Yin Hon Yeung (HKg) Hongta Hong Kong                         
30 Kin San Wu (HKg) Hongta Hong Kong                              19.07
31 Siu Wai Ko (HKg) Hongta Hong Kong                              19.08
32 Hassan Suhardi (Mas) Malaysia                                  19.09
33 Jin Long (Chn) Chinese National Team                           19.13
34 Shinichi Fukushima (Jpn) Meitan Hompo GDR                      19.14
35 Cheng Ji (Chn) Chinese National Team                           19.21
36 Ahmad Haidar Anuawar (Mas) Malaysia                            19.23
37 Yilin Liu (Chn) Trek Marco Polo                                19.39
38 Hari Fitrianto (Ina) Polygon Sweet Nice                        19.41
39 Valeriy Dmitriyev (Kaz) Kazakhstani National Team              20.34
40 Ruslan Tleubayev (Kaz) Kazakhstani National Team               23.32
41 Kuei Shiang Peng (Tpe) Giant Asia Racing Team                  23.51
42 Kuan Hua Lai (Tpe) Chinese Taipei                              23.54
43 Vahid Ghaffari (IRI) Tabriz Petrochemical Team                 24.01
44 Chi Shek Chui (HKg) Hongta Hong Kong                           24.06
45 Wei Chieh Liu (Tpe) Chinese Taipei                             24.23
46 Shuai Chun Chiang (Tpe) Chinese Taipei                         24.26
47 Fan Hsin Chu (Tpe) Chinese Taipei                              25.08
48 Hsin Hua Huang (Tpe) Chinese Taipei                            48.30
 
Teams classification
 
1 Polish National Team                                         58.12.43
2 Kazakhstan National Team                                         0.14
3 Danish National Team                                             0.46
4 Jelly Belly                                                      1.02
5 Team Sparkasse                                                   1.06
6 Ukrainian National Team                                          2.34
7 Meitan Hompo GDR                                                 2.52
8 Giant Asia Racing                                                2.55
9 Russian National Team                                            4.32
10 Tabriz Petrochemical                                            5.02
11 Arbö KTM Junkers                                                6.29
12 Chinese National Team                                           6.50
13 Panasonic                                                      22.48
14 Trek Marco Polo                                                22.51
15 Swiss National Team                                            37.38
16 Hongta Hong Kong                                               39.25
17 Malaysian National Team                                        55.46
18 Cosmote Kastro                                                 56.00
19 Polygon Sweet Nice                                           1.01.19
20 Chinese Taipei                                               1.05.58
 
Asian team classification 
 
1 Kazakhstan National Team                                     58.12.57
2 Meitan Hompo GDR                                                 2.38
3 Tabriz Petrochemical                                             4.48
4 Chinese National Team                                            6.36
5 Trek Marco Polo                                                 39.09
6 Hongta Hong Kong                                                39.11
7 Malaysian National Team                                         55.32
8 Chinese Taipei                                                1.05.44