Tour of Somerville - NE
Somerville, USA, May 26, 2008
2007 Results Results Past Winners
Colavita/Sutter Home double up in Somerville
Haedo proves fastest sprinter
By Kirsten Robbins in Somerville, New Jersey
Sebastian Haedo (Colavita\Sutter Home) takes the prize
Photo ©: Todd Leister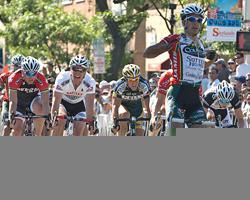 Colavita/Sutter Home surprised its sponsor-filled audience with a gripping finale when Sebastian Haedo and team-mate Kyle Wamsley stormed to the finish line to take a convincing victory. The Colavita/Sutter Home duo stormed across the line ahead of cyclo-cross talent Jonathan Page (Batley-Harley Davidson).
"I'm very happy because this was a very important race for us, for our sponsors Colavita and John Profaci, it was a race that we really wanted to win this year," said Haedo. "In the moment that we knew it was going to be a field sprint we knew it was possible to win."
The Tour of Somerville adds to the team's nearly 20 victories in the 2008 season, an accomplishment that Haedo attributes to the supportive atmosphere and team chemistry.
"This team has always been able to bring me to the line for a good sprint and we are always capable to win," said Haedo. "I have a lot of faith in my team when it is time for a lead out. The last few times we have done a field sprint and they have never made any mistakes. So I trust my team and knew they were going to do it again today."
Strong winds played a factor in the professional men's 80 kilometre criterium. Gusting crosswinds blew through the circuit's lengthy finishing straight.
The Kelly Benefit Strategies/Medifast team highlighted the event with multiple solo flyers, forcing the competition to burn their matches early on. Small separations gaining less than 10 seconds formed and continued to reshuffle riders from Mengoni, Empire and Team Type 1. With 15 laps to go Time Pro Cycling worked with Inferno and Colavita/Sutter Home to pull the separations back together.
Racers hoping for a podium spot had better get a ticket
Photo ©: Todd Leister

Wamsley admitted that his team covered several breakaways but its main plan for the event was to show off its sprint prowess in the finale. "I'm glad to have Sebastian and I up here on the podium," said Wamsley, a former Tour of Somerville winner himself. "Our team-mates did a fantastic job today covering all the moves and they made sure Sebastian and I didn't have to do any work today. They took control of the race in the last two laps and into the sprint - it was perfect."
With two laps to go Kelly Benefit Strategies attempted to throw off the organized lead-out trains and let loose a flurry of attacks. Haedo noted the attacks that forced his lead-out to pick up speed in order to hold the field together.
"It was a little dangerous with five laps to go, fast and teams were fighting to be near the front," said Haedo. "My team was working for me in the last lap and there were a lot of attacks, even in the last four hundred meters but my team held it together and took me to the line.
Men's podium (L-R): Kyle Wamsley (Colavita\Sutter Home), Sebastian Haedo
Photo ©: Todd Leister

"I'm happy with this result because my brother did a good job when he raced in the USA and I want to try my best to do well here too," he said.
The day's criterium marked American cyclo-cross racer Jonathan Page's third road race of the 2008 season. Page's off-road ability proved handy on the day, negotiating his way through several crashes on the course.
"I'm happy to have kept it upright today," said the 2007 world cyclo-cross silver medallist. "I'd like to think my cross skills help me when races are dangerous like today, but I really just tried to stay out of harms way. I started my sprint 450 meters by myself and hoped for the best. I came up a bit short in the end but third is better than nothing."
Page will continue competing for Batley-Harley Davidson throughout the American summer. "They've given me good support," said Page, who will no longer be competing for the previous Sun Web cyclo-cross team.
"I have a whole new trainer and I'm using these races for training," he added. "I've done less racing so far this year but I feel like I'm in better condition. I'm happy and my family is happy and doing well so that makes a big difference to my performances."
Pic on a role
Tina Pic (Colavita\Sutter Home) out-sprints Kelly Benjamin (Cheerwine)
Photo ©: Todd Leister

Current United States of America Criterium Champion Tina Pic (Colavita/Sutter Home) added another win to her criterium winning streak. Pic out-sprinted Kelly Benjamin (Cheerwine) and Erica Allar (Aaron's) in a 600 metre drag race to the finish.
"My team did everything today, they are so good, they just go out there and pull and pull and pull," said Pic, who attributed her season's eighth victory to her team's dedication.
"It's a very big race for us," added Pic. "I didn't have good position at all, especially with one lap to go. But that's the thing about this course, it's a bit dangerous and so all you can really do is move out into the wind and go up the sides to get to the front, that's what I did - I moved my self up some how."
The women's 20 mile criterium started at high speeds, typical for the event where each team expended a large amount of energy jumping with little success. Second placed Benjamin noted the layout of the course that would inevitably prevent a break from gaining any real significant time.
"Going into the race we were out numbered so we went into it conservative," said Benjamin. "That race was so short it seemed like it was over before it started. There are no real corners and a lot of wind so it is hard for something to get away. We tried to stay up front but not waste our energy in a break and our plan was for a field sprint."
Colavita, Cheerwine and Team Tibco controled the race,
Photo ©: Todd Leister

Colavita/Sutter Home used its numbers to begin an organised lead-out that started with three laps to go.
"They had so many riders, we expected their lead out to start early," said Benjamin. "There was just four of us and they had control from three laps to go. We were lined up sort of behind waiting for them to get tired. We wanted a later run at the line, later than normal given that it was so long from the last corner to the finish line."
Cheerwine riders Catherine Cheatley and Laura Van Gilder took control on the last lap, a wealth of power donated to Benjamin's final sprint. "Laura went with 500 metres to go and I jumped off her wheel and trust me when Laura is going, she's going and it's not easy for anyone to come around her," said Benjamin.
"It was the hardest sprint I've ever done and I think her effort ensured my second place," she added. "But, I came off Laura and tried to hold on for dear life while I watched Tina go by me."
Pic has shown impeccable stamina when it comes to many types of sprinting variables. Whether she is up against a course littered with technical corners or given a lengthy runway, Pic's sights on the finish line are not often interrupted.
"You have to keep fighting in this race because the race keeps swarming and swarming and it's really hard to hold position," noted Pic. "I came into the last corner around fourth, close to Laura VanGilder. Erica Allar jumped and all I could think was 'boy that finishing sign is still awfully small way up there', so I stayed where I reacted a little later.
"I knew that I had to go eventually anyway because if not I would have gotten stuffed on the side," she added.
Photography
For a thumbnail gallery of these images, click here
Images by Todd Leister/leister.smugmug.com
Images by Marco Quezada/nyvelocity.com
Results
Pro men



1 Lucas Sebastian Haedo (Colavita Sutter Home p/b Cooking Light)
2 Kyle Wamsley (Colavita Sutter Home p/b Cooking Light)
3 Jonathan Page (Battley Harley-Davidson/Sonoma)
4 Hayden Godfrey (Team Inferno Pro Cycling)
5 Martin Gilbert (Kelly Benefit Strategies/Medif)
6 Maxime Vives (Calyon Pro Cycling Team)
7 Jacob Keough (CRCA/Sakonnet)
8 Ward Solar (NERAC)
9 Stephan Kincaid (Rite Aid pb Shebell & Shebell)
10 Emile Abraham (Team Type 1)
11 Esteban Jukich (Richmond Pro Cycling)
12 Russell Langley (Battley Harley-Davidson/Sonoma)
13 Jesse Anthony (Team Type 1)
14 Sheldon Deeny (CRCA / Empire Cycling Team)
15 Anibal Borrajo (Colavita Sutter Home p/b Cooking Light)
16 Brian Butts (Battley Harley-Davidson/Sonoma)
17 Ben Brooks (Team Type 1)
18 Jason Walters (Metra / Victor Homes / MHP)
19 Eric Schildge (Fiordifrutta)
20 Michael Friedman (Team Slipstream Powered By Chi)
21 Anthony Taylor (Targetraining)
22 Lisban Quintero (CRCA/Foundation)
23 Joao Correia (Bissell Pro Cycling Team)
24 Cheyne Hoag (CRCA/Sakonnet)
25 Eneas Freyre (Targetraining)
26 Jermain Burrowes (WS United/Sheepshead Cycle)
27 Matthew Johnson (CRCA / Empire Cycling Team)
28 David Martin (Northeastern hardware)
29 Charles Hutcheson (Battley Harley-Davidson/Sonoma)
30 David Bozak (Clean Currents p/b Don Beyer V)
31 Scott Bodin (Targetraining)
32 Stalin Quiterio (Mauricio Baez)
33 Yamil Montano Villarroel (Battley Harley-Davidson/Sonoma)
34 Stephen Delisle (Richmond Pro Cycling)
35 Craig Dodson (Richmond Pro Cycling)
36 Jared Babik (Penn State Hershey Cancer Institute)
37 Louis Schimmel (Northeastern Hardware/CJCT)
38 Michael Cody (Jelly Belly Cycling Team)
39 Fabio Calabria (Team Type 1)
40 Sean O'Rourke (Kenda/Raleigh Cycling Team)
41 Tim Hucker (garneau-crocs)
42 Adam Branfman (IF/FT pb Lionette's)
43 Bobby Lea (Rite Aid pb Shebell & Shebell)
44 David Guttneplan (Time Pro Cycling)
45 Martin Lechowicz (CRCA/Foundation)
46 Adam Myerson (Time Pro Cycling)
47 Colin Sandberg (Penn State Hershey Cancer Institute)
48 Andrew Guptill (Colavita Sutter Home p/b Cooking Light)
49 Luis Alberto Romero Amaran (Colavita Sutter Home p/b Cooking Light)
50 Evan Fader (Battley Harley-Davidson/Sonoma)
51 Salvatore Scotto Divetta (Sommerville sports)
52 Valeriy Kobzarenko (Team Type 1)
53 Ryan Mele (Richmond Pro Cycling)
54 Nick Frey (Time Pro Cycling)
55 Guillaume Nelessen (VanDessel Factory)
56 Roselvert Marte Quezada (GS Mengoni)
57 Colin Jaskiewicz (CCB/Volkswagen)
58 Keven Lacombe (Kelly Benefit Strategies/Medif)
59 Lee Rosenthal (Targetraining)
60 Gerardo Castro (Richmond Pro Cycling)
61 John Durso (Ofoto)
62 Stephan Dioslaki (Metra/Victor Homes/MHP)
63 Jason Snow (Metra/wendys/pb victor homes)
64 Ryan Baumann (CRCA/Sakonnet)
65 Peter Ladd (garneau-crocs)
66 Turner Johnson (Penn State Hershey Cancer Institute)
67 Michael Norton (Calyon Pro Cycling Team)
68 Jeff Hopkins (Team Inferno Pro Cycling)
69 Thom Coupe (MetLife p/b Unlose.it)
70 Jeff Buckles (Richmond Pro Cycling)
71 Daniel Estevez (CRCA/Sakonnet)
72 Keck Baker (Battley Harley-Davidson/Sonoma)
73 Jason Meidhof (Clean Currents p/b Don Beyer V)
74 Rodney Rios (Team Claro Wireless /Token PR)
75 Christopher Ruhl (Alliance Environmental)
76 Armando Borrajo (Ciudad de Chivilcoy)
77 Jonathan Chodroff (Empire)
78 Sean Barrie (Battley Harley-Davidson)
79 Scott Jackson (DLP Racing)
80 Horace Burrowes (WS United/Sheepshead Cycle)
81 Neal Stansbury (Tri State Velo)
82 Jean Francois Racine (garneau-crocs)
83 Jonathan Erdely (Rite Aid pb Shebell & Shebell)
84 William Elliston (Rite Aid pb Shebell & Shebell)
85 Thomas Luke (Epic Cycling Team)
86 Davide Frattini (Colavita Sutter Home p/b Cooking Light)
87 Stephen Badger (Targetraining)
88 Edwin Bull (Van Dessel Factory Team)
89 Glen Chadwick (Team Type 1)
90 Adam Alexander (CRCA/Sakonnet)
91 Nicholas Waite (Kelly Benefit Strategies)
92 Wilson Vasquez (GS Mengoni USA)
93 Michael Joanisse (garneau-crocs)
94 Luca Damiani (Colavita Sutter Home p/b Cooking Light)
95 David Sommerville (Sommerville Sports World Team)
96 J Alain Ferry (Psyclone Sports)
97 Yahor Buben (CCB/Volkswagen)
98 Charly Vives (Calyon Pro Cycling Team)
99 Adam Sullivan (Kenda/Raleigh Cycling Team)
100 Christopher Kuhl (Penn State Hershey Cancer Institute)
101 Elliot Gaunt (Penn State Hershey Cancer Institute)
102 Brian Buchholz (Kelly Benefit Strategies/Medif)
103 Jonathan Mumford (Kelly Benefit Strategies/Medif)
104 Igor Misicki (CRCA/Foundation)
105 Ken Walsh (K2-Talksoft-Shirks Racing)
106 Jake Hollenbach (CCB/Volkswagen)
107 Bennet Van Der Genugten (Team Inferno Pro Cycling)
108 Remi McManus (Team Inferno Pro Cycling)
DNS David Bergeron (Calyon Pro Cycling Team)
DNS Mathieu Roy (Calyon Pro Cycling Team)
DNS Aliaksandr Bialiauski (CCB/Volkswagen)
DNS Sebastian Sinisterra (Clinica Union Of Georgia)
DNS John Loehner (CRCA / Empire Cycling Team)
DNS Marcin Niedziolka (CRCA/Foundation)
DNS Dylan O'Sullivan (CRCA/Sakonnet)
DNS Rafael Meran (GS Mengoni)
DNS Luis Amaurys Perez (GS Mengoni)
DNS Rodney McEwan (Jetfuel Cycling)
DNS Matthew Baldwin (Targetraining)
DNS Craig Luekens (Targetraining)
DNS Joseph Whitman (Team Alliance Environmental)
DNS Gabriel Acaba (Team Claro Wireless /Token PR)
DNS Sergio Garcia Combas (Team Claro Wireless /Token PR)
DNS Marco Aledia (Team Inferno Pro Cycling)
DNS Jered Gruber (Time Pro Cycling)
DNS Geoff Smith (Watchung Wheelmen)
DNS Oscar Henao (Clinica Union Of Georgia)
DNF Ryan Dewald (Battley Harley-Davidson/Sonoma)
DNF Steven Howard (Bissell Pro Cycling Team)
DNF Ryan Oelkers (Cadence Cycling - Velo Europa)
DNF Matthew Bell (Calyon Pro Cycling Team)
DNF Matt Guse (Calyon Pro Cycling Team)
DNF Luis Aquino (Champion System)
DNF Gustavo Artacho (Colavita Sutter Home p/b Cooking Light)
DNF Eric Brownell (CRCA / Empire Cycling Team)
DNF Michael Mathis (CRCA / Empire Cycling Team)
DNF Daniel Zmolik (CRCA / Empire Cycling Team)
DNF Gavriel Epstein (CRCA/Sakonnet)
DNF Nicholas Keough (CRCA/Sakonnet)
DNF Charles Marzot (Fiordifrutta)
DNF Randy Smargiassi (Gotham Cyclists)
DNF Eugene Boronow (GS Mengoni)
DNF Jonathan Bruno (IF/FT pb Lionette's)
DNF John Hanson (IF/FT pb Lionette's)
DNF Samuel Silver (IF/FT pb Lionette's)
DNF Todd Yezefski (IF/FT pb Lionette's)
DNF Benjamin King (Kelly Benefit Strategies/Medif)
DNF Jonathan Sundt (Kelly Benefit Strategies/Medif)
DNF David Veilleux (Kelly Benefit Strategies/Medif)
DNF Jason Beerman (Kenda/Raleigh Cycling Team)
DNF Mark Light (Liberty Cycle)
DNF Ryan Fleming (MetLife p/b unlose.it)
DNF Chris Black (Morgan Stanley/Specialized/24H)
DNF Brady Gibney (Nature Valley Cycling Team)
DNF Michael Chauner (Pennsylvania Lightning)
DNF Todd Scheske (Preferred Care)
DNF Guido Palma (Rite Aid pb Shebell & Shebell)
DNF Shane Kline (Salamander Racing)
DNF Benjamin Zawacki (Targetraining)
DNF Angel Miranda Pagan (Team Claro Wireless /Token PR)
DNF Jorge Pagan Rivera (Team Claro Wireless /Token PR)
DNF Rafael Ramirez Polanco (Team Claro Wireless /Token PR)
DNF James Baldesare (Team Inferno Pro Cycling)
DNF Josh England (Team Inferno Pro Cycling)
DNF Charles (Joe) Eldridge (Team Type 1)
DNF Shawn Milne (Team Type 1)
DNF Jackie Simes (Time Pro Cycling)
DNF Tom Soladay (Time Pro Cycling)
DNF Mike Stoop (Time Pro Cycling)
DNF Dominique Rollin (Toyota-United Pro Cycling Team)
DNF Edward Beamon (TT 1)
DNF Gilberth Gomez Valverde (van dessel factory team)
DNF P Burrowes (WS United/Speedshead Cycle)
DNF Brian Cooblall (WS United/Speedshead Cycle)
DNF Anthony Lowe (WS United/Speedshead Cycle)
DNF Francois Parisien (Team Symmetrics)
DNF Benjamin Showman (NY Sketches)
DNF Demis Aleman
DNF Eric Barlevav (Time Pro Cycling)
DNF Scott Zwizanski (Bissell Pro Cycling Team)
DNF Amos Brumble Iv (CCB/Volkswagen)
DNF John Minturn (CRCA / Empire Cycling Team)
DNF Raymond Newton (Foundation)
DNF Clay Murfet (Team Fuji)
DNF Andy Baker (Time Pro Cycling)

Pro women

1 Tina Mayolo-Pic (Colavita / Sutter Home p/b Cooking Light)
2 Kelly Benjamin (Cheerwine Cycling)
3 Erica Allar
4 Lauren Franges (Team Tibco)
5 Jennifer Ashburn (HPC)
6 Morgan Patton (Team Type 1)
7 Lisa Jellett (Verducci/Breakaway Bikes)
8 Shontell Gauthier (Colavita / Sutter Home p/b Cooking Light)
9 Brooke O'Connor (Hub Racing)
10 Sarah Caravella (Team Tibco)
11 Jacqueline Kurth (Team Kenda Tire)
12 Nichole Wangsgard (Colavita / Sutter Home p/b Cooking Light)
13 Jenette Williams (HPC powered by Altarum)
14 Tricia Carnila (Verducci/Breakaway Racing)
15 Leslie Jennings (Team CycleLife)
16 Lorena Candrian (HPC powered by Altarum)
17 Laura Van Gilder (Cheerwine Cycling)
18 Holli Steelman (Juice Plus Cycling)
19 Rushlee Buchanan (Team Tibco)
20 Debony Diehl (Sunapee S&W)
21 Jennifer Rasmusson (HPC powered by Altarum)
22 Veronica Martinez (Orbea Argentina)
23 Cesarina Ballenilla
24 Kate Veronneau (Kutztown Cutters)
25 Elizabeth Morse Hill (Hub Racing)
26 Anna McLoon (Harvard University)
27 Heather Labance (Team Advil-ChapStick)
28 Mary Zider (NEBC/ Cycle Loft/ Devonshire D)
29 Jacquelyn Crowell (University of Florida Cycling)
30 Nonnie Howard (Verducci/Breakaway racing)
31 Patricia Black (Morgan Stanley/Specialized/24H)
32 Rebecca Wellons (NEBC/Cycle Loft/Devonshire Den)
33 Robin Farina (Cheerwine Cycling)
34 Samantha Dery (NEBC/Cycle Loft/ Devonshire)
35 Kristy Scheffenacker (HPC powered by Altarum)
36 Leeanne Manderson (Hub Racing)
37 Monique Hanley (Team Type 1)
38 Melissa Sanborn (Vanderkitten Racing)
39 Bianca Grecu (Human Zoom/Pabst Blue Ribbon)
40 Kathryn Wilder (Team Somerset)
41 Susanne Delaney (NEBC/Cycle Loft/Devonshire Den)
42 Sonja Evers (C3-Sollay.com)
43 Sally Annis (NEBC/CycleLoft/Devonshire Dent)
44 Sarah Sauvayre (CRCA/Comedy Central-- New Cana)
45 Kate Flore (HPC p/b Altarum)
46 Natalie Klemko (Team Advil-ChapStick)
47 Catherine Cheatley (Cheerwine Cycling)
48 Wendy Ulmer (Team CycleLife)
49 Diane Castor-Grim (C3/ADG/Joe's Bike Shop)
50
51 Tami Buhr (NEBC/Cycle Loft/Devonshire Den)
52 Gina Voci (Juice Plus)
53 Natalie Dumont (NEBC/Cycle Loft/Devonshire Den)
54 Beth Mason (C3-Sollay.com)
55 Kathryne Carr (Sunapee S&W)
56 Rachel Warner (Juice Plus Cycling)
57 Kristy Swope (EPS/CSS/Riptide Cycling)
58 Jacqueline Paull (watchung wheelmen/high gear cy)
59 Reem Jishi (Team Advil-ChapStick)
60 Lorraine Lipfert (C3-Sollay.com)
61 Kristine Church (Human Zoom p/b Pabst Blue Ribb)
62 Sheba Farrin (Hub Racing)
63 Dale Tye (Hub Racing)
64 Liz Leyden (Hub Racing)
65 Camie Kornely (innovation bike shop)
66 Arley Kemmerer (Hub Racing)
DNS Alison Fischer (Hub Racing)
DNS Rebecca Koh (CRCA/Comedy Central-Sid's Bike)
DNS Anna Milkowski (Team Advil-ChapStick)
DNS Michelle Hart (Team CycleLife)
DNS Heidi Goldberg (Team Kenda Tire)
DNS Melissa O'Reilly (Van Dessel Factory Team)
DNS Cecelia Pleva (Radical Media)
DNF Elizabeth Carlson (Verducci/Breakaway Racing)
DNF Sarah Bamberger (Cheerwine Cycling)
DNF Andrea Dvorak (Colavita / Sutter Home p/b Cooking Light)
DNF Kristin McGrath (Colavita / Sutter Home p/b Cooking Light)
DNF Iona Wynter Parks (Colavita / Sutter Home p/b Cooking Light)
DNF Elena Leznik (CRCA/Radical Media)
DNF Michele Bote (HPC powered by Altarum)
DNF Sara Schewel (Human Zoom/ Pabst Blue Ribbon)
DNF Kirsten Robbins (Team Advil-ChapStick)
DNF Andrea Luebbe (Verducci/Breakaway Racing)
DNF Carla Swart (BriarRose/Cudzy)
DNF Lenore Imhof (Colavita Racing)
DNF Tiffany Cromwell (Colavita / Sutter Home p/b Cooking Light)
DNF Laura McCaughey (Juice Plus Cycling)
Past Winners

2007 Hilton Clarke (Aus) Navigators           Theresa Cliff-Ryan (USA) Verducci/Breakaway Racing
2006 Juan Jose Haedo (Arg) Toyota-United      Tina Pic (USA) Colavita/ Cooking Light Cycling Team
2005 Kyle Wamsley (USA) Snow Valley           Laura Van Gilder (USA) Quark
2004 Victor Rapinski (Rus) Navigators         Melissa Sanborn (USA)
2003 Jonas Carney (USA)                       Sarah Uhl (USA)
2002 Jonas Carney (USA)                       Laura Van Gilder (USA)
2001 Eric Wohlberg (Can)                      Christina Underwood (USA)
2000 Jonas Carney (USA)                       Tina Mayolo (USA)
1999 Eric Wohlberg (Can)                      Laura Van Gilder (USA)
1998 Jonas Carney (USA)                       Karen Bliss-Livingston (USA)
1997 Brett Aitken (Aus)                       Karen Bliss-Livingston (USA)
1996 Julian Dean (NZl)                        Jessica Grieco (USA)
1995 Jason Snow (USA)                         Jessica Grieco (USA)
1994 J-Me Carney (USA)                        Jeanne Golay (USA)
1993 Gary Anderson (USA)                      Marianne Berglund (Swe)
1992 Jonas Carney (USA)                       Laura Charmeda (USA)
1991 Brian Moroney (USA)                      Karen Bliss (USA)
1990 Matt Eaton (USA)                         Jan Bolland (USA)
1989 Graeme Miller (NZl)                      Susan Elias (USA)
1988 Roberto Gaggioli (Ita)                   Susan Elias (USA)
1987 Paul Pearson (USA)                       Henny Top (Ned)
1986 Marc Maertens (Bel)                      Peggy Mass (USA)
1985 Matt Eaton (USA)                         Sophie Eaton (USA)
1984 Davis Phinney (USA)                      Sue Novara-Reber (USA)
1983 Steve Bauer (Can)                        Sue Novara-Reber (USA)
1982 Gary Tevisiol (Can)                      Sue Novara-Reber (USA)
1981 Wayne Stetina (USA)                      Karen Strong (Can)
1980 Steve Bauer (Can)                        Karen Strong (Can)
1979 William Martin (USA)                     Karen Strong (Can)
1978 Jocelyn Lovell (Can)                     Sue Novara (USA)
1977 Dave Ware (USA)                          Karen Strong (Can)
1976 Dave Boll (USA)                          Mary Jane Reoch (USA)
1975 Rory O'Reilly (Can)
1974 Ron Skarin (USA)
1973 Ron Skarin (USA)
1972 Roger Young (USA)
1971 Edward Parrott (USA)
1970 Robert Farrell (USA)
1969 Jackie Simes (USA)
1968 Siegi Koch (USA)
1967 Jackie Simes (USA)
1966 John Aschen (USA)
1965 Eckhard Viehover (Ger)
1964 Hans Wolfe (USA)
1963 Olaf Moetus (USA)
1962 Richard Centore (USA)
1961 Robert McKnown (USA)
1960 Mike Hiltner (USA)
1959 Rupert Waitl (USA)
1958 Art Longsjo (USA)
1957 Arnold Uhrlass (USA)
1956 Jack Heid (USA)
1955 Pat Murphy (Can)
1954 John Chiselko (USA)
1953 Hugh Starrs (USA)
1952 Ernest Seubert (USA)
1951 Francis Mertens (USA)
1950 Richard Cortright (USA)
1949 Frank Brilando (USA)
1948 Donald Sheldon (USA)
1947 Donald Sheldon (USA)
1942 Carl Anderson (USA)
1941 Furman Kugler (USA)
1940 Furman Kugler (USA)